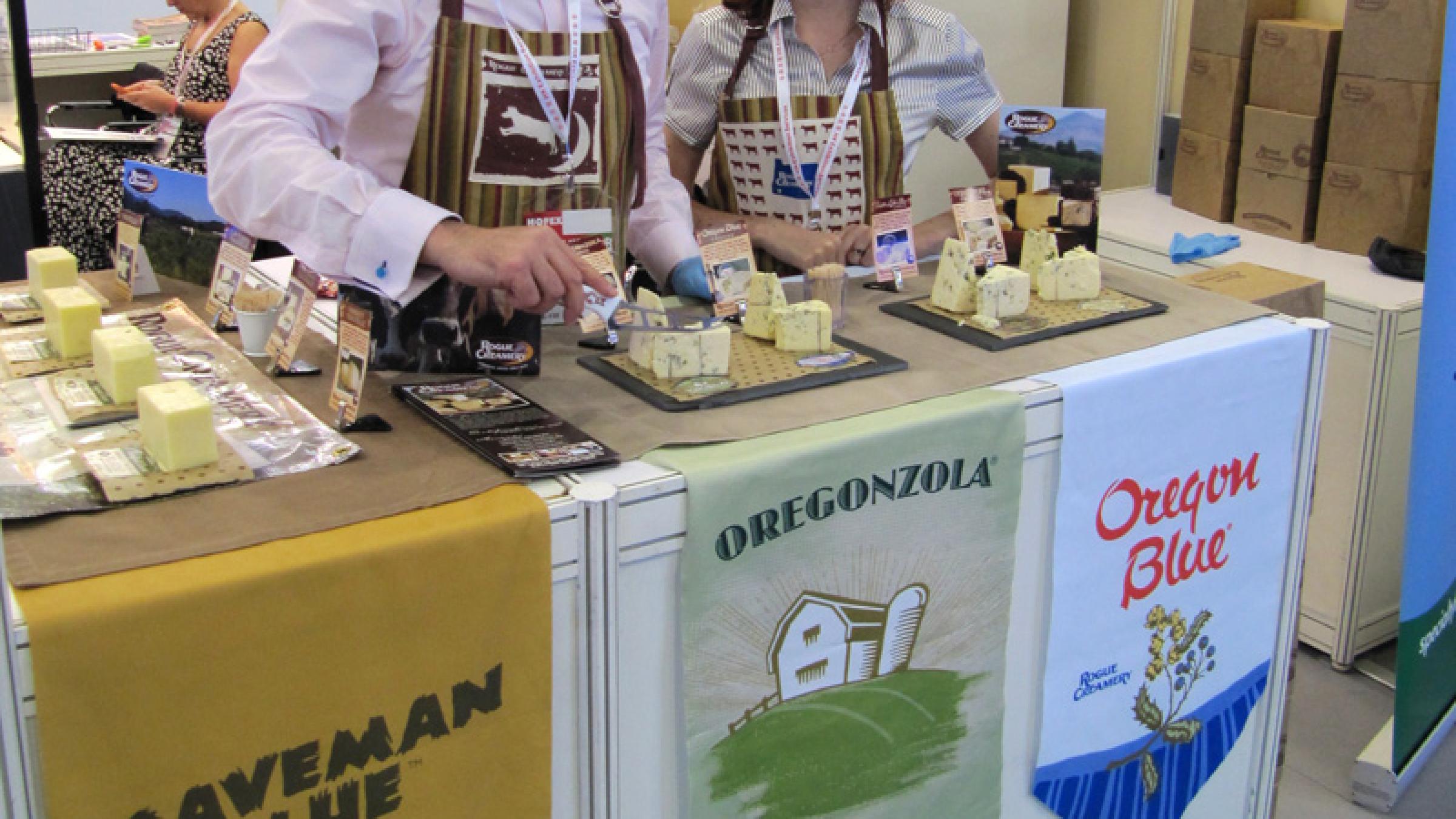 For 80 years, Rogue Creamery has been passionate about the art of cheese making. This small company located in Oregon's scenic Rogue River Valley produces a variety of handcrafted artisan cheeses using milk from its dairies. Its blue cheeses are considered "ambassadors" for the American Artisan and Farmstead cheese movements. Rogue Creamery credits the Foreign Agricultural Service's (FAS) Market Access Program (MAP) and industry partners for helping the company expand sales of its award-winning cheeses. 
Rogue Creamery began exporting in 2007 and primarily ships to the United Kingdom, France, Australia, Japan, Canada and Spain. To help build its international presence – currently two percent of total sales – the company has partnered with FAS at various USDA-endorsed trade shows throughout Europe, North America and Asia and used MAP funding to help offset costs. 
"Participation at trade shows has helped the company align our brand with specific retailers such as premium cheese shops, upscale gourmet markets and fine dining establishments," said David Gremmels, Rogue Creamery's president. "These opportunities enabled Rogue Creamery to share product information such as tasting and pairing guides, recipes, and Rogue Creamery's 'Nellie Green' sustainable programs with potential buyers and press." 
Rogue Creamery's partnership with FAS and the U.S. Dairy Export Council (USDEC) facilitated its initial participation at the 2003 World Cheese Awards in the United Kingdom where the company won "Best Blue Cheese" and "Reserve Champion" awards. The company earned additional accolades at trade shows within the past six years that helped pique interest among international buyers.  In 2007, FAS and USDEC helped Rogue Creamery quickly acquire the first European Union health certificate for raw milk cheeses, which enabled greater exposure for the company at major trade shows in Europe.
The company has applied to the Western United States Agricultural Trade Association (WUSATA), an FAS-supported exporting resource for agribusinesses, for assistance in 2013 to help meet its goal of doubling export sales in its primary international markets. USDEC and WUSATA are USDA cooperators, both supported by MAP funds.
Rogue Creamery also has its eye on adding markets in China, Southeast Asia and Scandinavia. 
"The business has grown in a sustainable way as a result of the support Rogue Creamery has received. It's now the company's intent to fully engage with FAS and industry partners to advance international sales efforts and further the American Artisan and Farmstead cheese movement abroad," Gremmels said.
Increasing export opportunities for small and medium-sized companies like Rogue Creamery is one of FAS's top priorities. This also supports President Obama's National Export Initiative, which aims to double all U.S. exports by the end of 2014.