Record U.S. FY 2022 Agricultural Exports to China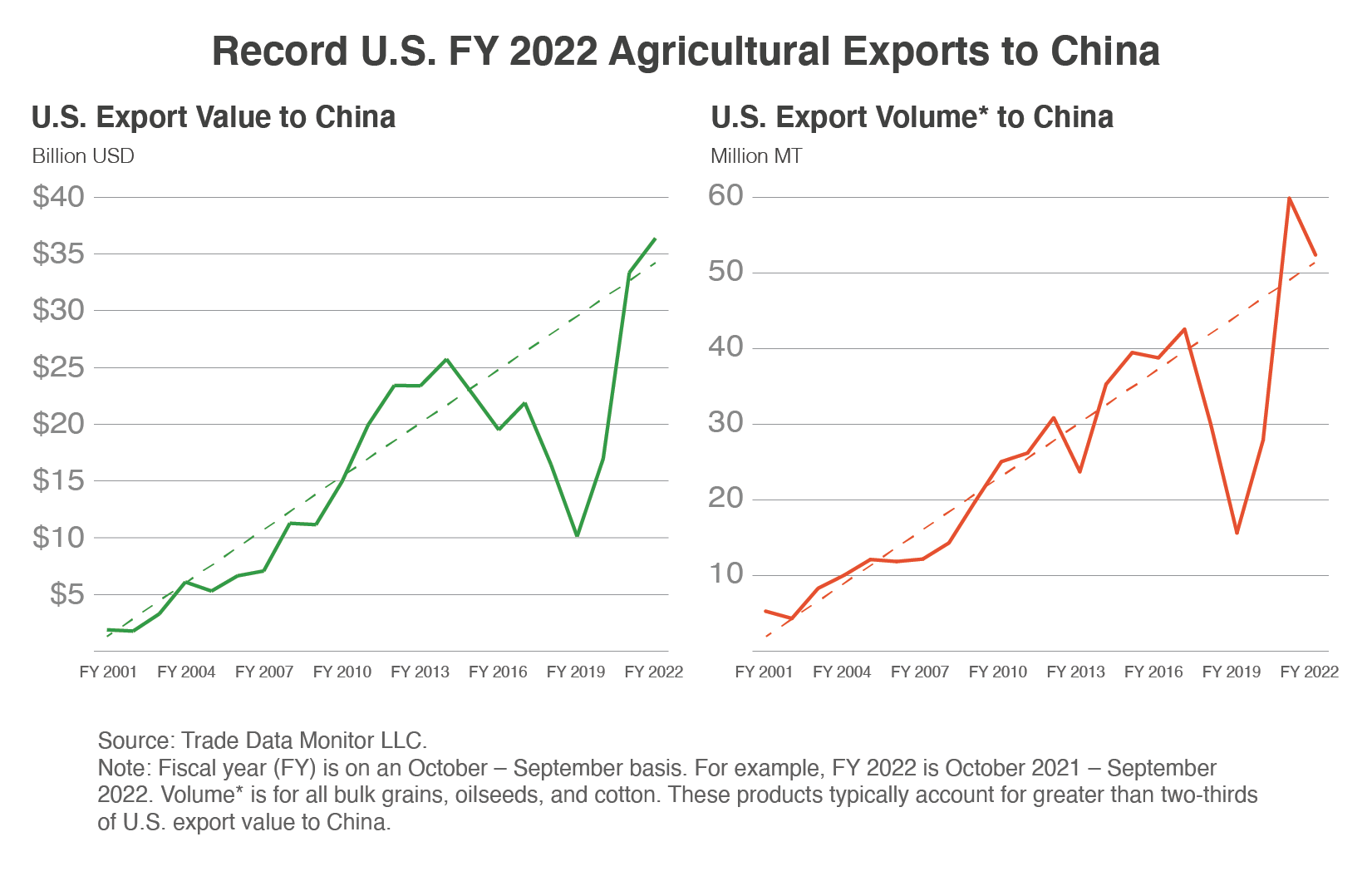 Executive Summary
U.S. agricultural exports to China in fiscal year (FY) 2022 were $36.4 billion and surpassed the previous year's record with China as the largest export market for the second consecutive year. Significantly higher agricultural prices and resilient demand helped drive exports above the previous year's record despite lower volumes for most products.
Robust shipments follow a precipitous drop in U.S. exports to China and the conclusion of the Phase One Agreement. U.S. exports have returned to trend growth experienced since the People's Republic of China's (PRC) accession to the World Trade Organization (WTO) and in the last 2 years the United States has witnessed record export values to China for soybeans, corn, beef, chicken meat, tree nuts, and sorghum. Cotton exports to China have also rebounded, propelled by strong demand. All these products are major contributors to the U.S. farm economy.
The following report highlights key agricultural products that drove record FY 2022 exports to China.
FY 2022 Commodity Exports to China
Soybeans
Soybeans accounted for nearly one-half of U.S. agricultural exports to China at a record $16.4 billion, surpassing the previous year's record by more than $2.2 billion. China is the world's largest soybean importer, accounting for nearly 60 percent of global trade and half of U.S. soybean export value.
Greater export value is attributable to higher prices. Average unit values climbed 24 percent this year to $622/ton, driven by a severe drought in South America, war in Ukraine, and a palm oil export ban in Indonesia. China is the largest processor of soybeans to feed its domestic livestock industries. The country's livestock industries are supported by the world's largest population, second-largest economy, and a rising middle class, all driving greater demand for meat.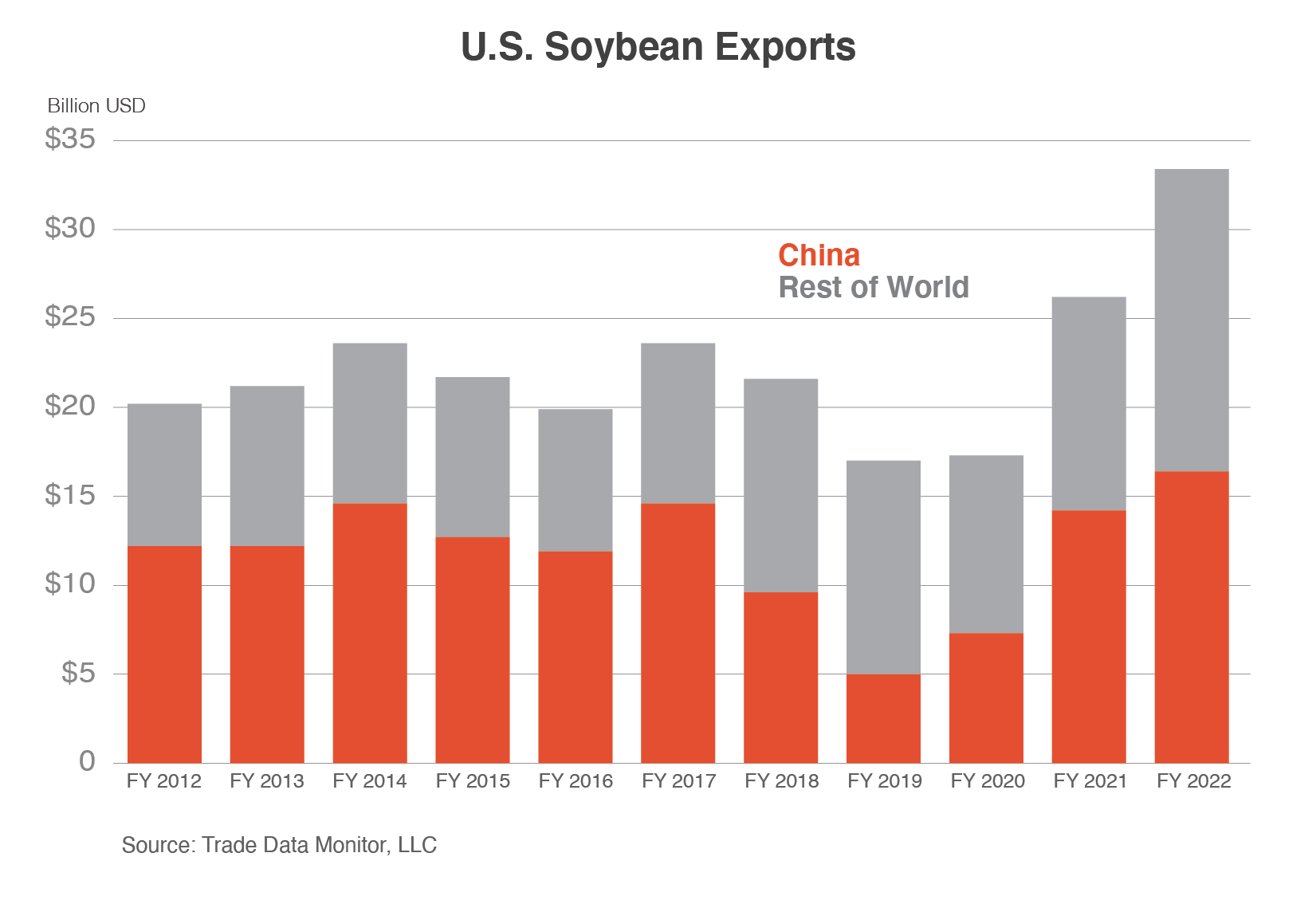 Corn, Sorghum, and Alfalfa Hay
China is the world's largest consumer of feed grains and supports this robust level through both domestic and imported supplies. China has boosted its corn supplies with imports mostly from the United States. China is also a major buyer of other U.S. feedstuffs including sorghum and alfalfa hay. Like demand for soybeans, robust demand from pork and poultry sectors propelled higher volumes of feed grain imports. Higher commodity prices have also contributed to growth in U.S. export values.
U.S. corn exports to China exceeded $4.8 billion in FY 2022, down from a record in FY 2021, but still the second-highest level on record. Despite volumes falling more than 25 percent, total value fell just 9 percent due to higher prices and China's need for competitively priced U.S. corn.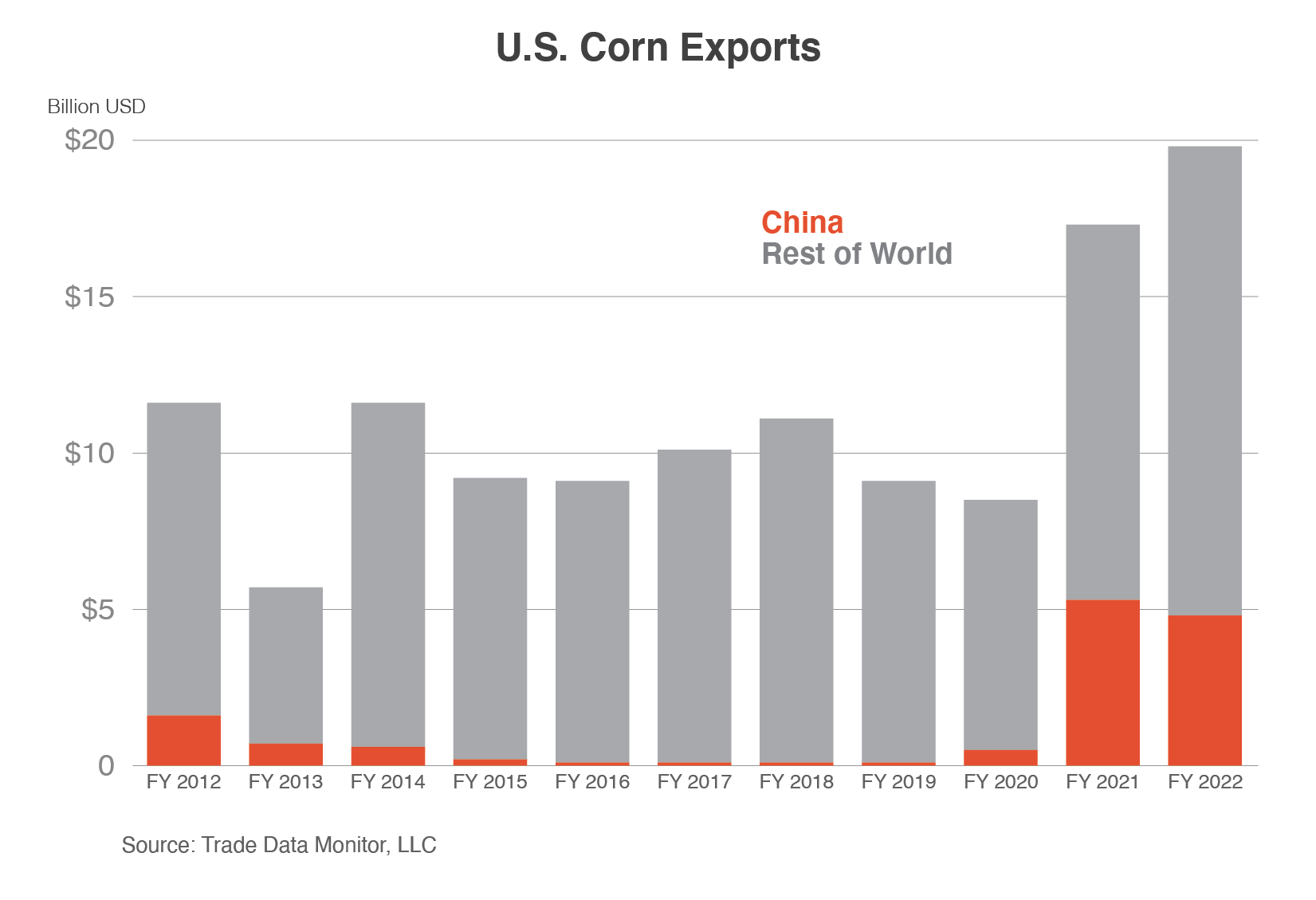 U.S. sorghum exports to China were a record $2.2 billion, nearly tripling from 2 years ago. China accounted for nearly 90 percent of total U.S. sorghum export volume. Like corn, prices drove value above the previous year (more than $400 million) with volume only slightly higher. As global and Chinese domestic corn prices hit record highs, sorghum was attractive to Chinese feed producers as a competitively priced alternative.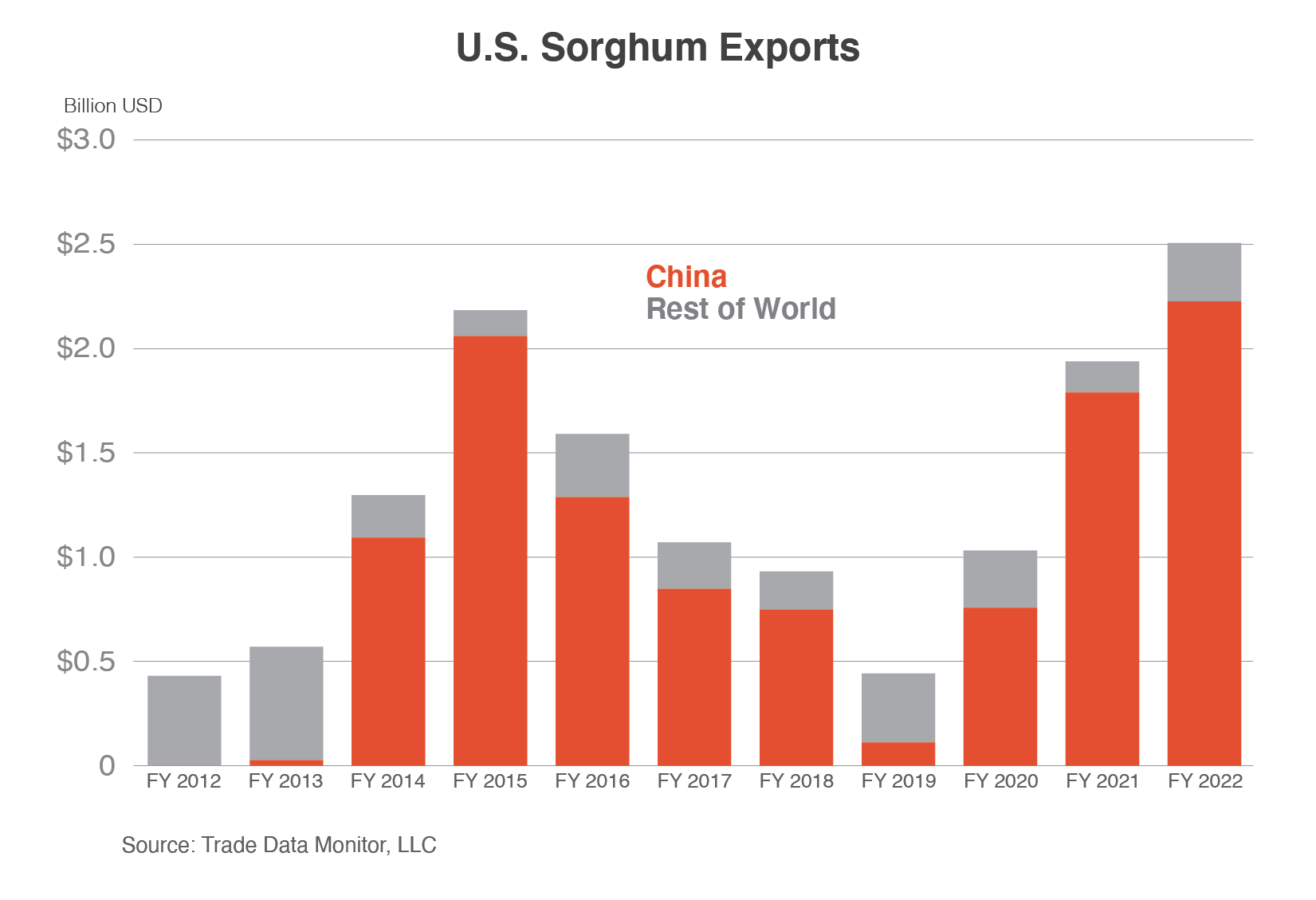 Alfalfa hay also hit a record at $660 million, 28 percent higher compared with the previous year while volumes were 14 percent higher. China accounted for more than half of U.S. alfalfa hay exports. Hay exports are driven by China's dairy industry, which has expanded with larger and more modern dairy farms seeking imported feed supplies.
Cotton
Cotton export value reached its second-highest level at $2.7 billion, more than $1.1 billion above the previous year. U.S. market share climbed to its highest level in more than 20 years at nearly 60 percent. The highest cotton prices in more than a decade also supported this strong export performance.
China's strong demand for U.S. cotton is attributed to the PRC's efforts to replenish state reserves with imported cotton. Brazil and Australia are the two other origins usually preferred by state-trading enterprises to supplement reserves; however, significantly lower exportable supplies in both countries boosted demand for U.S. supplies.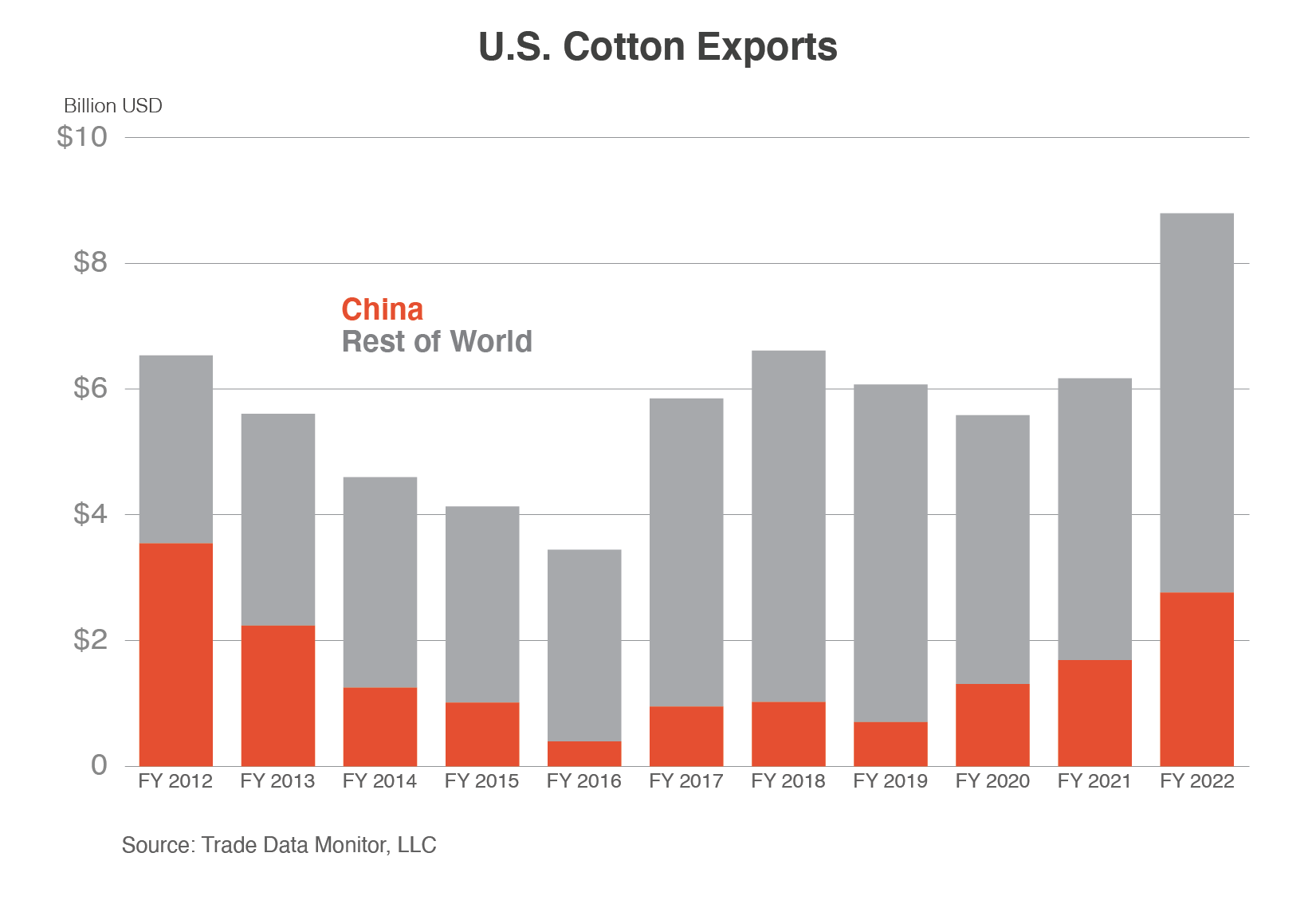 Livestock and Poultry Products
Beef and beef product export value was a record $2.1 billion, $800 million higher year-on-year. Beef consumption and import demand has exploded in China in the past decade, as total imports have grown from $155 million in FY 2012 to $17 billion in FY 2022. The implementation of the Phase One Agreement greatly expanded U.S. beef access in China, leading to explosive growth in shipments during the past 2 years. During FY 2022, beef volumes surged by 60 percent. E-commerce platforms have experienced resilient upper-middle-class demand for high-quality U.S. beef despite a series of COVID-related lockdowns. In addition, October's Golden Week holidays supported higher demand for U.S. beef shipments to China throughout the preceding summer months. Australia, the United States' main competitor for high-quality grain-fed beef, began to lose market share in China due to drought-reduced production and diplomatic tensions.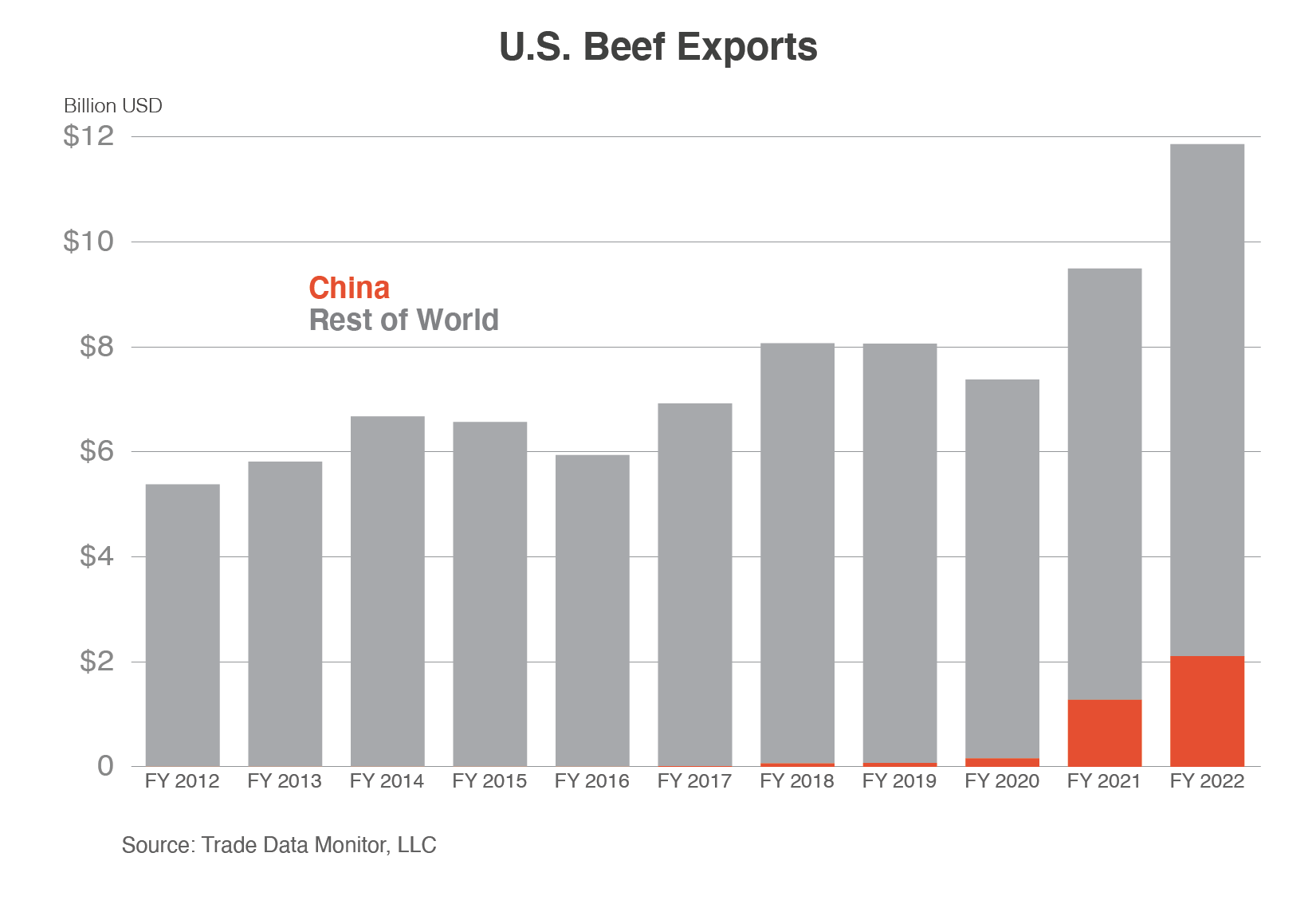 U.S. pork and pork product exports to China reached $1.1 billion in FY 2022, down from the previous year but significantly above levels witnessed for the past decade. Export volumes fell in FY 2022 as China's pork imports plunged due to recovery in domestic production from African swine fever. Other top exporters including the European Union and Canada witnessed sharper declines and allowed U.S. market share to rise. Exports of pork variety meats continued to grow, with the composition of U.S. pork and product shipments shifting from more than 60 percent frozen pork cuts to nearly 60 percent edible offal in FY 2022.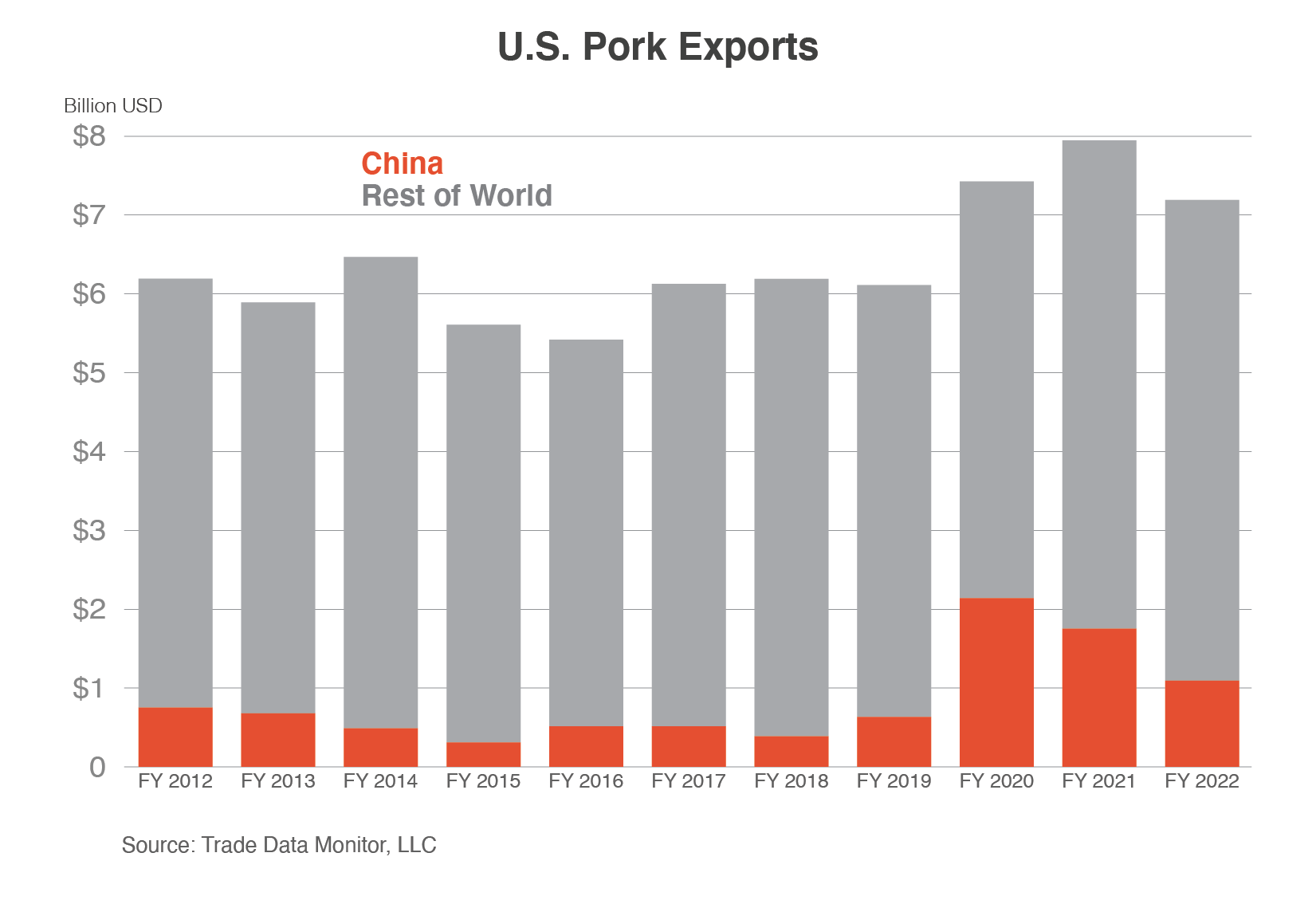 Poultry meat and products (excluding eggs) reached $1.1 billion, up $250 million compared with the previous year, and are attributed to strong shipments of chicken paws, which accounted for 84 percent of trade ($947 million). China had been a fast-growing market for U.S. poultry until 2014, when unjustified anti-dumping and counter-veiling duties along with highly pathogenic avian influenza restrictions impaired access. The market was re-opened in 2020 on the margins of the Phase One Agreement. The United States provides roughly half of China's chicken paws imports, which are preferred by Chinese consumers instead of competing foreign suppliers due to their "jumbo" size. In FY 2022, both the volumes and prices of chicken paws rose strongly. Of note, there is no other significant overseas market for U.S. chicken paws and China market access provides a profitable channel versus U.S. domestic rendering.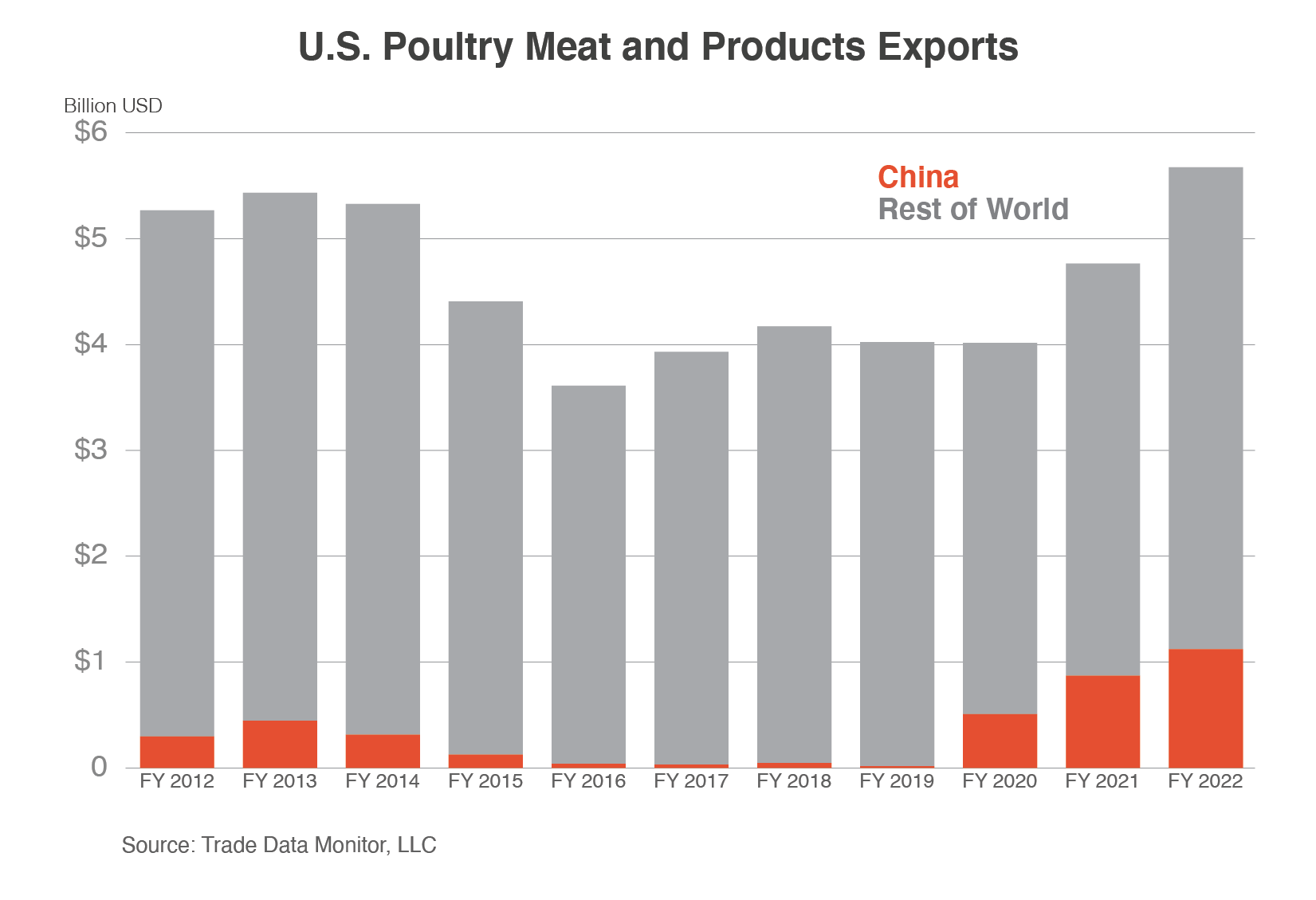 Dairy Products
U.S. dairy product exports to China were the second highest on record at nearly $750 million, up from the previous year and approaching the record set in 2014. Dairy export value was driven by significantly higher unit values for non-fat dry milk (NDM) and whey, offsetting declines in volumes for many products. U.S. market share for whey has seen stronger growth since being exempted from retaliatory tariffs as part of the U.S.-PRC trade dispute. China is also an important market for U.S. NDM and lactose.
Tree Nuts and Horticultural Products
U.S. tree nut exports to China surpassed the previous year's record to $875 million while volumes were unchanged at 160,000 tons. Growing pistachio export volumes were due in large part to top competitor Iran's smaller crop. Pistachios and almonds accounted for nearly 90 percent of U.S. tree nut exports to the country. Horticultural product export value was $460 million, up $70 million from the previous year. The rise was due mostly to growth in certain prepared and preserved products.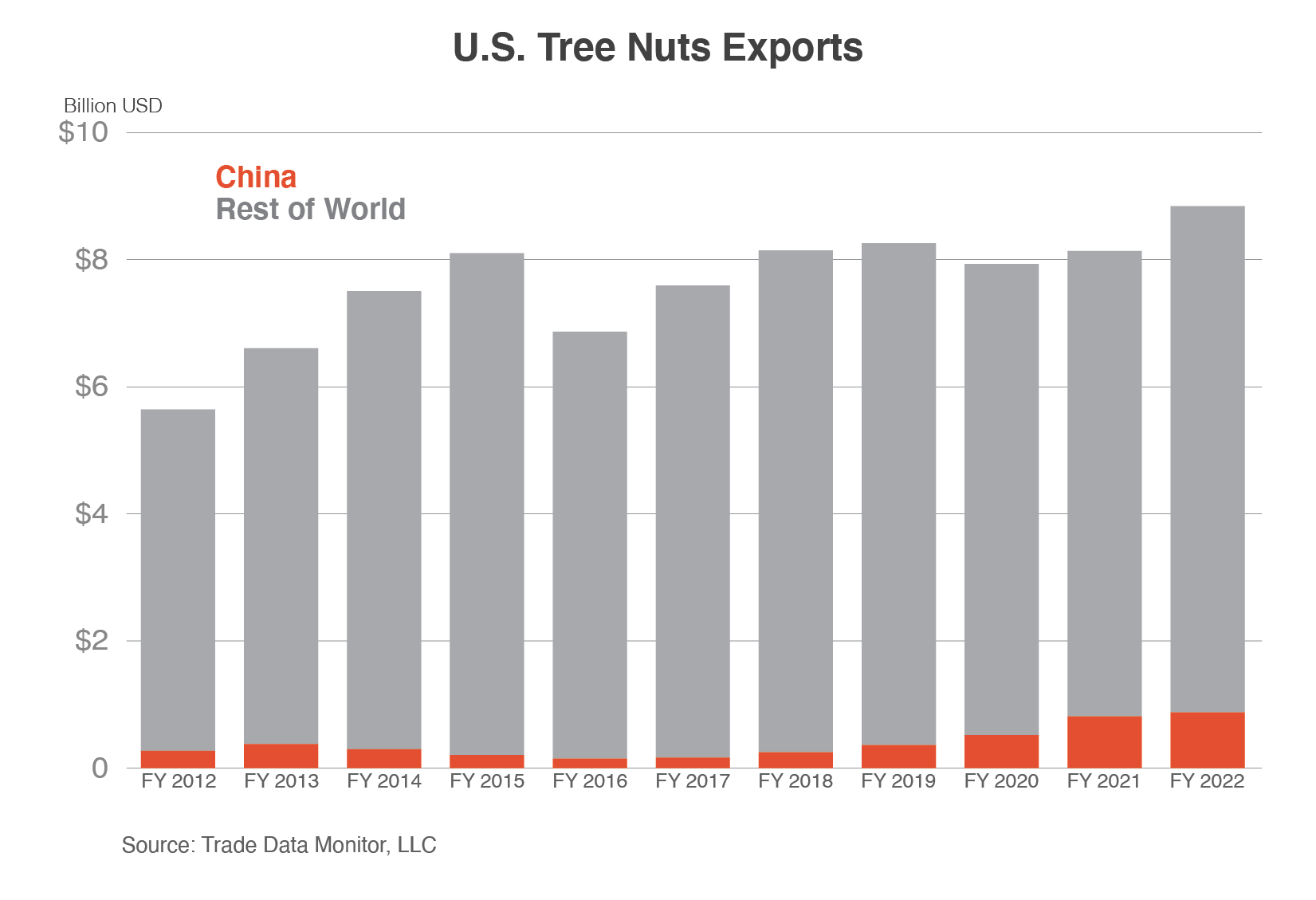 Conclusion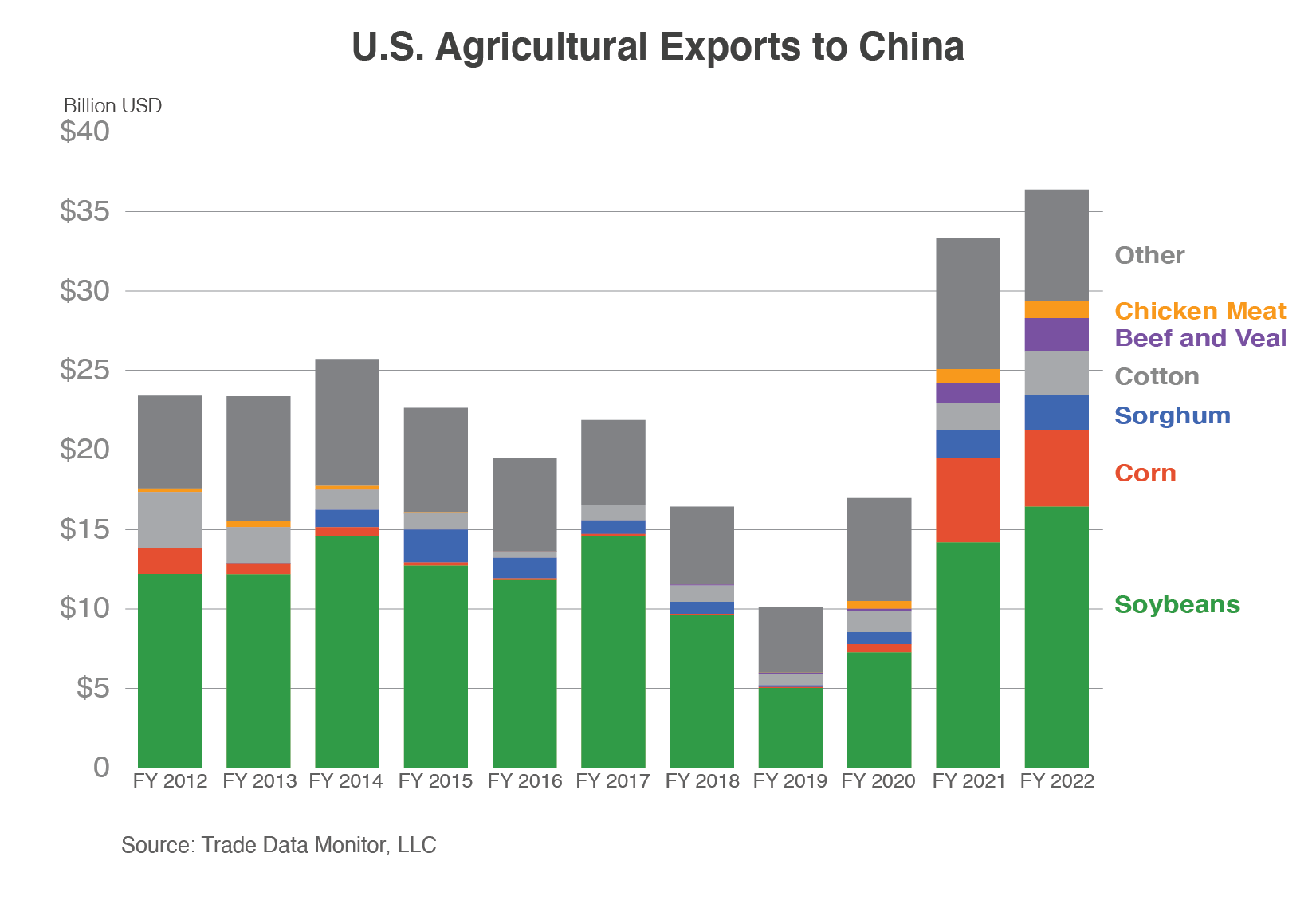 Higher global commodity prices and China's robust demand for U.S. products drove record U.S. export value to China in FY 2022. In addition, the Phase One Agreement reduced or removed technical and non-technical barriers for several products, including poultry and beef. The resulting boost in demand for U.S. agricultural products has in turn supported U.S. prices and incomes of U.S. farmers, ranchers, and processors.
In FY 2019, the PRC's retaliatory tariffs drove imports of U.S. agricultural products to the lowest level in more than a decade. Just 3 years later, U.S. exports have more than tripled and China has emerged again as the top buyer of U.S. agriculture. Shipments in FY 2022 exceed the trend growth deduced from the period since the PRC's accession to the WTO.
China's importance to U.S. farms and their profitability cannot be ignored. Despite major challenges including the COVID-19 pandemic and logistical disruptions to U.S. agricultural supply chains, the United States witnessed its second-consecutive record exports to China in FY 2022. China is forecast as the largest U.S. export market in FY 2023 for the third consecutive year at $34.0 billion (see more info here in the November 2022 USDA Quarterly Agricultural Export Forecast).