Showcasing New Opportunities in the Growing Philippines Food and Beverage Market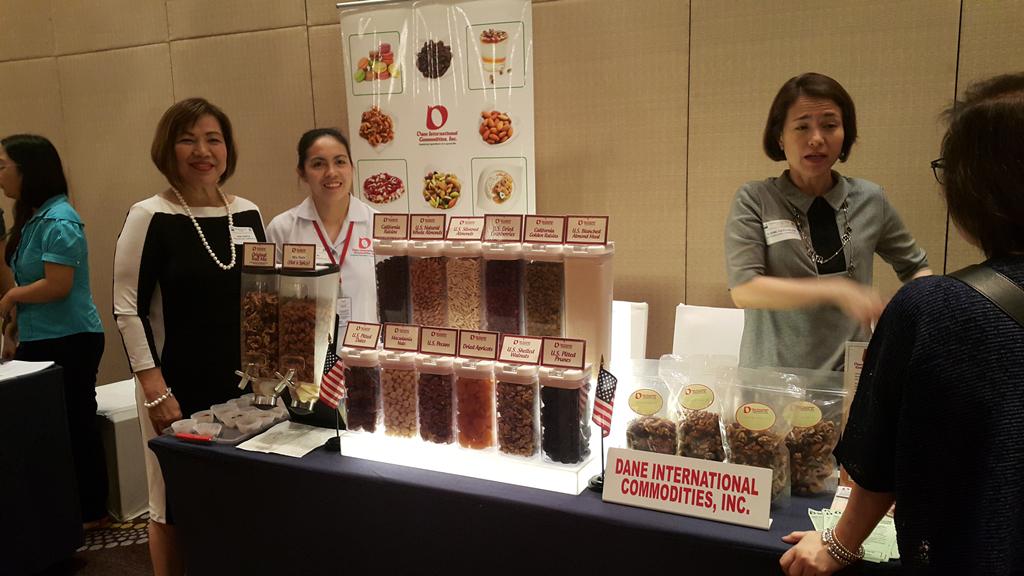 Dane International Commodities, Inc., a Philippine importer specializing in the supply of U.S. nuts, California raisins, other dried fruits and food ingredients, showcases its products to food franchises attending a marketing event in Manila organized by the USDA Foreign Agricultural Service.
As the largest U.S. food and beverage export market in Southeast Asia and one of the fastest-growing markets in the world, the Philippines is attracting top food franchises. To showcase these new market opportunities, the USDA Foreign Agricultural Service (FAS) and U.S. Commercial Service offices in Manila organized a first-ever cooperative marketing event for the country.
Supported by the Philippine Franchise Association and the Hotel and Restaurant Purchasing Managers Association of the Philippines, the event brought together more than 15 importers and 180 key decision makers of U.S. and Philippine-grown food franchises. Not only did the event showcase the availability, quality and uses of U.S. fine foods and beverages, it also linked importers with food franchises and helped them identify market access issues, trends and new trade opportunities.
Food franchises in the Philippines are a major part of daily life. Despite recent price declines in many agricultural commodities and a strong U.S. dollar, export sales of U.S. food and beverage products to the country reached $900 million in 2015, just below the record high $1.1 billion in 2014.
This continued growth in the Philippine food franchise sector is driven by the country's robust economy, growing disposable income among the upper and middle classes, proliferation of retail shopping centers, steady influx of tourists, rapid growth of the business process outsourcing sector and an increase in the number of women joining the workforce.
U.S. and international chains ranging from Starbucks and McDonalds to Teddy's Bigger Burger are already widespread in the Philippines. Chains such as Kenny Rogers Roasters and Shakey's Pizza are experiencing remarkable success in the country.  In addition, the Philippines' own world class franchises, such as Jollibee, are helping to create a franchise sector unlike anywhere else.
For those in the U.S. food and beverage market, food franchises in the Philippines offer great business potential since they require high-quality products including meats, poultry, seafood, dairy products, processed fruits and vegetables, fruit juices, dried fruits, nuts, wines and craft beers. Events like this showcase in Manila play a key role in bringing together partners who can help introduce new and exciting products to growing markets.