Indiana Soccer Moms Score Big as Global Entrepreneurs with USDA Assist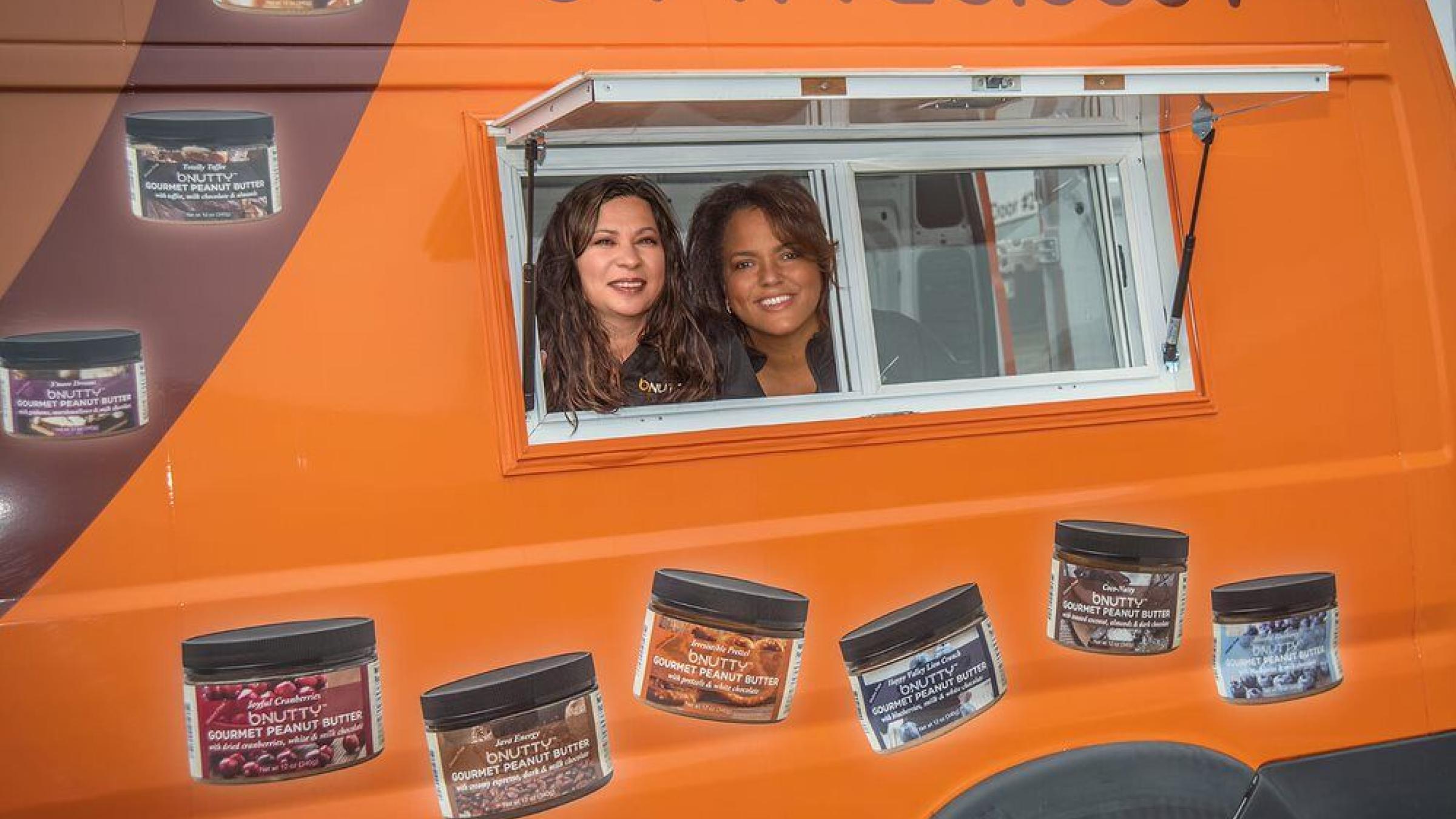 For a women-owned business in rural Indiana, working with USDA's Foreign Agricultural Service became a life-changing experience. Selling homemade peanut butter began as a team fundraiser idea for soccer moms Carol Podolak and Joy Thompkins. Seven years later, the mom duo is winning big with international buyers as BNutty – their small, women-owned business of gourmet nut butters ranging in flavors from Totally Toffee and Simply Salted Caramel to Cinnamon Sugar Cookie – now has fans across the globe.
BNutty got its start by raising enough funds for their kids' soccer team to travel from Portage, Indiana to Dallas, Texas for a tournament. Customers wanted the pretzel, blueberry, and toffee peanut butter more than once a year, so Podolak and Thompkins started taking custom orders. Demand soon grew, and then they rented a commercial kitchen until they opened the "Nut House," their manufacturing center. Soon after, BNutty products appeared on grocery store shelves across the United States. And now, BNutty is on shelves in stores around the world.
As the UN celebrates the International Day of Rural Women on October 15, these two moms embody the impact rural women are making both in the United States and around the world. Every day, FAS works with rural women in agriculture, like Podolak and Thompkins, to grow their businesses. "We met our first large export client at the Sweets and Snacks Expo in Indiana. Our booth was funded by Food-Export Midwest and FAS," said Podolak.
Additionally, BNutty uses FAS Market Access Program (MAP) funds to advertise and export its peanut butters through Food Export-Midwest. "FAS and Food Export-Midwest helped us with grant money, trade show booths, and marketing materials which translated into being able to work with other countries – it made a big difference for us when we were first learning about exporting," said Podolak.
BNutty's five-year goal is focused on growing its bases in current export markets and creating new partnerships. Since BNutty's first export in 2021, the private-label peanut butter is on the shelves of 13 countries. Its primary export markets are in Asia and the Middle East. It is currently growing its market in the Caribbean, as well as expanding retail opportunities in South America and the European Union.
Podolak and Thompkins also created new jobs and enhanced the work environment for their employees through their growing export capabilities. BNutty is a prime example of how exports benefit American communities by growing small-businesses and creating local job opportunities.
Teamwork and grassroots community development are what started Podolak and Thompkins' business, and while they've become global women entrepreneurs with the help of FAS, they continue to give back to ensure their small town succeeds with them. Thanks to the success of BNutty, the mom duo has helped fundraise to build an eight-field soccer complex in their hometown, host college showcases, and help fund SAT and college prep for local high school students.
Podolak and Thompkins reflected on how their hobby became a business – they wrote up their business plans while driving a bus full of soccer players to tournaments across the country. For women in agriculture and starting their own businesses, Thompkins recommends "starting small and in your own community, such as with the Chamber of Commerce. Being involved in our community has showed us how to grow and give back."
BNutty's dedication to building its community and company has been widely celebrated. This year alone, they won the award for Small-Business Association Indiana Exporter of the Year, been listed on the Inc. 5000 fastest growing companies in the country, and is one of EXIM Bank's exporters of the year. One could say the world is going nuts for BNutty's peanut butters.