Fourteen New Agricultural Officers Sworn into Foreign Service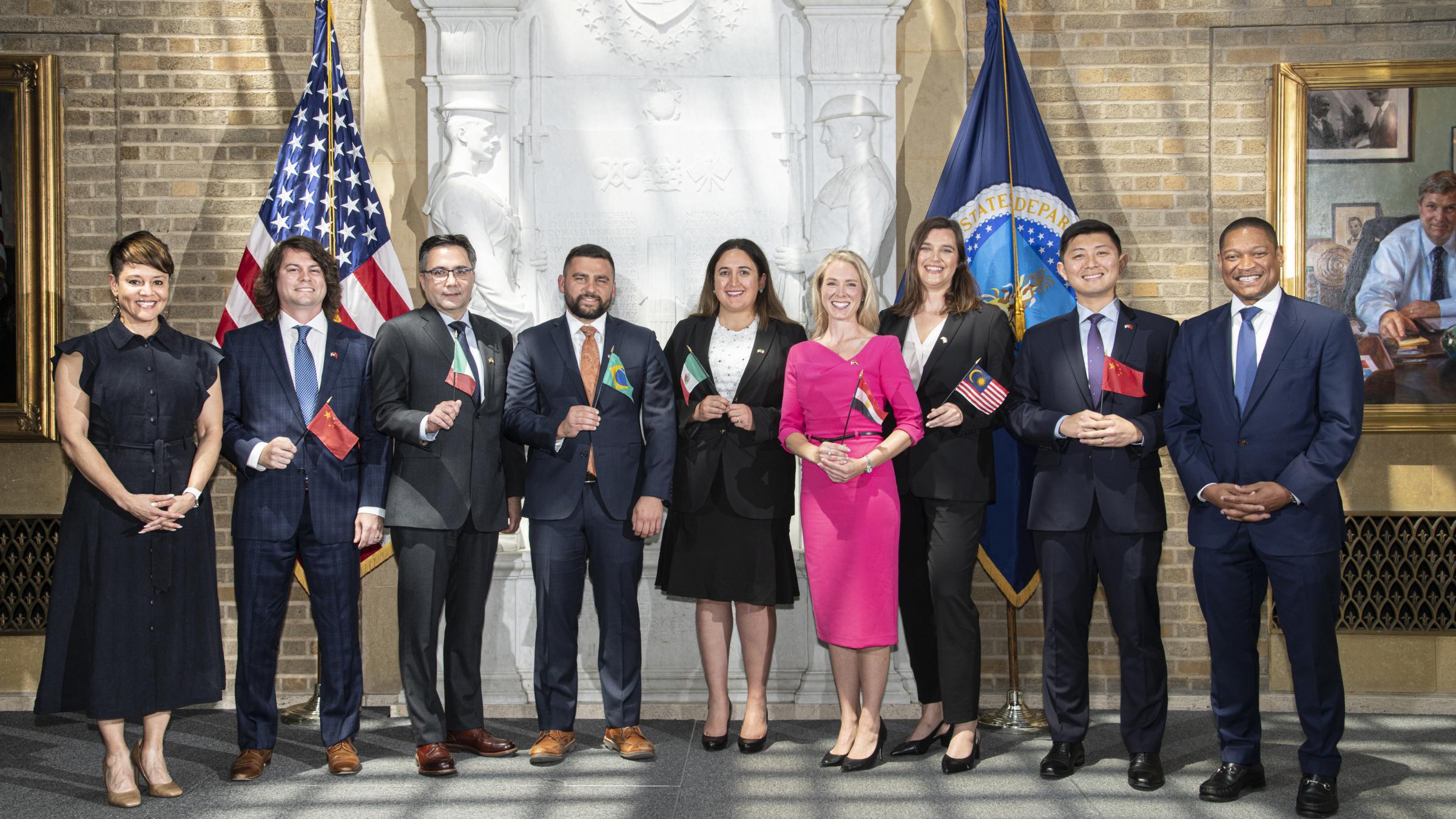 WASHINGTON, July 11, 2022 – U.S. Department of Agriculture (USDA) Deputy Secretary Dr. Jewel Bronaugh administered the oath of office today to 14 USDA employees who will serve American agriculture internationally as members of the Foreign Service.
The diplomats begin their careers as agricultural attachés at U.S. embassies and diplomatic missions on five continents, where they will monitor and report on global agricultural production and trade, identify export opportunities, enhance food security and support U.S. foreign policy objectives.
"I congratulate this group of diverse officers on their completion of the rigorous selection and training process for the Foreign Service," Bronaugh said. "On my overseas engagements as Deputy Secretary, I've witnessed firsthand the tremendous work and value that our agricultural attachés deliver serving as the face and voice of American agriculture. As global agricultural trade becomes increasingly competitive and dynamic, their role as Foreign Service officers is more important than ever, and I'm thrilled that USDA is expanding our diplomat corps with these talented officers who are ready to hit the ground, protecting and advancing the interests of U.S. agriculture."
The officers sworn in today are:
Eric Baylor II from Birmingham, Ala., assigned to the FAS Office of Agricultural Affairs (OAA) in Santo Domingo, Dominican Republic
Steve Burgoon from Barrington, Ill., assigned to the FAS Agricultural Trade Office (ATO) in Guangzhou, China
Amy Caldwell from Memphis, Tenn., assigned to the OAA in Pretoria, South Africa
Alex Chinh from Duarte, Calif., assigned to the OAA in Mexico City
Joseph Degreenia from Severna Park, Md., assigned to the OAA in Brasilia, Brazil
Dr. Susan Karimiha from Atlanta, assigned to the OAA in Mexico City
Abigail Mackey from New Albany, Ohio, assigned to the OAA in Bogota, Colombia
Jenny Morgan from Charlotte, N.C., assigned to the OAA in Cairo
Nicole Podesta from Bear, Del., assigned to the OAA in Brasilia, Brazil
Karen Richards from Duluth, Minn., assigned to the OAA in Kuala Lumpur, Malaysia
Hidemaru "Ted" Shibata from Lihue, Hawaii, assigned to the ATO in Shanghai
Matt Snyder from Elko, Nevada, assigned to the OAA in Nairobi, Kenya
Joseph "Trip" Taylor from Chicago, assigned to the U.S. Mission to the European Union in Brussels
Robert Teubner from Fredericksburg, Va. and Naples, Fla., assigned to the OAA in Accra, Ghana
More information about the Foreign Agricultural Service and its work to advance U.S. agricultural interests around the globe is available at www.fas.usda.gov.
###