USDA Welcomes New Crop of Foreign Service Officers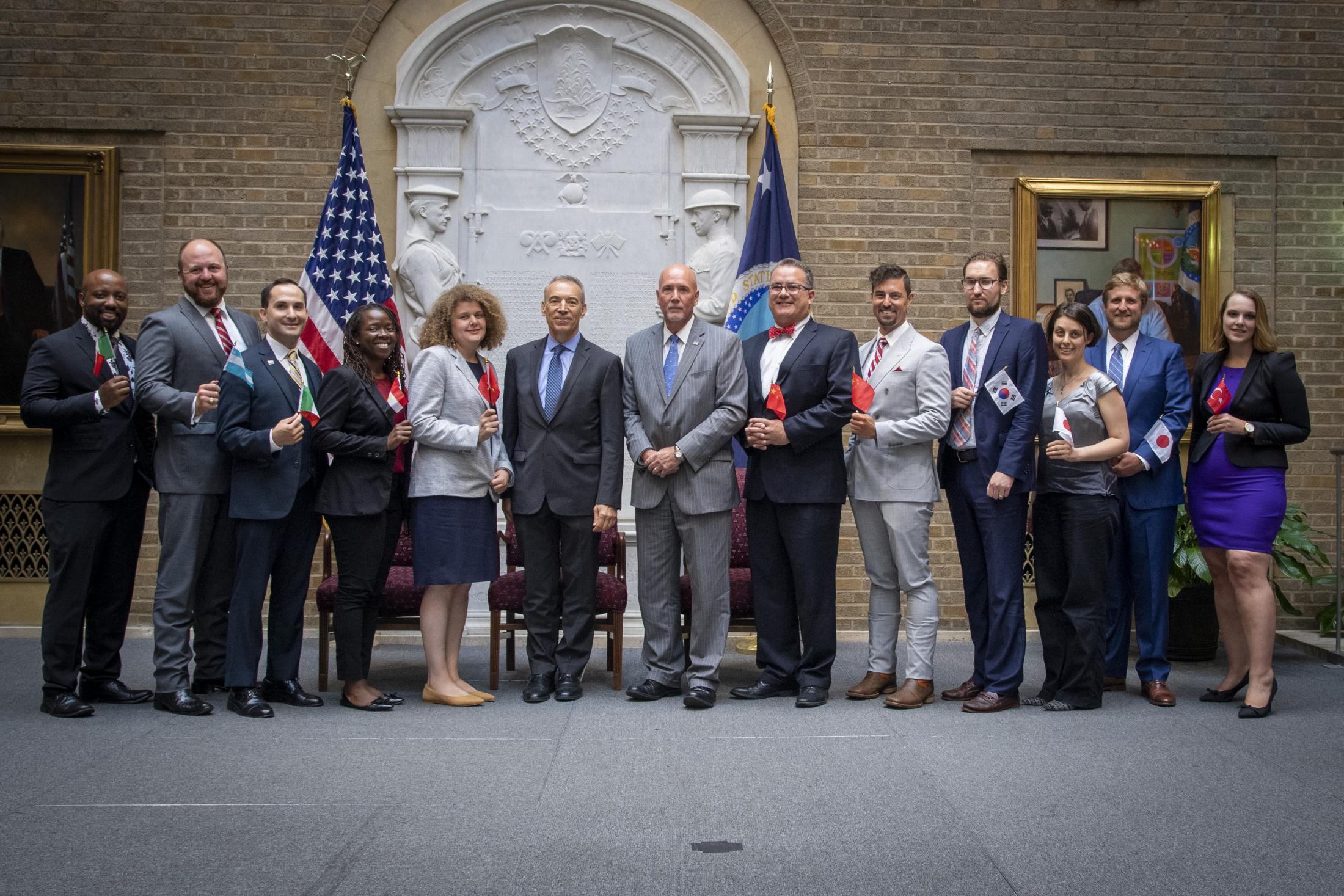 Deputy Secretary of Agriculture Stephen Censky and FAS Administrator Ken Isley with the 11 newest agricultural officers sworn into the Foreign Service, from left to right: Andre Bradley, Ben Boroughs, Daniel Alvarado, Olutayo Akingbe, Sarah Gilleski, Deputy Secretary Censky, Administrator Isley, Mark Hanzel, Chase McGrath, Tymothy McGuire, Maria Rakhovskaya, Zeke Spears, and Christine Mumma. 
Contact: FAS Public Affairs (202) 720-7115
WASHINGTON, July 8, 2019 – Foreign Agricultural Service (FAS) Administrator Ken Isley today administered the oath of office to 12 U.S. Department of Agriculture employees who will serve American agriculture around the globe as members of the Foreign Service. 
The newly minted diplomats will begin their careers as agricultural attachés at U.S. embassies and diplomatic missions on five continents, where they will monitor and report on global agricultural production and trade, identify export opportunities, enhance food security and support U.S. foreign policy objectives.
"The FAS Foreign Service corps is the face and voice of U.S. agriculture around the world, serving at more than 90 embassies and missions covering more than 170 countries," Isley said. "I congratulate this new crop of officers who have been through a rigorous selection and training process and proven themselves ready to take on the challenge of protecting and advancing the interests of American agriculture in an increasingly competitive global environment."
The officers sworn in today are:
•
Olutayo Akingbe from Lanham, Md., assigned to the FAS Office of Agricultural Affairs (OAA) in Cairo, Egypt;
•
Daniel Alvarado, from Los Angeles, Calif., assigned to the OAA in Mexico City, Mexico;
•
Ben Boroughs from Cimarron, Kan., assigned to the OAA in Buenos Aires, Argentina;
•
Andre Bradley, from Vidalia, Ga., assigned to the FAS Agricultural Trade Office (ATO) in Mexico City;
•
Sarah Gilleski, from Stamford, Conn., assigned to the OAA in Hanoi, Vietnam;
•
Mark Hanzel, from Burley, Idaho, assigned to the ATO in Shanghai, China;
•
Chase McGrath, from Brandon, S.D., assigned to the OAA in Beijing, China;
•
Tymothy McGuire, from Williston, Vt., assigned to the OAA in Seoul, South Korea;
•
Eric Mullis, from Jasper, Ind., assigned to the OAA in Bangkok;
•
Christine Mumma, from Janesville, Wis., assigned to the OAA in Ankara, Turkey
•
Maria Rakhovskaya, from Rockville, Md., assigned to the OAA in Tokyo, Japan; and
•
Zeke Spears, from Atlanta, Ga., assigned to the OAA in Tokyo.
Also part of the new class of Foreign Service officers are three individuals who have already begun their international assignments:
•
Lucas Blaustein from Houston, Texas, assigned to the American Institute in Taiwan in Taipei, Taiwan;
•
Phil Hayes from Port Hadlock, Wash., assigned to the OAA in Ottawa, Canada; and
•
Kathy Yao from Rowland Heights, Calif., assigned to the OAA in London, United Kingdom.
More information about FAS and its work to advance U.S. agricultural interests around the globe is available at
www.fas.usda.gov
. 
#
USDA is an equal opportunity provider, employer, and lender.