Bringing U.S. Organic Products to International Trade Shows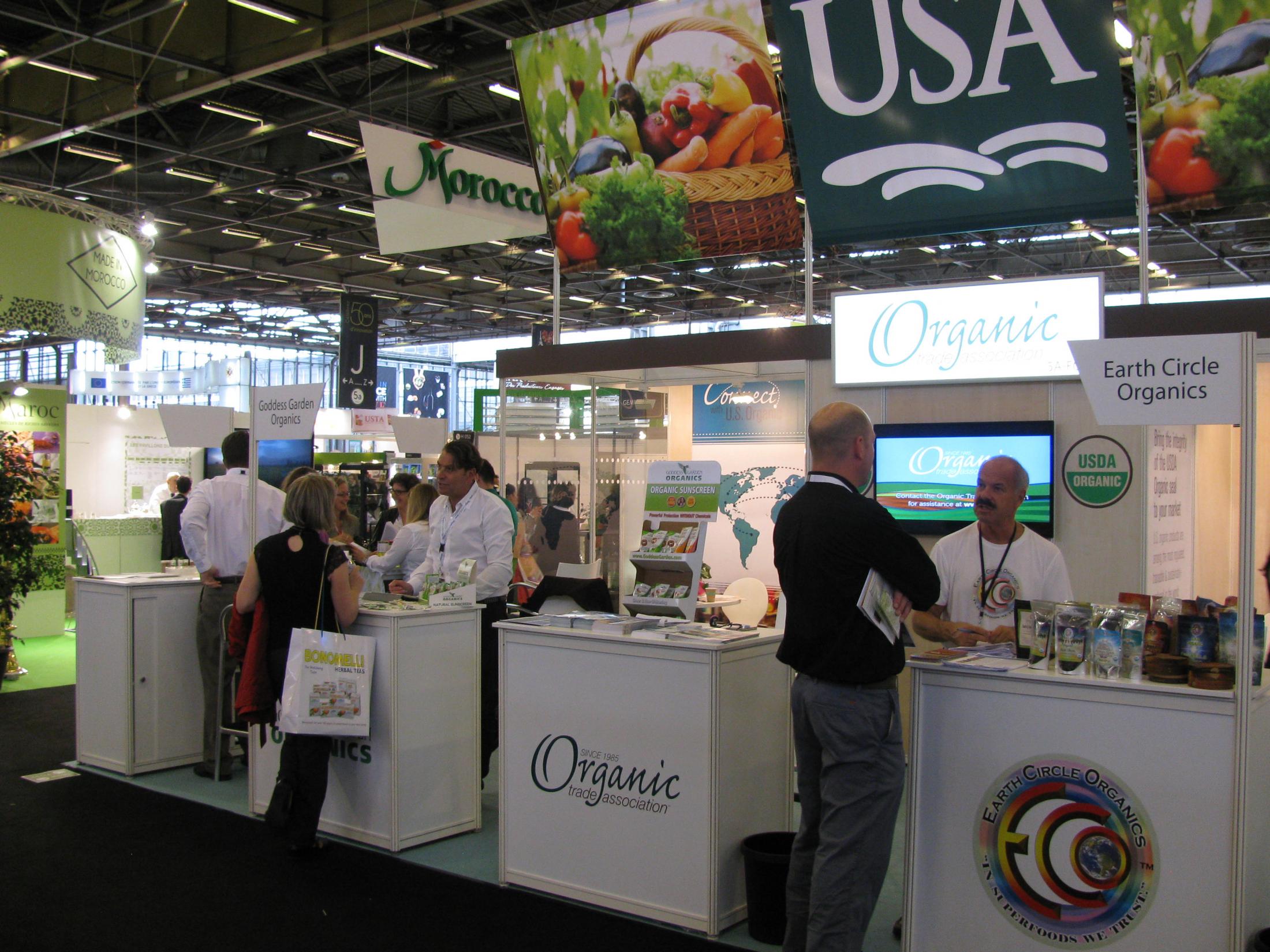 U.S. organic companies exhibit at the SIAL Paris 2014 trade show.
The U.S. organic industry is taking advantage of growing opportunities to market its products in Europe. Thanks to the support of the Foreign Agricultural Service (FAS), American companies are connecting with a wide array of potential customers at major international trade shows.
The Organic Trade Association (OTA) and more than 20 U.S. companies showcased the best of what the organic industry has to offer at BioFach, the world's largest strictly organic trade event, in Nuremburg, Germany, Feb. 11-14, 2015. The exhibitors were located in the USA Pavilion, which is supported by funding from FAS's Market Access Program (MAP). 
This event followed on the heels of the industry's success this past fall at SIAL Paris, one of the largest food exhibitions in the world. There, MAP funds supported the first-ever USA Organic Pavilion, where six American companies showcased products ranging from sun-dried California olives to grains for pet food. OTA's Senior International Trade Manager Monique Marez was also on hand to answer questions about USDA's National Organic Program (NOP) and the U.S. organic industry as a whole.
Since the U.S.-EU Organic Equivalence Arrangement took effect in June 2012, there are more opportunities than ever for U.S. organic companies to expand into the European market. Previously, growers and companies wanting to trade products across the Atlantic had to certify to both U.S. and EU standards, which meant extra fees, inspections, and paperwork. Now, products certified in the United States or Europe may be sold as organic in either region. 
This arrangement is especially helpful to NOP-certified small- and medium-sized organic producers looking to break into the European market. Given this favorable trade climate, participating in BioFach and SIAL Paris was an easy choice for OTA and its co-exhibitors. 
Sandy Gencarelli of Hillside Candy, a family-owned business in Hillside, N.J., noted, "The quality of traffic for me was better than anticipated, and I look forward to building new relationships and strengthening the relationships with our current buyers whom I had a chance to meet with at the trade show."
"We received our first order from the show in three days!" said J.R. Ortiz, president of MacroLife Naturals, a nutritional supplement company based in Culver City, Calif.. "SIAL visitors come from all over the globe!"
Exhibitor Jean Ruell, from Boulder, Colo.-based organic sun care line Goddess Garden, is forecasting new sales through the second quarter of 2015 from more than 16 countries across Europe, the Middle East, Australia and Latin America. 
With growing global demand for certified USDA organic products and successful results from SIAL Paris and BioFach, the 2015 edition of ANUGA in Cologne, Germany, will serve as the next stepping stone for U.S. companies seeking to reach the lucrative European market.