U.S. Seafood Companies Hook Record-Breaking Sales in Belgium
U.S. exhibitors at the 25th annual Seafood Expo Global (SEG) in Brussels, Belgium, recorded their largest catch on record with projected 12-month sales of $895 million and on-sites sales of $136 million. This success was a huge win for the U.S. seafood industry, which in 2016 exported $5.2 billion of fishery products to the world. Businesses in the USA Pavilion, organized by USDA's Foreign Agricultural Service (FAS), received the greatest interest from buyers looking for salmon, surimi, black cod, scallops, live lobster, eel, flounder, swordfish, hake, shrimp and mackerel.  
On hand at SEG were members of the Alaska Seafood Marketing Institute (ASMI), Food Export Northeast (Food Export NE), the Southern U.S. Trade Association and the Intertribal Agricultural Council (IAC). New this year, the trade show kicked off with a joint reception sponsored by ASMI, Food Export NE and IAC. More than 150 trade contacts attended the reception with special hosts Connecticut Department of Agriculture Commissioner Steven Reviczky and Alaska Commissioner of the Department of Commerce, Community and Economic Development Chris Hladick. The highlight of the event was an eye-catching food truck featuring a two star Michelin chef serving up delicious snacks made with Alaskan salmon, cod, scallops and other high-end seafood bites.  
SEG is the largest international seafood trade event in the world, attracting buyers from 150 countries representing the food retail, foodservice, trade and seafood processing industries. Held annually in Brussels, it also provides an excellent opportunity to reach customers in the European Union (EU), the second-largest and growing market for U.S. seafood exports. With per capita fish consumption increasing in the EU, consumers are frequently purchasing fish as an alternative to beef, pork and poultry. 
Seafood companies looking to enter or expand in the export market are encouraged to exhibit at SEG next April. As a USDA-endorsed trade show, exhibitors in the USA Pavilion receive additional support from FAS staff, including marketing and promotion services, market intelligence, logistical support and on-site assistance. FAS experts also assist with attracting overseas buyers and organizing business-to-business meetings to help American companies succeed in the global market. 
Photo Caption: A food truck in the USA Pavilion at Seafood Expo Global attracts a crowd as the chef dishes up fresh, high-end seafood bites and snacks made with Alaskan salmon, cod and scallops.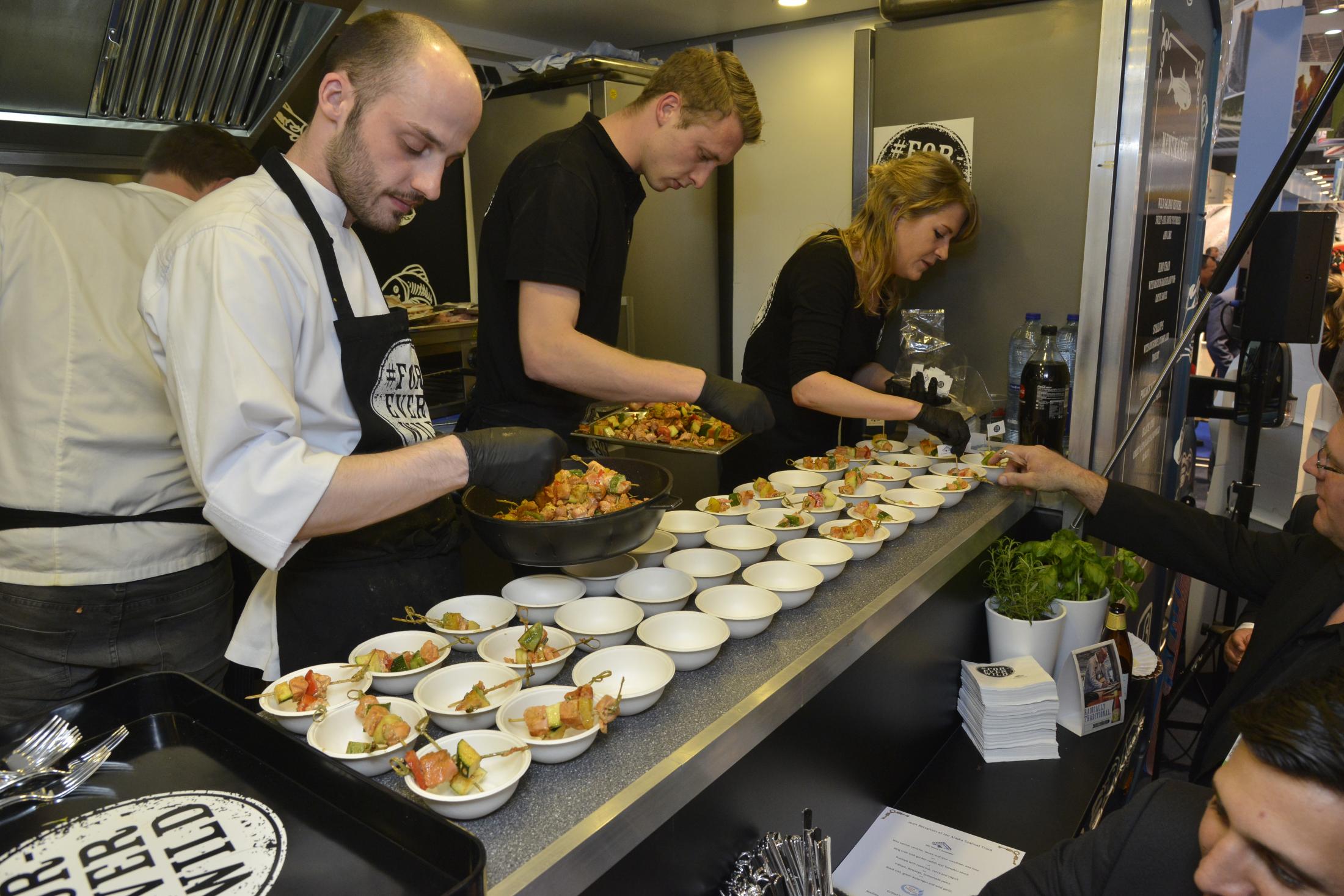 Photo Caption: U.S. exhibitors at the Seafood Expo Global in Brussels, Belgium, showcase a great variety of U.S. seafood to attract buyers and reel in record-high sales.