Trade Show Helps Firms Capitalize on Growing Indian Appetite for U.S. Products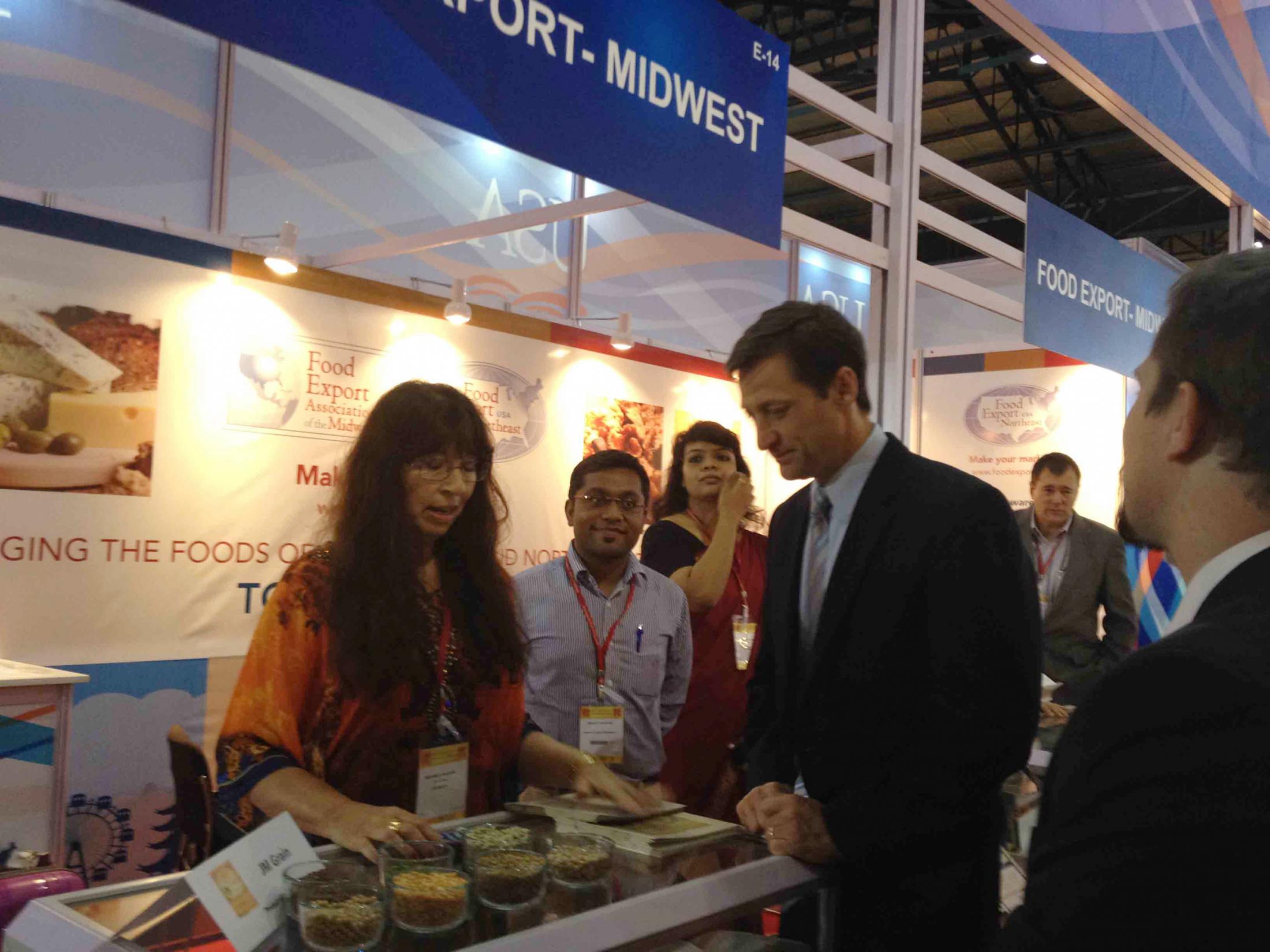 Photo: Bev Flaten, of JM Grain, shows Tom Vajda, the U.S. Consul General for Mumbai, products she is showcasing at the Annapoorna World of Food India trade show. 

Adam Branson, Senior Attaché, Office of Agricultural Affairs, Mumbai, India
Breaking into a new market can be a scary thing for a business – especially if that market is half a world away, with a different culture and language. But there is help available. USDA's Foreign Agricultural Service (FAS) has offices across the globe that assist American agricultural businesses with exporting and navigating international markets. 
One goal of our office here in Mumbai is to help U.S. producers do business in India. For example, we help American exporters find reliable buyers, follow technical regulations, and negotiate cultural and business practices. We also provide them with research on market trends and other valuable market intelligence. 
 
Trade shows are one way we help U.S. businesses find new clients and markets. During the last week of September, nine U.S. food and agribusiness firms traveled to Mumbai to participate in Annapoorna World of Food India, a who's who of the food and beverage industry on the Indian subcontinent. With FAS's support and assistance, the companies met with potential customers to find and form strategic relationships that will lead to increased or altogether new export sales of U.S. food and agricultural products. All told, the firms that participated generated an estimated $3.2 million in new projected sales over the next 12 months.
The U.S. exhibitors were selling consumer-oriented and high-value food products like tree nuts, peanut-based snacks, peas and lentils, ketchup and barbeque sauces, and energy and protein replacement beverages and concentrates. Such items are in increasingly high demand among Indian consumers. In fact, U.S. consumer-oriented exports to India reached a record $519 million in 2013 – even in the face of Indian currency volatility and increased market barriers. We expect exports of U.S. food and agricultural products to continue to grow as Indian customers become more familiar with American products – making this a perfect time for U.S. producers to explore the market.  
Darren Rigg, of Meridian Growers in Clovis, Calif., showcased his company's nuts and dried fruit products at the trade show. "We had limited business contacts in India and to be here, at Annapoorna, face-to-face and see the supply chain has helped us understand the market. This, the Indian market, is a way different ball game from other countries and markets," Rigg said.
"With the customers we already had, I was able to spend time with them and see how our product reaches the Indian consumer. A lot of importers visit our operations in California and it is good to reciprocate with our visit here. Our customers seem to be very appreciative in our travel here and to see and learn about their business flow and perspective."