Ten New Agricultural Officers Sworn Into Foreign Service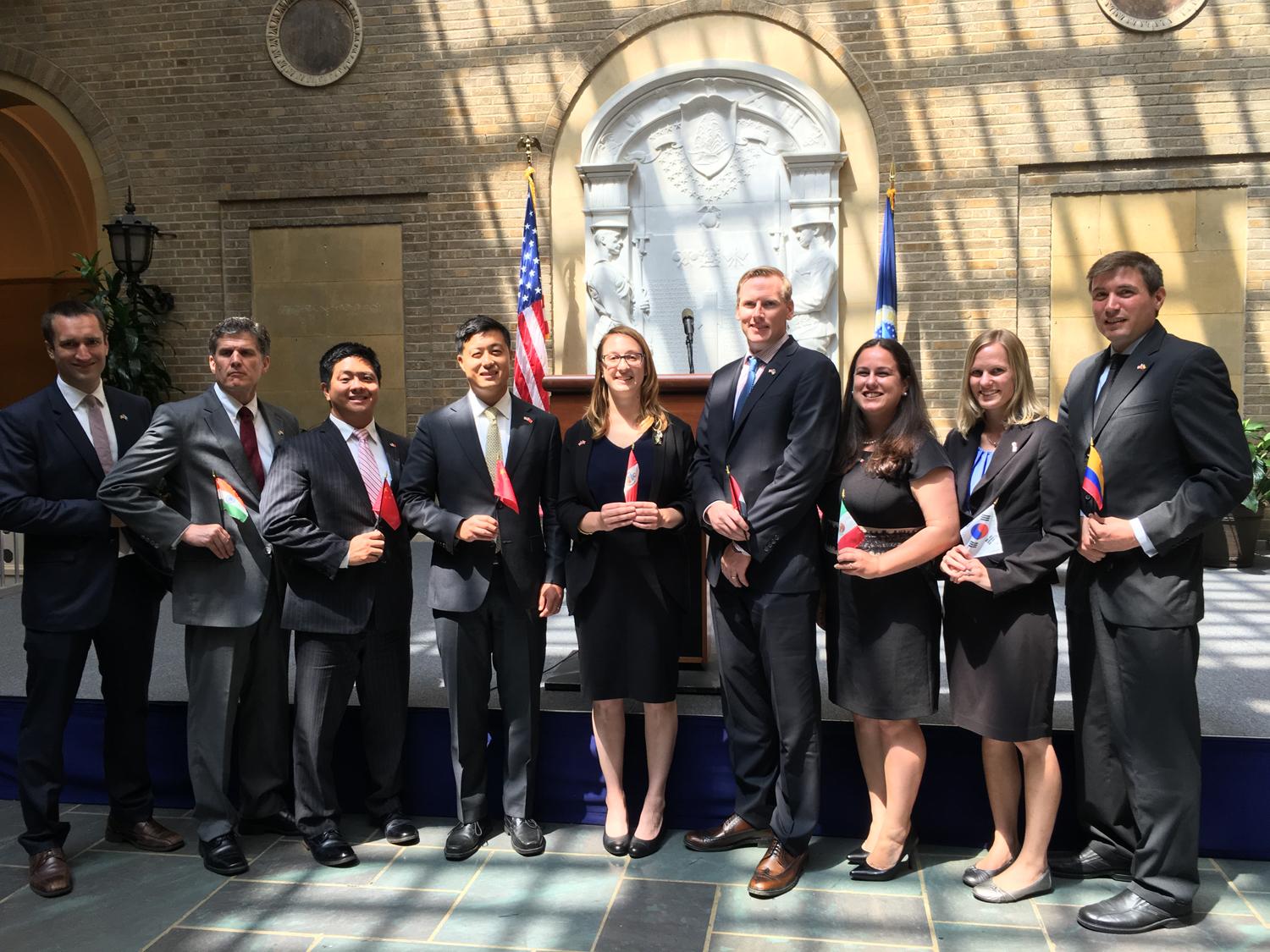 Ten newest agricultural officers sworn into the Foreign Service, from left to right: Sean Cox, Mark Wallace, Abraham Inouye, Gene Kim, Kirsten Luxbacher, Neil Mikulski, Mary Rose Parrish, Amanda Hinkle, and Ben Rau
Contact: FAS Public Affairs (202) 720-7115
WASHINGTON, July 13, 2016–Ten employees of the U.S. Department of Agriculture's (USDA) Foreign Agricultural Service (FAS) were sworn in as Foreign Service Officers today during a ceremony at USDA headquarters in Washington. The new officers will begin their Foreign Service careers working as agricultural attachés at U.S. embassies in nine countries.
"Our attaché corps serves as the eyes, ears and voice for U.S. agriculture around the globe, monitoring and reporting on agricultural trade matters, identifying export opportunities, facilitating trade, working to enhance food security, and supporting U.S. foreign policy objectives," said FAS Administrator Phil Karsting. "These newly minted Foreign Service Officers have already shown they have the talent and determination to successfully carry out the FAS mission of 'linking U.S. agriculture to the world.' I look forward to seeing the great things they will achieve in their Foreign Service careers."
The 10 new attachés are among approximately 140 FAS Foreign Service Officers who are posted to 93 offices at U.S. diplomatic missions around the world, covering 171 countries.
 
The new FAS Foreign Service officers are:
Sean Cox, from Excelsior, Minn., assigned to the FAS Office of Agricultural Affairs (OAA) in Guatemala City, Guatemala;
Amanda Hinkle, from Orchard Park, N.Y., assigned to the OAA in Seoul, South Korea;
Abraham Inouye, from Costa Mesa, Calif., assigned to the OAA in Beijing, China;
Gene Kim, from Duluth, Ga., assigned to the OAA in Beijing, China;
Kirsten Luxbacher, from Pittsburgh, Pa., assigned to the OAA in Lima, Peru;
Neil Mikulski, from Philadelphia, Pa.,  assigned to the OAA in Dubai, United Arab Emirates;
Mary Rose Parrish, from Raleigh, N.C., assigned to the OAA in Mexico City, Mexico;
Ben Rau, from Rochester, Minn., assigned to the OAA in Bogota, Colombia;
Mark Wallace, from Warsaw, Ind., assigned to the OAA in New Delhi, India; and
Paul Welcher, from Arnold, Md., assigned to the OAA in Bangkok, Thailand.
More information about FAS and its work to advance U.S. agricultural interests around the globe is available at www.fas.usda.gov.
#
USDA is an equal opportunity provider and employer. To file a complaint of discrimination, write to USDA, Assistant Secretary for Civil Rights, Office of the Assistant Secretary for Civil Rights, 1400 Independence Avenue, S.W., Stop 9410, Washington, DC 20250-9410, or call toll-free at (866) 632-9992 (English) or (800) 877-8339 (TDD) or (866) 377-8642 (English Federal-relay) or (800) 845-6136 (Spanish Federal-relay).