From Sky to Soil: Young Agricultural Leaders Nourish FAS Satellite Data with Grassroots Truth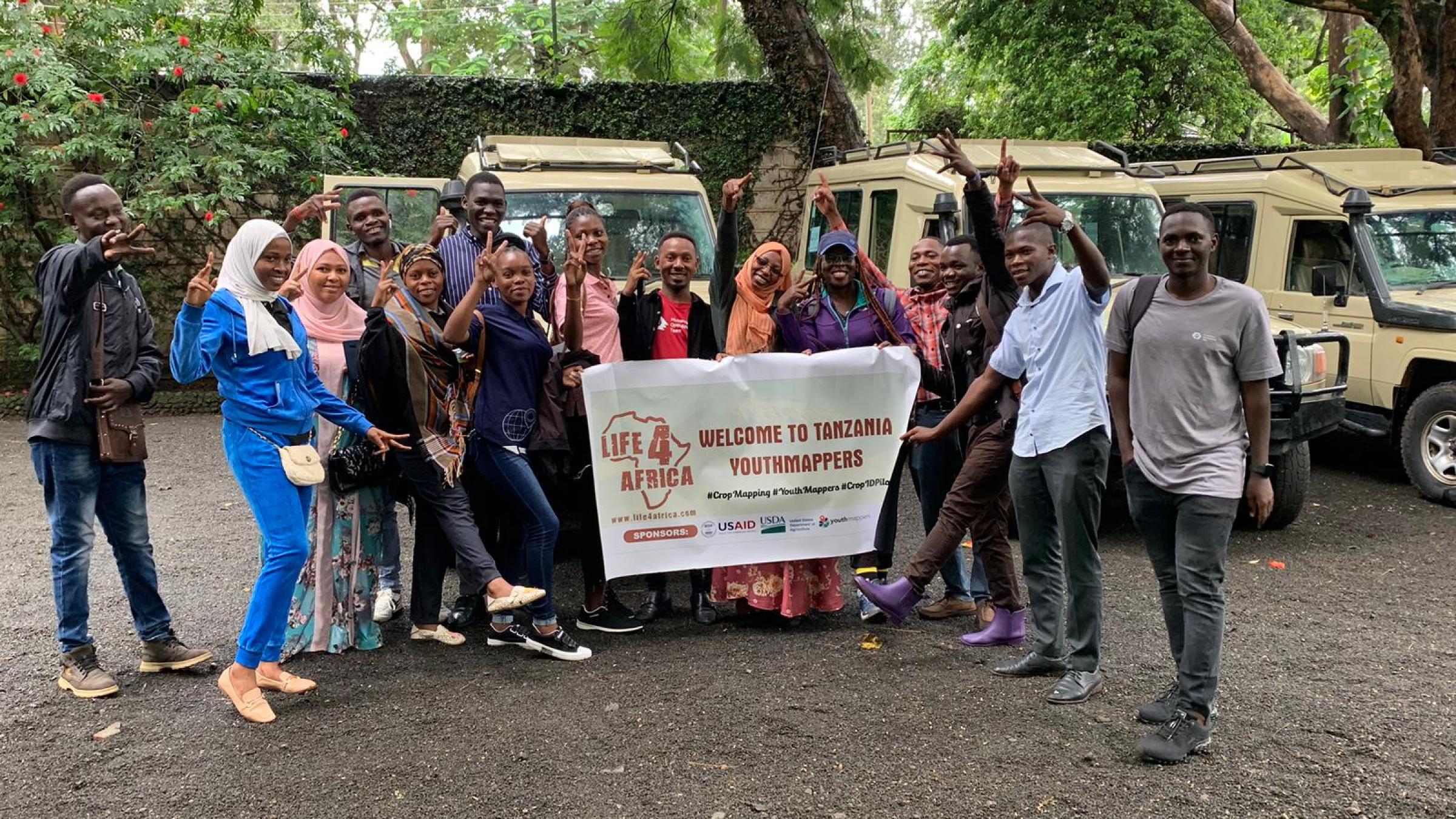 Accurate crop mapping is a crucial process to informing reliable crop production estimates, addressing climate change, and developing strategies for sustainable agriculture. U.S. Department of Agriculture's Foreign Agricultural Service is working with university students in Tanzania on a pilot project to gather grassroots data on grain, oilseed, and cotton crops to help strengthen community agricultural systems and improve crop condition assessments with satellite imagery. Their field work is adding truth from the ground up to the sky.
In April, 14 YouthMappers spent four days in the Arusha area capturing data on 334 fields by photographing, georeferencing, and identifying target crops to enhance FAS satellite imagery analysis. YouthMappers is an international network of university-based chapters that organize and implement mapping activities in response to global and local development needs.
"The YouthMappers' chapters are products under USAID, which empower youth to help their community," said Gideon G. Sway, one of the YouthMappers.
The multi-agency collaboration between FAS, U.S. Agency for International Development, and Tanzanian groups focused on building skills in field work, data sampling, and assessing agricultural conditions. The team's main objective was to create an agricultural library of ground-truth data from the regions of Arusha, Dodoma, and Mwanza. This activity is the first time YouthMappers has used its members' skills to strengthen agricultural data.
While Tanzania grows several kinds of crops, making this a viable machine learning project required the team to focus on locating target crops of FAS' International Production Assessment Division (IPAD), such as corn, sorghum, millet, rice, and cotton. Oftentimes, these crops are grown in larger fields can be detectable by freely available satellite imagery. In addition to geo-locating these crops, the team's field work revealed variability in crop heights—illustrating where there had been early or late rains, and kept an eye out for pest damage, especially from the fall army worm.
Since the project began, the Tanzanian YouthMappers network has collected data from 1,700 fields in the Arusha, Dodoma, and Mwanza regions. Thanks to YouthMappers, FAS can now pair satellite imagery from Sentinel-2 with the field data. This future-facing project improves our understanding of crop conditions and the impact of seasonal rains. This cooperation helps us respond to unusual crop conditions due to climate change and provide improved information for decision makers.
In May, these YouthMappers, trained additional university students on geo-mapping with ArcGIS, OpenStreetMap, and Kobo Collect to help advance Tanzanian agriculture and achieve project goals for the Dodoma and Mwanza regions. These young leaders also conducted meetings with local community members in advance of the field work to learn about agriculture from the community, share about the technology used for crop identification, and obtain permission to conduct the field work.
The Tanzania partnership is part of the FAS efforts to help develop young agricultural leaders to strengthen Africa's self-development and capacity building. Projects like this empower tech-savvy youth leaders in African countries to enrich mutual research efforts and expand climate-smart agricultural systems and climate change adaptation. Similar projects are underway in Ghana and Uganda
Be on the lookout for this group's presentation next month at the Africa Food Systems Forum. The goal of the Forum is for public, private, and non-profit groups to strengthen African agricultural and food systems via inclusivity, sustainability, resiliency, and equity.
From Sky to Soil: Young Agricultural Leaders Nourish FAS Satellite Data with Grassroots Truth