Promoting the Taste of America in India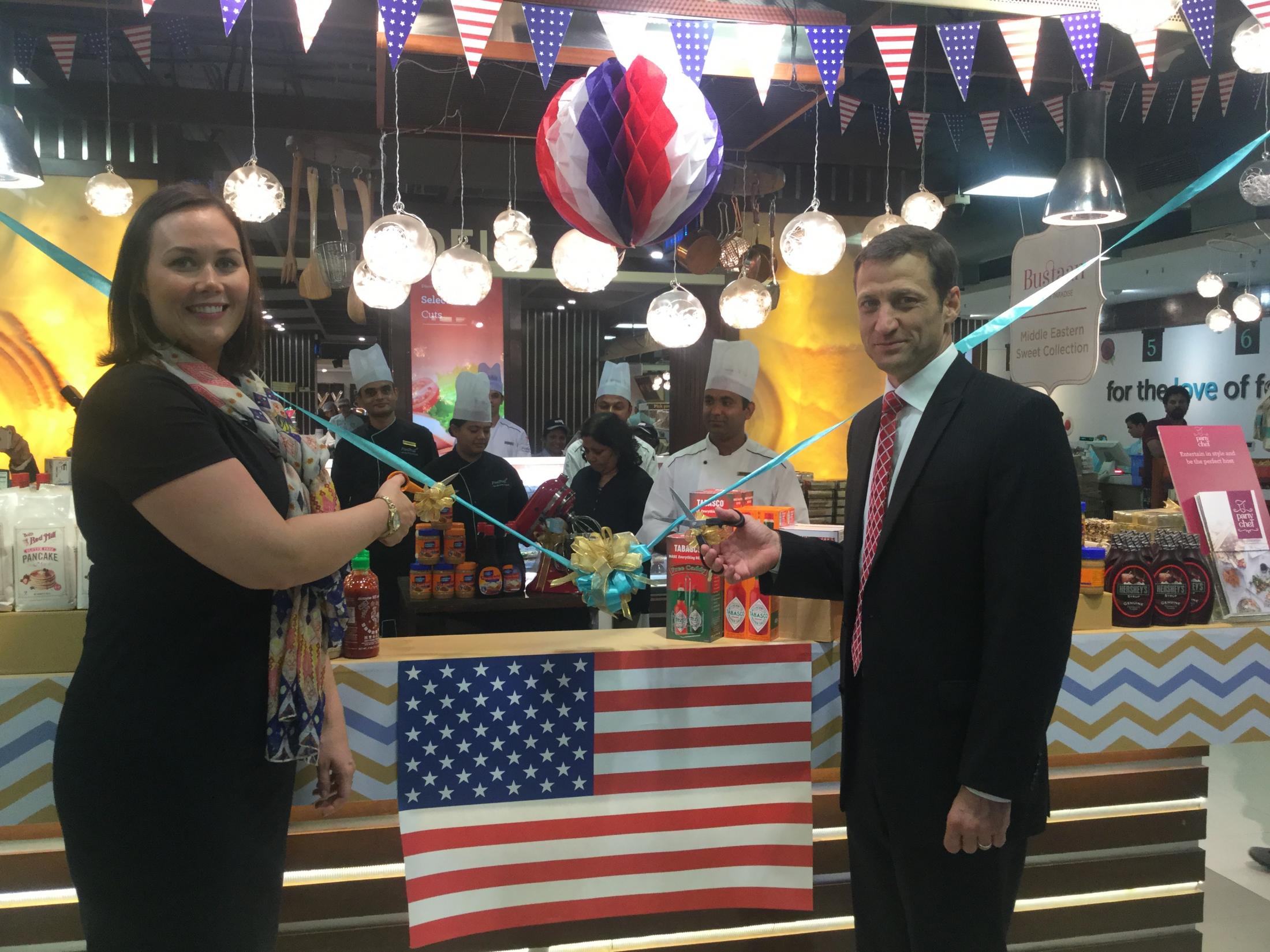 Through its market development programs, USDA's Foreign Agricultural Service (FAS) has established partnerships with nearly 20 U.S. industry groups to help expand market opportunities in India for U.S. food and agricultural products. From U.S. pecans, dry beans, peas and lentils, to California walnuts and Washington apples, India offers a small but growing market for U.S. producers and agribusinesses to export their consumer food products. 
Deputy Under Secretary for Farm and Foreign Agricultural Services Alexis Taylor traveled to India this week where she visited the Foodhall Grocery Store in Mumbai to support USDA cooperators and help promote their products. Launched five years ago, Foodhall is a premium retail grocery store with five locations throughout India, including its flagship store in Mumbai. 
Foodhall provides customers with unique food products from around the world, including the United States. Its stores overflow with spectacular fresh fruit and vegetable displays, spice stations, live demonstration kitchens, and a fresh sampling of ingredients. Through a strong partnership, FAS coordinates with Foodhall to host special events to inform Indian consumers about U.S. food and agriculture products. 
In 2014, FAS partnered with Foodhall to organize a four-city, six-venue retail promotion that increased sales of U.S. products by 92 percent across Foodhall's outlets and prompted Foodhall to add 26 new U.S. products to its shelves. The store's Taste of America promotional event this week, featuring a live cooking demonstration with Deputy Under Secretary Taylor, is again expected to provide great returns. 
Held in the middle of October to coincide with Diwali, the Hindu festival of lights, the promotional event brought together long-honored Indian traditions with new buying opportunities. As demand spikes during the fall festival season for specialty and high-value foods such as chocolates, nuts, dried and fresh fruits, cakes, confectionary items and fruit juices, this event helped maximize exposure to U.S. food products. It was also an opportune time to introduce new-to-market food products in India, since Diwali celebrations often include gift exchanges and in-home dining.