People's Garden Bears Fruit in Paris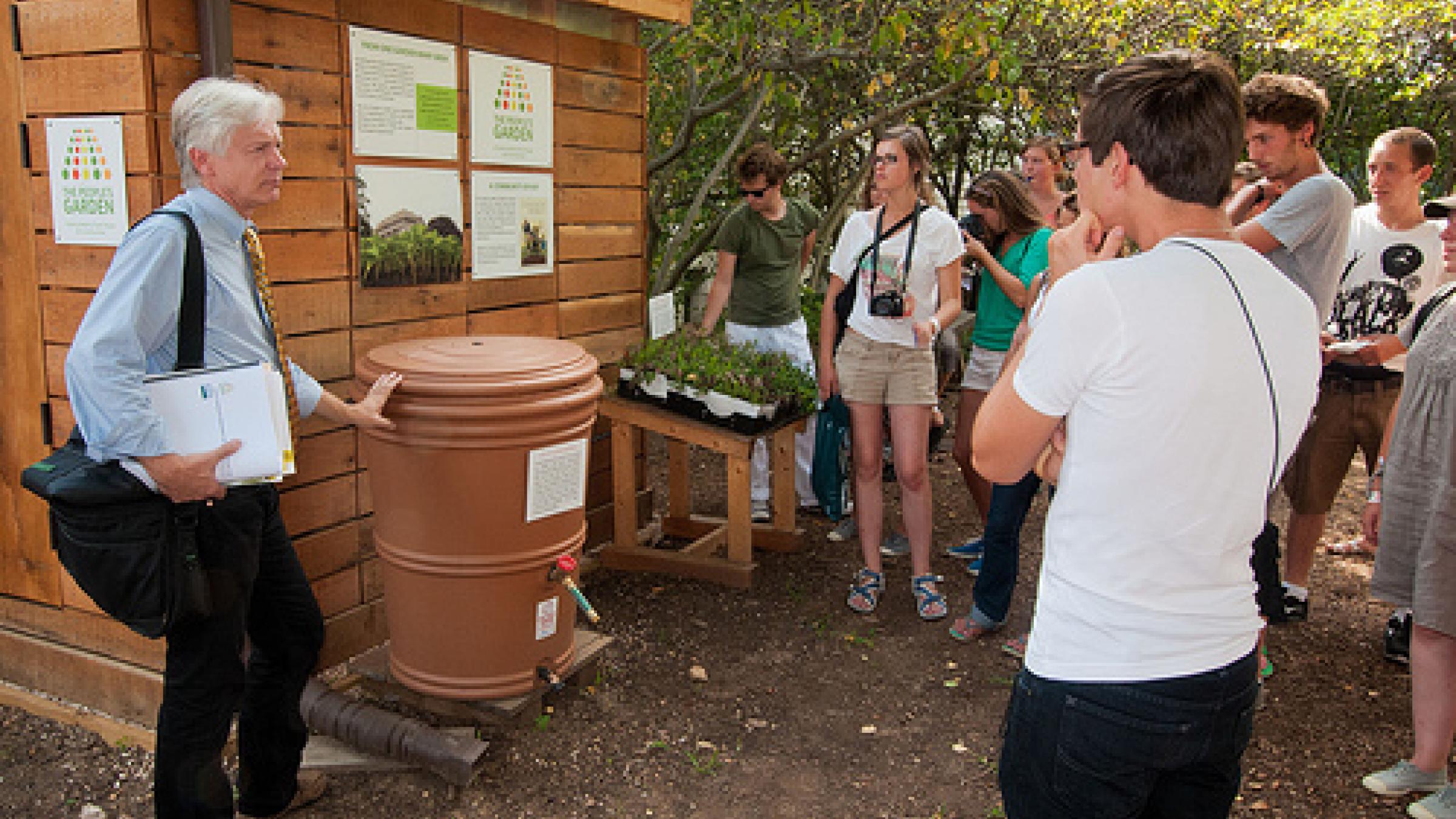 by Janet Nuzum, FAS Associate Administrator
After a morning visit to the White House Kitchen garden, 27 students from Ecole Du Breuil, the leading school of Horticulture and Landscaping Techniques of the City of Paris, France, spent the afternoon visiting the USDA People's Garden. Sitting on tree stumps in the garden's outdoor classroom, they listened to USDA's Annie Ceccarini describe the history of the People's Garden Initiative and then got to tour the grounds of the USDA Headquarters garden.
The group was led by Professor Hervé Dardillat, landscape architect, and Professor Claude Bilgoraj, English instructor.  The French students are on a two-week U.S. tour, which includes visits to gardens and parks in Washington, D.C., Philadelphia and New York. They are enrolled in a two-year higher-education program in Horticulture and Landscaping Techniques. 
When U.S. Ambassador to France Charles H. Rivkin arrived in Paris in 2009 he proposed creating an organic vegetable and fruit garden at his official residence, an historical building that is also known as Hotel de Pontalba. The Paris-based office of USDA's Foreign Agricultural Service partnered with the Ecole Du Breuil, thus making it a school project. The students designed the garden to match the architectural background of the building, grew the plants in the school's greenhouses, and then planted them at the residence. The students were challenged to design a garden that was both ornamental and useful.  
The U.S. Embassy/Paris People's Garden is now in its third year, having evolved each year with improved designs and new plants and trees. While in Paris for the G20 Agriculture Ministerial, Secretary Vilsack visited the garden and inaugurated it as a USDA People's Garden.  
The garden in Paris includes salads, herbs, squash, pumpkins, strawberries, hardy kiwi fruit, passion fruit, tomatoes, borage and many other crops from both Europe and the Western Hemisphere. Apple trees and vines were recently added. Since 2011, corn and sunflowers give the garden some Midwest U.S. flavor. In the fall, students will plant a winter garden with crops such as leek, beets and cabbages that can tolerate low temperatures and snow.  
The U.S. Embassy/Paris People's Garden supports the embassy's nutrition outreach efforts and promotes healthy eating initiatives in the United States, such as "Let's Move!" To raise the profile of U.S. food products in France, the garden also serves as a backdrop for events organized by FAS to promote U.S. food products. Events have included a California wine tasting and a gourmet gathering where renowned French chefs interpreted traditional U.S. recipes using vegetables and herbs from the garden along with U.S. products such as seafood.  
Recently, after touring the Embassy garden and meeting with Ecole Du Breuil staff, the new French Minister of Agriculture has decided to create a similar vegetable garden on the grounds of the Ministry's headquarters.