FOODEX Japan Delivers for U.S. Exporters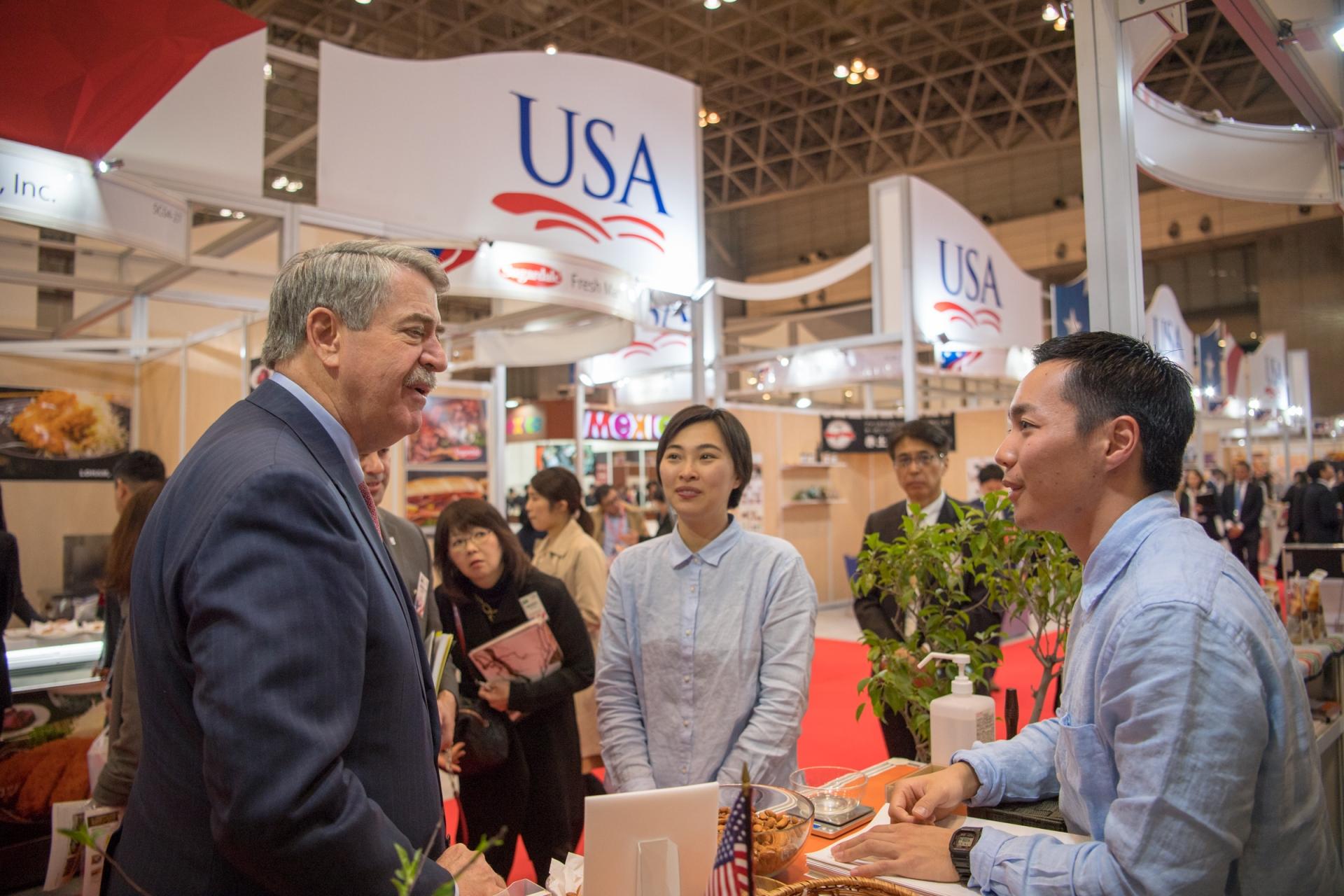 USDA Under Secretary for Trade and Foreign Agricultural Affairs Ted McKinney visits the USA Pavilion at FOODEX Japan. (Photo: U.S. Embassy Japan)
Japan is the fourth-largest global market for U.S. agriculture and the top Asian market for U.S. exports of consumer-oriented food products. Each year, it's also the site of Asia's largest annual food and beverage trade show, FOODEX, which offers U.S. exhibitors access to Japan's $770 billion food and beverage market and to many other lucrative Asian markets as well.
At this year's FOODEX, March 6-9, 48 American companies were able to tap those opportunities by marketing their products at the USDA-sponsored USA Pavilion, generating $18.5 million in projected 12-month sales.
"FOODEX is a great showcase for the incredible diversity in the American food and agricultural sector, and testament to the United States' well-deserved reputation as a reliable supplier of innovative and high-quality products," said Gary Meyer, FAS minister-counselor for agricultural affairs at the U.S. Embassy in Tokyo. "Year-in and year-out, potential buyers see a full array of products ranging from dried fruits and nuts to meat and craft beverages all the way to processed organic foods.
"FOODEX is also a great place to see what the competition is doing," Meyer noted. "Participation by our European, Australian and Canadian competitors has grown steadily in recent years in keeping with their ramped-up interest in Japan and tighter trading relationships.  With a keen eye on our competitive position, FAS has been alert to the policy developments between Japan and our third-country competitors, in addition to resolving barriers to trade that hinder U.S. food and agricultural exports."
Meyer noted that FAS's Agricultural Trade Offices in Tokyo and Osaka are focused on expanding marketing opportunities and delivering a full range of support services for U.S. exporters.
"They provide the latest information on the Japanese market, share best practices, bring buyers and sellers together, and create exciting venues such as the USA Pavilion at FOODEX," Meyer said. "Although an ocean separates us, and Japan may sometimes seem far away, opportunities are well within reach. The USDA team is always ready to help U.S. exporters create strong relationships with reliable, long-term partners committed to shared success during FOODEX and all year-round."