USDA Program Brings Ag Educators to Ghanaian Classrooms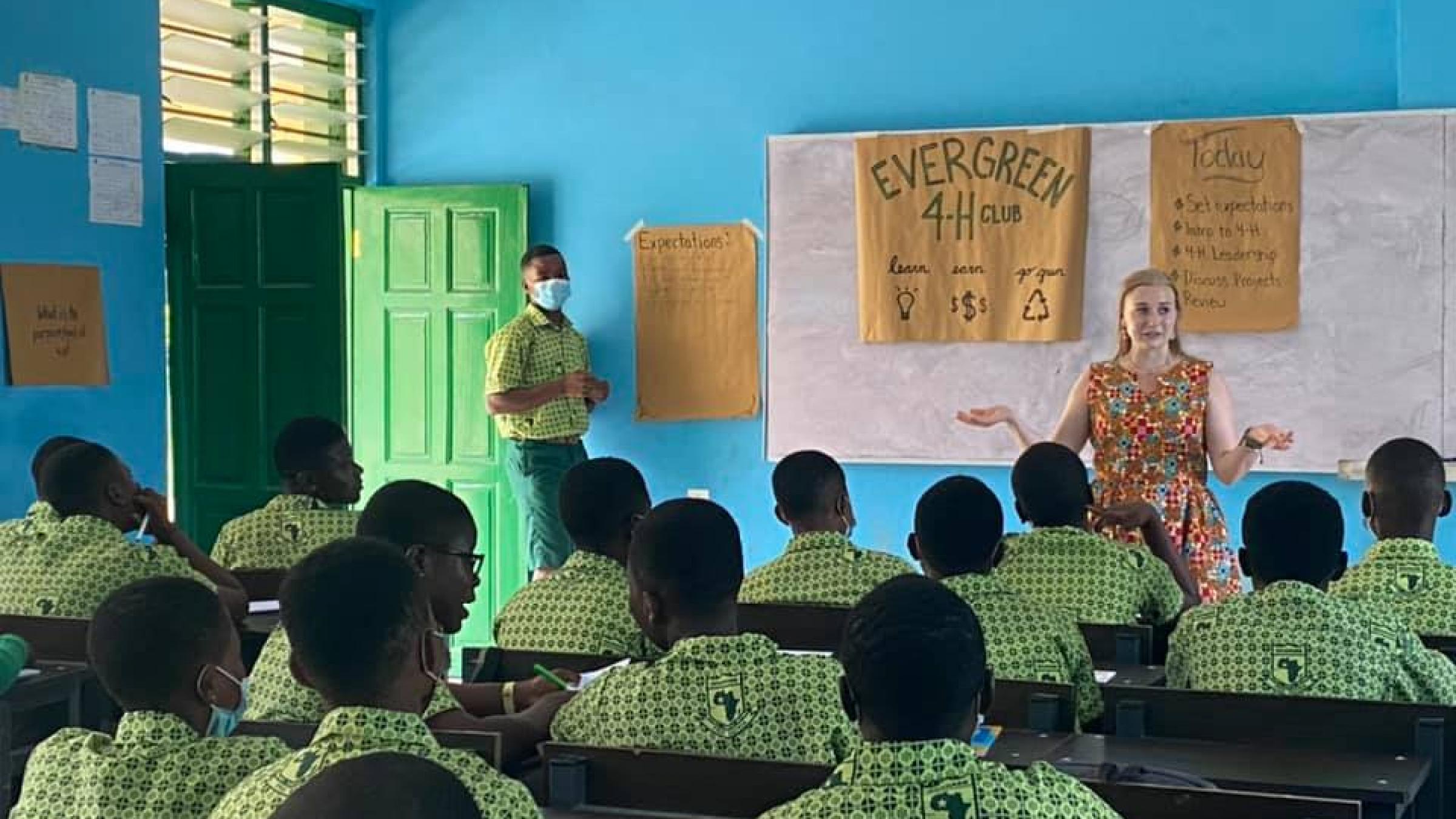 Interviews conducted by Pat Cuadros, USDA Foreign Agricultural Service. Photos courtesy of Jessica Spence, Texas A&M University's Norman Borlaug Institute for International Agriculture.
---
In honor of World Teachers' Day, USDA's Foreign Agricultural Service is celebrating some of our fellowship recipients who are teaching agricultural education in Ghana and helping shape the minds of tomorrow's agricultural producers, entrepreneurs, and global leaders.
USDA's connection to agricultural education can be traced back more than a century through partnerships with our nation's land-grant institutions and youth extension programs, including 4-H and National FFA. More recently, a new USDA program, the International Agricultural Education Fellowship Program (IAEFP), was established in 2018 to further strengthen this connection by assisting developing countries with establishing school-based agricultural and youth extension programs.
Today, in close collaboration with Texas A&M University's Norman Borlaug Institute for International Agriculture, the first-ever cohort of IAEFP Fellows is on the ground in Ghana working in rural communities to help establish and teach agricultural education programs. The nine U.S. fellows are spending 10 months in host communities working as agriculture teachers, extension agents, and 4-H advisors. Along the way, they are receiving continued training and support from the Borlaug Institute, Vivayic, Inc., 4-H Ghana, and AgriCorps.
Despite their busy teaching schedules, three of the fellows recently squeezed in a few minutes to talk with us about their passion for teaching and agriculture, as we geared up to celebrate them and their colleagues on this World Teachers' Day.
Read their stories:
More about the program:
USDA's Foreign Agricultural Service provides funding to selected non-profit organizations and higher-education institutions to develop and implement IAEFP projects. The program was designed to have lasting benefits for the United States and host countries. For example, IAEFP is helping develop a diverse group of globally-minded U.S. agriculturalists with real-world international experience. Fellows will return to the United States with invaluable knowledge, training, and experience in agricultural education, development, extension, and policy. In addition, IAEFP Fellows help meet the food and fiber needs of their host communities. They are teaching climate-smart agricultural practices through their lesson plans and hands-on work inside and outside of the classroom. Finally, fellows collaborate with local agricultural stakeholders and leaders to establish youth extension programs and, in doing so, also exchange ideas and promote ways to strengthen and enhance bilateral trade between the United States and Ghana.