Keeping Kids Fed in Kenyan Schools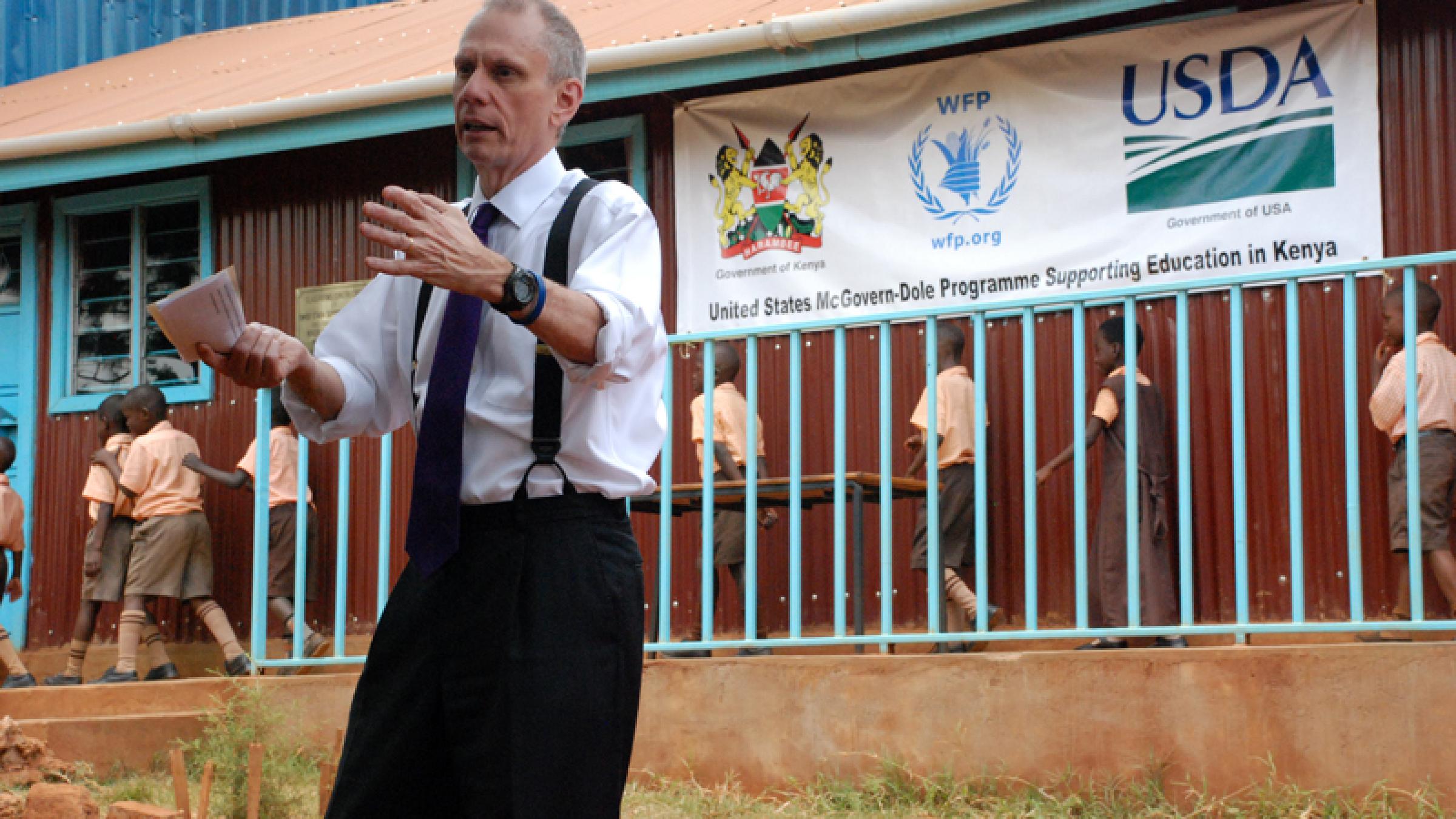 By Kate Snipes, Agricultural Counselor, U.S. Embassy, Nairobi
On Feb. 21, newly confirmed U.S. Ambassador to Kenya Robert F. Godec visited the Stara Rescue Center, a school and orphanage located in Africa's largest urban slum of Kibera, Nairobi. He was there to highlight USDA's support to the center's students through the McGovern-Dole Food for Education Program. The Foreign Agricultural Service (FAS) program supports education, child development and food security in low-income, food-deficit countries that are committed to universal education.
Children receive free primary education at the Stara Rescue Center, but resources are often scarce for basic school supplies and lunches. In 2004, the World Food Program (WFP), an international humanitarian agency and McGovern-Dole participant, began a feeding program at the center for school days.
Ambassador Godec congratulated the school's founder, Josephine Mumo, and WFP for their continued partnership to support the children. "We support Kenya's desire for universal primary education, and believe students learn better when their stomachs are fed along with their minds," he said during the visit. "Universal education combined with good nutrition helps build the bodies and minds of the future leaders of this great country."
The Stara Rescue Center is just one of the beneficiaries of the USDA-funded program implemented by WFP in Kenya where U.S.-grown food feeds 650,000 children at more than 2,000 schools. USDA has provided food and program funds valued at $77.8 million to WFP to fund school feeding programs in Kenya for the past 10 years. Additionally, USDA provides funds to the Kenyan government to help strengthen its technical skills to implement school feeding country-wide.
Since 2001, the program has funded projects in more than 40 countries, benefiting more than 28 million children and their families. The McGovern-Dole program also aligns with the U.S. Government Action Plan on Children in Adversity, which aims to achieve a world where all children grow up within protective family care and free from deprivation, exploitation and danger.