Fish Trials Help Pakistani Catch Life-Long Skills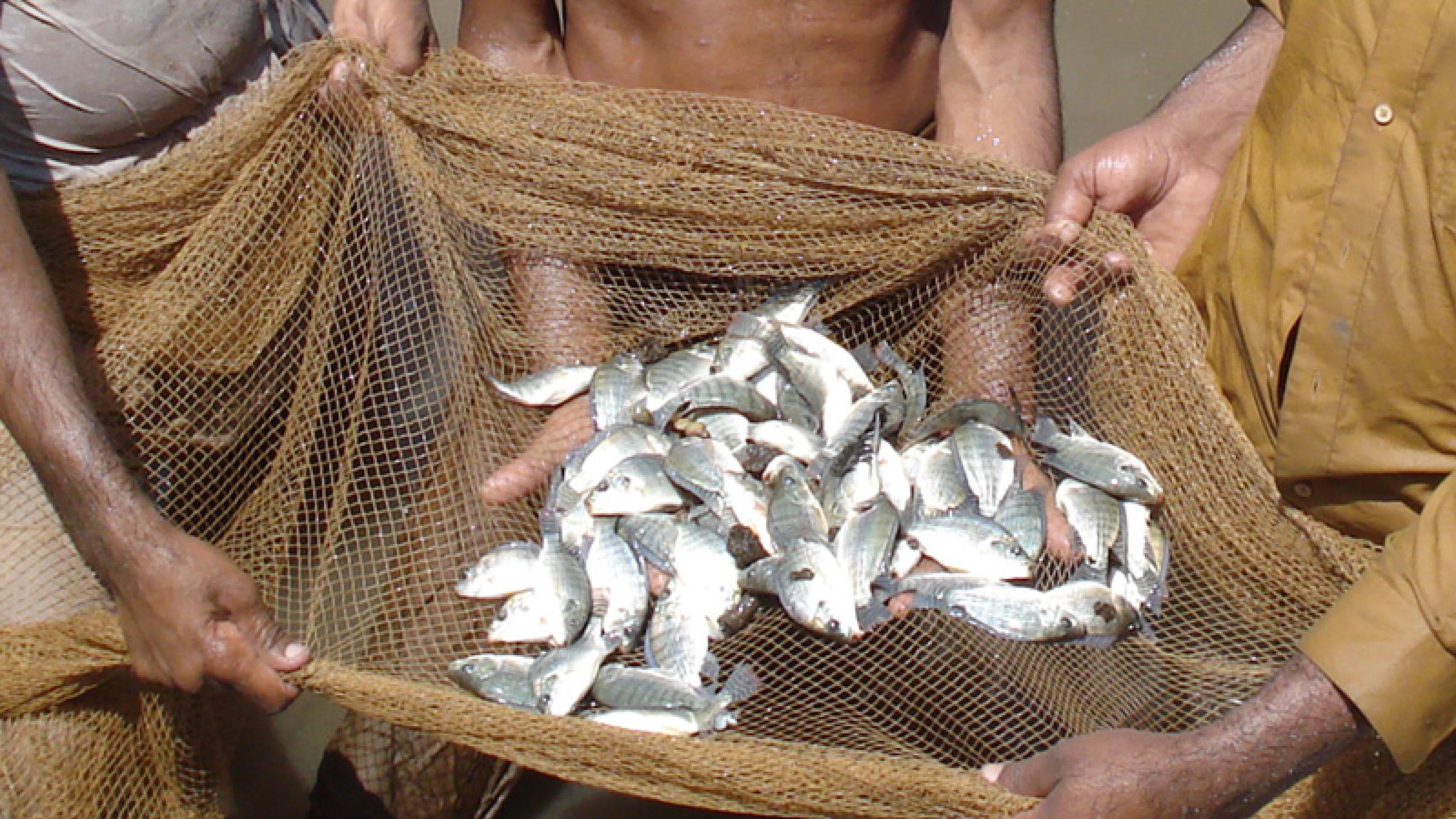 An innovative Foreign Agricultural Service (FAS)-funded program in Pakistan is not only improving local diets, but is creating jobs, training workers and helping create a thriving aquaculture industry. 
The American Soybean Association's (ASA) World Initiative for Soy in Human Health (WISHH) program began a three-year program last September called "FEEDing Pakistan." ASA/WISHH is collaborating with the Pakistan Fisheries Development Board on portions of the program, which aims to enhance the country's growing aquaculture sector through trial fish feeding using high–protein, floating fish feed produced from U.S. soybean meal. The program also provides valuable training to fish farmers, including those in rural areas.
Mohammed, a 23-year-old from a village in the Punjab province of Pakistan, was hired to serve as a FEEDing Pakistan field research officer for one of the program's tilapia feeding trials. Mohammed was the only member of his family – and one of the few from his village – to attend high school and college. He graduated with a degree in fisheries and aquaculture from a Pakistani university.   
In his current position, Mohammed not only earns a salary, but learns how to track the progress of the feeding trials, write data reports and use the Internet as a communications tool, said Elizabeth Hare, WISHH Latin America and Pakistan program manager.  
"After his hands-on-training with ASA/WISHH, Mohammed will have the field experience and advanced skills necessary to seek employment with feed companies in Pakistan that plan to produce aqua feed in the future," Hare said. "From his short-term experience thus far, Mohammed has already learned extensive amounts about the handling of tilapia, and he is considering starting his own small fish farm in his village in the future." 
Pakistan's population is protein deficient and the Pakistani government has prioritized increasing the amount of locally produced protein to meet the nutritional needs of the population. FEEDing Pakistan's fish feeding trials –supported by research officers like Mohammed – are helping the government meet its goal.  
Hare said sometimes programs such as FEEDing Pakistan can be broad in nature and don't receive credit for impacting individual lives. Under the program, ASA/WISHH has hired five other Pakistanis who serve as field research officers and come from similar backgrounds as Mohammed. 
"We are grateful that Mohammed's dedication has made all of their work, which is a seemingly small portion of the overall project, stand out in a way that accentuates the importance of the efforts and commitment of each person involved," she said.