FAS, Howard University Launch Fellowship to Expand Diversity in Foreign Service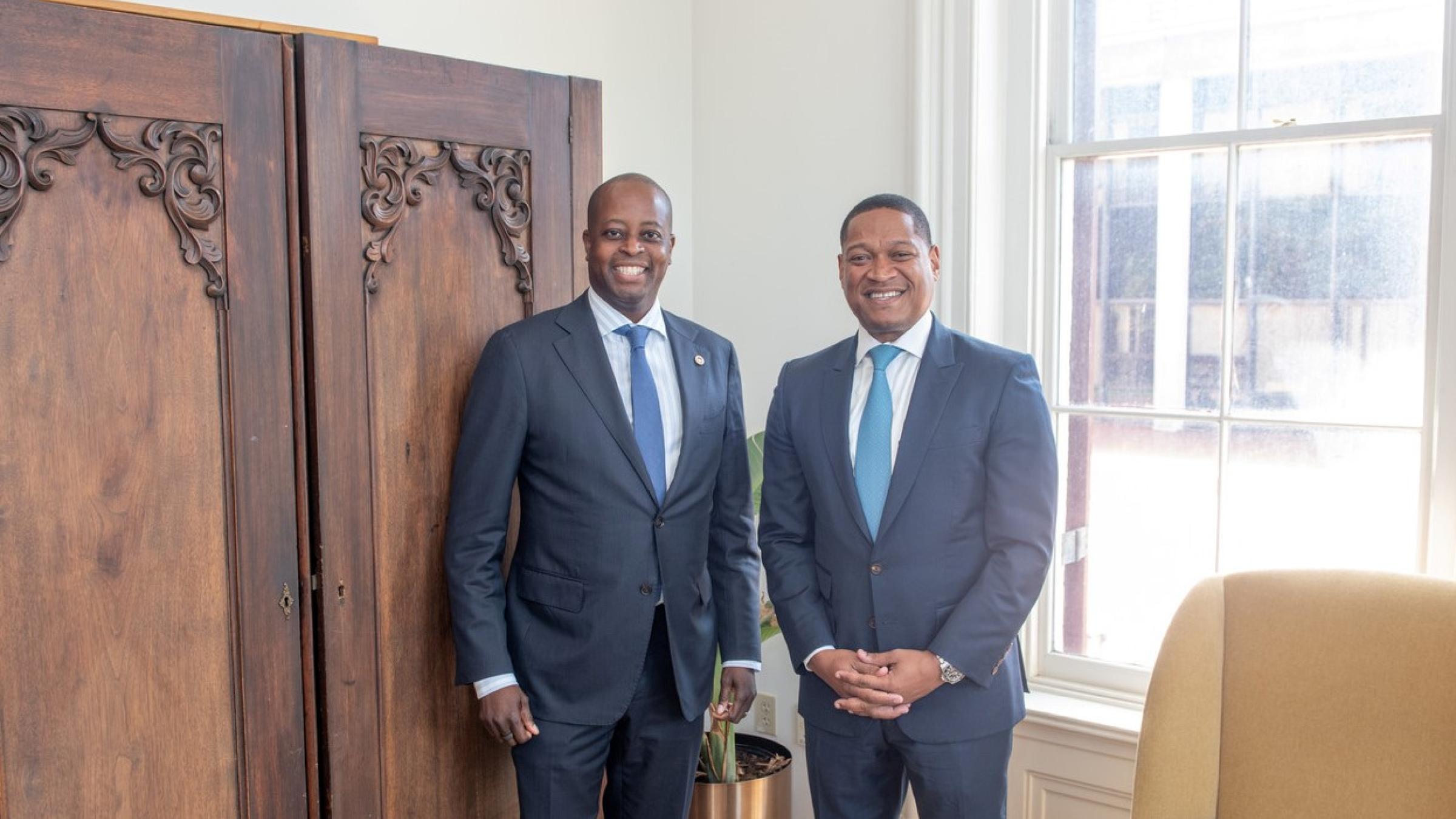 WASHINGTON, Aug. 16, 2022 – Howard University President Wayne A.I. Frederick met today with Daniel Whitley, administrator of the U.S. Department of Agriculture's Foreign Agricultural Service, to discuss their cooperation in the creation and implementation of the new FAS Diversity Fellowship Program. Recruitment for the inaugural class of fellows is currently underway.
During their meeting at Howard University, Whitley and Frederick underscored the importance of this joint endeavor to create a path for outstanding students, particularly those from minority groups historically under-represented at USDA, to pursue careers in the U.S. Foreign Service. The program will help ensure that FAS Foreign Service officers, who serve American agriculture at U.S. embassies and diplomatic missions around the globe, reflect the diversity that is the strength of the United States.
The new fellowship will provide funding and support for selected students to receive master's degrees in Agribusiness or Agricultural Economics at the accredited U.S. university of their choice. Fellows will participate in domestic and overseas internships with FAS and will be offered extensive mentoring and professional development opportunities.
"FAS is proud to launch this program in partnership with Howard University, one of the nation's premier Historically Black Colleges and Universities, to provide a path for outstanding minority students to become Foreign Service officers and support our mission of promoting trade and food security around the world," Whitley said. "Howard University has a proven track record of developing students from all backgrounds into diplomatic representatives and global leaders. The promise of this collaboration will strengthen USDA's commitment to ensuring its Foreign Service team reflects the diversity of our country."
Howard University President Frederick said, "Howard University is honored to partner with the Foreign Agricultural Service in establishing this new fellowship program. The university has been a strong proponent of increasing the representation and impact of diverse voices in policy making and implementation since its founding more than 150 years ago. With 20 years of experience administering Foreign Service fellowships with other U.S. government agencies, we are eager to begin a successful partnership that will provide new opportunities for individuals and allow our government to benefit from the unique perspectives, backgrounds and skill sets that come from embracing diversity, equity, inclusion and access."
Whitley and Frederick encourage interested individuals to apply by the Oct. 6, 2022 deadline. Applicants must be U.S. citizens, have a minimum GPA of 3.2, and begin full-time studies for a master's degree in Agribusiness or Agricultural Economics at an accredited U.S. institution beginning in Fall 2023. Complete information is available at: http://www.fas.usda.gov/programs/diversity-fellowship-program.
###