Borlaug Fellows are Back; Get to Know 2022 Fellow Dr. Kemal Taskin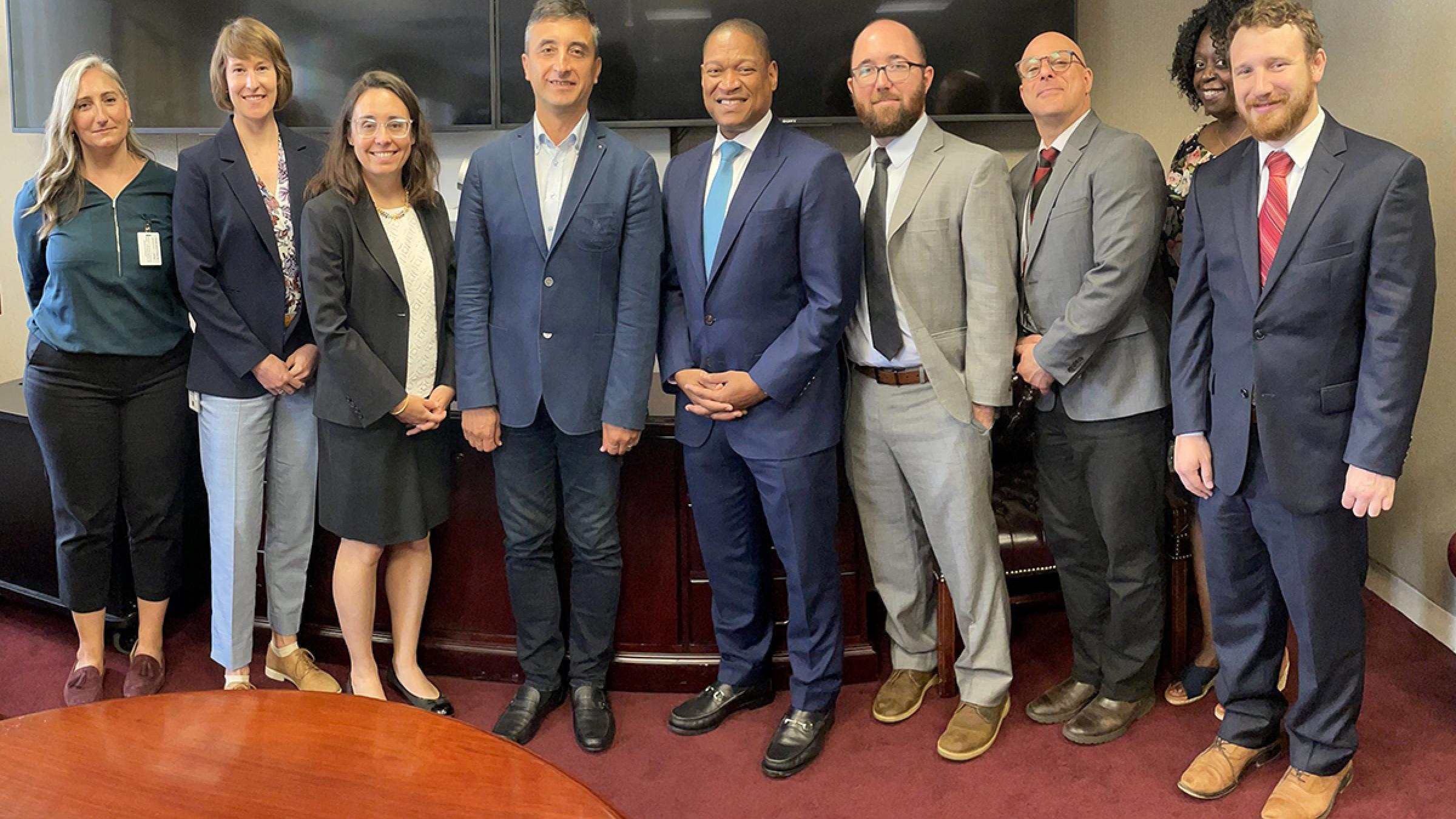 Written by Zane Evans, USDA Foreign Agricultural Service. 
---
International collaboration on research and development is a keystone of the Foreign Agricultural Service. A longstanding FAS tool for facilitating global collaboration is the Norman E. Borlaug International Agricultural Science and Technology Fellowship Program. Since 2004, the Borlaug Fellowship Program has promoted agricultural productivity, food security, trade, and economic growth.
The Borlaug Program provides 8-12 weeks of training and collaborative research opportunities to early and mid-career scientists, researchers, or policymakers from developing and middle-income countries. Since the program's inception, the United States Department of Agriculture (USDA) has sponsored almost 900 Borlaug fellows from 69 countries.
 After a two-year hiatus due to the COVID-19 pandemic,  2022 marks the return of Borlaug Fellows. North Carolina State University (NCSU) is hosting Dr. Kemal Melih Taskin from Canakkale University in Turkey. The Borlaug Program has been working with Turkey since 2015 and has previously sponsored other Turkish Fellows.
This is Dr. Taskin's second FAS fellowship — he was a Cochran Fellow in 2019. Following his successful Cochran Fellowship, Dr. Taskin worked to found and facilitate a student congress, which assembled an event that featured FAS Post officers in Turkey as speakers.
For Dr. Taskin's Borlaug Fellowship, he will be researching the genetics of Apomixis, an asexual reproduction system through seed, using a species of Boechera plant. He will be working with Dr. Hamid Ashrafi, assistant professor in the Department of Horticultural Sciences, College of Agriculture and Life Sciences at NCSU.  Taskin and Ashrafi are supported by Dr. Adrienne Tucker, the assistant director for International Programs in NCSU's College of Agriculture and Life Sciences. Tucker facilitated Taskin's recent visit to Washington to kick off the U.S.-based portion of his fellowship and visited the USDA offices with him on July 5.
Taskin and Ashrafi met in Turkey for a pre-research travel visit in March. It was this site visit that gave the two the opportunity to start growing their partnership and plant the seeds for their research endeavors. The pre-research travel visit is a new component of the program's process. Both Taskin and Ashrafi attest that the site visit was extremely beneficial and helped expedite their research. Also, Ashrafi was able to provide Taskin with lab supplies that have been difficult for him to obtain in Turkey.
Biotechnology is a significant focus of Dr. Taskin's work in Turkey and his research at NCSU. He explained to FAS Administrator Daniel Whitley and Associate Administrator Brooke Jamison how Turkish public opinion of biotech is skeptical at best, especially due to misinformation circulated through social media. Whitley agreed that combating misinformation is essential, especially regarding biotech—emphasizing public knowledge of its research and development.
"I'm kind of jealous," Administrator Whitely said to Dr. Taskin about the Fellow being on the frontlines of researching and developing biotech. "If we are going to feed 10 billion people by 2050, all of agriculture will be called on to do this task — and biotech will help us accomplish this."
In addition to his research and teaching, Taskin is a member of the Risk Assessment Committee for Turkey's Minister of Agriculture. He plays a role reporting risk assessments for potential agricultural imports. The Borlaug program will help Taskin advance his research and career through the great leadership opportunities that emerge after Borlaug Fellows complete the program.
Do you want to know more about Borlaug Fellow Taskin and his NCSU sponsor Tucker? Read these interviews their work and other interesting tidbits in their lives.
Interview with Dr. Kemal Melih Taskin:
Q: What is your favorite plant and why?
A: My favorite plant is the Olive. The olive tree (Olea europaea, Oleaceae) has been known as the traditional symbol of peace, honor, and virtue since ancient times. The olive fruit contains oils and phytochemicals that have nutritional, medicinal, and ceremonial importance.
Q: What is your favorite American food?
A: Buffalo wings and meatloaf are delicious, but I am looking forward to tasting more American foods.
Q: What sparked your interest in plant biology?
A: Working with plants is very challenging and exciting. Plants are essential for life on earth. They can provide oxygen and food. They have very big genomes and complex metabolisms, and I am very curious about them. I like to ask my questions based on a plant development perspective. Even a tiny leaf development requires coordinated actions of transcription factors, target genes, and small RNA molecules. This is all very exciting for me.
Q: What was an inspirational moment in your career/research?
A: After I completed my Ph.D., I joined a workshop on plant development organized by the European Molecular Biology Organization. I was fascinated by the science they taught us. I returned home full of new ideas and submitted my second project and funds to the Scientific and Research Council of Turkey (TUBITAK). At this moment, I understood that you can do better science by reading more and communicating with other scientists.
Q: As a Borlaug Fellow, what are some of your goals / what do you hope to achieve through this program?
A: This program will grant me new collaborations with experts in the field of innovative plant breeding. This program will also give me more of an international platform in which we can release our ideas. I am working on both the molecular biology of apomixis and plant metabolic pathways. In the program, I would like to determine the function of the candidate genes obtained from natural apomicts. I believe that working with a U.S. mentor is very important for me, because there are much better facilities and more specialized people in the United States.
Q: How will your participation in the Borlaug Fellowship Program benefit agricultural productivity, food security, trade, and/or the economic growth of Turkey?
A: Plant Biotechnology is perhaps one of the most important areas in Turkey's growth, because it is largely an agricultural country. The use of apomixis holds great promise for sustainable agricultural production in other developing countries, as well as Turkey.
The important applications of this project include: 1) Creating newly apomictic crop species all of which can be hybrids, thereby broadening the scope of hybrid technology; 2) Retaining the maintenance of extreme heterozygosity; 3) Enabling propagation through the seed of crop species currently vegetatively propagated; 4) Avoiding crop losses due to failures in pollination/fertilization; and 5) allowing propagation of hybrid seeds directly from the farmers. For these reasons, I believe that this research will yield valuable insight into the understanding of apomixis, which will serve to benefit scientists and farmers in different countries.
Interview with Dr. Adrienne Tucker:
Q: What is your favorite plant and why?
A: As a horticulturist, I am drawn to landscape plants. I find Gingko biloba to be a fascinating specimen due to its interesting branching structure and unique leaf shape.  Couple this with the fact that it's one of the oldest living tree species—I would have to say it's one of my favorite plants. 
Q: What was an inspirational moment in your career / research?
A: Living abroad in rural France for two years was transformational for my career. I knew then that I wanted to engage in international relations in one form or another.  Having assimilated into the culture and enrolled my children in the schools, I learned so much about cultural norms, the local agricultural approaches, and food delicacies.
Q: What have been some of the greatest successes of the Borlaug Program at NCSU?
A: We have had some wonderful Borlaug Fellows and mentors.  Many have maintained their research collaborations beyond the Borlaug Program and sought additional funding opportunities, such as one Fellow, Ahlam Hamim, who returned to North Carolina State University (NCSU) as a Fulbright Fellow.  Additionally, we have developed an agreement with the Universidad de Cuenca to host student research interns from Ecuador, following Dr. Maria Cazar's Borlaug fellowship.  These success stories further help to internationalize the College of Agriculture and Life Sciences (CALS) and NCSU, while also linking North Carolina agriculture worldwide.
Q: What has been one of your most rewarding abroad experiences?
A: I have traveled to Spain to meet CALS students who were conducting international research. It was a truly rewarding experience to see them thriving in a land that was foreign to them.  They spent two months contributing to ongoing research and living independently, so they could grow professionally and personally through learning new research techniques and learning how to live on their own.  To hear their enthusiasm for the research and about their home away from home was fulfilling.  
Q: What do you and NCSU hope to accomplish by hosting Dr. Taskin and other Borlaug Fellows?
A: With all the Borlaug Programs we host at NCSU, we hope to provide a well-rounded experience for the Fellows and to provide bountiful opportunities. These allow the Fellow to connect and engage with NCSU researchers and the North Carolina agribusiness and biotech network to gain leadership and science communication skills. 
Q: As someone who has worked with Borlaug Fellows and Mentors, what is one piece of advice you would share with all incoming and current Borlaug Fellows and/or program alumni?
A: You are part of NCSU when you are participating in your fellowship and even when you return to your home institution.  The connections you make will always be there and we are always here to support your program and your success. 
Borlaug Fellows are Back