Cotton 2020 Export Highlights
Top 10 Export Markets for U.S. Cotton

(values in million USD)
Commodity 
2016
2017
2018
2019
2020
2019-2020 % Change
2016-2020 Average
China 
551
973
920
705
1,821
158%
994
Vietnam 
788
1,056
1,312
1,429
1,163
-19%
1,150
Pakistan 
202
297
615
628
788
25%
506
Turkey 
495
730
682
648
577
-11%
626
Bangladesh 
95
284
387
388
330
-15%
297
Indonesia 
346
498
600
416
264
-37%
425
Mexico 
339
404
372
288
178
-38%
316
India 
251
435
333
587
148
-75%
351
Thailand 
164
213
272
215
119
-44%
197
South Korea
165
248
231
167
111
-34%
184
All Others 
564
689
826
671
470
-30%
644
Total Exported 
3,959
5,827
6,550
6,141
5,968
-3%
5,689
Source: U.S. Census Bureau Trade Data - BICO HS-10
Highlights
U.S. exports of cotton declined 3 percent in 2020 to $6 billion but remained the fifth-highest export value on record. Exports to China surged by more than 150 percent to reach a 7-year high. Exports to Pakistan realized their fifth consecutive record. Exports to other markets were largely down, with 15 of the top 20 markets down by more than 30 percent. Much of the increase to China was destined for the State Reserve (SR), which limited supplies available for other markets. Brazil, which saw its third consecutive record crop, increased its market share relative to the United States in 20 of the top 25 import markets.
Global consumption in 2020 was dramatically affected by COVID-19 as consumer demand shrank and mill use fell by nearly 20 percent. Trade volume was reduced by nearly 10 percent. World and U.S. prices fell sharply in the first quarter of 2020 due to concerns over the impact of COVID-19 and large global stocks. However, prices rallied mid-year, supported by increasing prices for other commodities, and ended the year at a 2-year high.
Drivers
Global impact of COVID-19 sharply decreased demand for cotton/textiles.
China State Reserve purchases of U.S. cotton limited availability of high-grade cotton to other markets.
Increased competition dampened U.S. exports as Brazil expanded export capacity and shipped record volumes year-round, including during typically slow export months.
Global Cotton Exports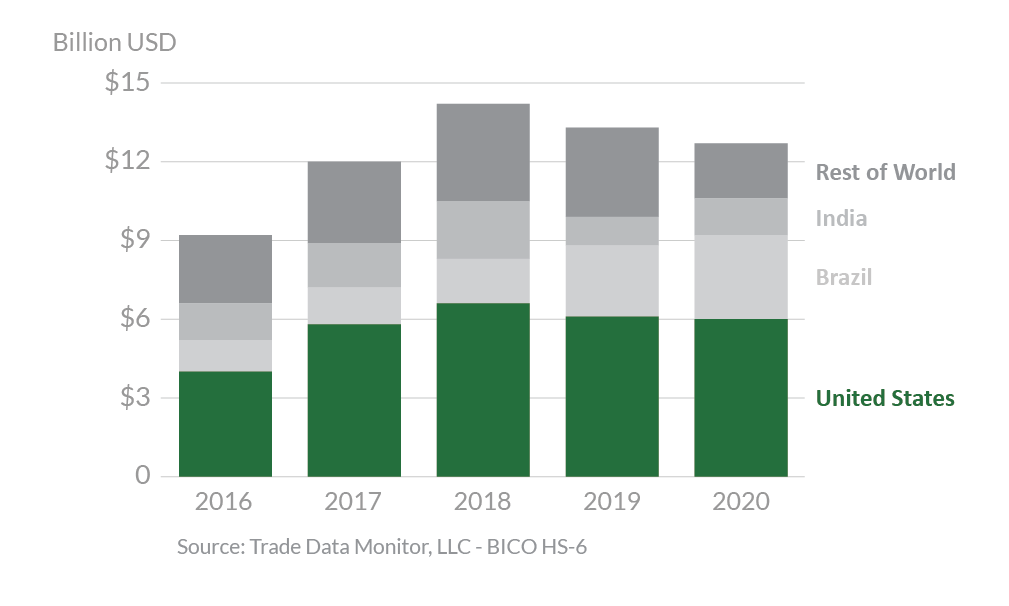 Looking Ahead
U.S. cotton exports are forecast unchanged at 15.5 million bales for the marketing year ending July 2022. Global trade volume is also expected stable.
SR purchases of U.S. cotton fueled shipments to China, and these types of purchases in 2021 are expected to shift back to domestic cotton, limiting U.S. sales.
Strong competition from key competitors such as Brazil is also expected to dampen U.S. exports. Brazil's projected crop in the coming months is only down slightly from last year's third consecutive record crop.