Colombia 2020 Export Highlights
Top 10 U.S. Agricultural Exports to Colombia

(values in million USD)
Commodity 
2016
2017
2018
2019
2020
2019-2020 % Change
2016-2020 Average
Corn
771
785
927
682
876
28%
808
Soybean Meal
259
340
481
412
485
18%
395
Soybeans
195
212
256
223
191
-14%
215
Pork & Pork Products
105
163
215
221
147
-34%
170
Wheat
181
173
88
137
133
-3%
142
Dairy Products
88
65
72
145
128
-12%
100
Poultry Meat & Products*
66
70
82
114
93
-18%
85
Feeds & Fodders
76
80
98
81
84
4%
84
Soybean Oil
62
73
100
57
77
36%
74
Rice
58
51
54
49
65
33%
56
All Other
522
516
531
546
461
-16%
515
Total Exported
2,383
2,528
2,904
2,667
2,740
3%
2,644
Source: U.S. Census Bureau Trade Data - BICO HS-10
*Excludes eggs
Highlights
In 2020, Colombia was the 11th largest destination for U.S. agricultural exports, totaling $2.7 billion. This represents a 3-percent increase from 2019. The United States is Colombia's top supplier of agricultural goods by a wide margin, representing 48 percent of the total import market. The EU27+UK is Colombia's second-largest supplier with only 8 percent market share. The U.S.-Colombia Trade Promotion Agreement (CTPA) has expanded export opportunities for many U.S. agricultural products. The largest year-to-year export increase was seen in corn, up 28 percent to $876 million in 2020. Exports of soybean meal, soybean oil, and rice also rose last year, up $73 million, $20 million, and $16 million, respectively. Exports of pork & pork products plummeted $74 million, while soybeans and poultry dropped $32 million and $21 million, respectively. In 2020, Colombia was the fourthlargest market for U.S. corn exports, third- largest market for U.S. soybean meal, and seventh-largest market for U.S. pork.
Drivers
In 2020, the economic slowdown associated with COVID-19 led to decreased food and agricultural exports to Colombia across many product categories. Increases in bulk and intermediate product sales narrowly made up for strong decreases in consumer-oriented product exports. In 2020, U.S. food and agricultural exports to Colombia grew 2.7 percent, reaching $2.9 billion.
Corn and soy products, destined for domestic processing, were among the few growth categories in 2020, driven primarily by the expansion of Colombia's aquaculture and egg industries. U.S. corn was able to recover substantial market share lost to Argentina and Brazil during 2019.
U.S. ethanol exports to Colombia totaled $121 million, up 4 percent from 2019, despite challenges in the market such as a 4-month import ban instituted by Colombia as part of its COVID-19 response, a 2year countervailing duty issued in May 2020, and decreasing demand for gasoline due to COVID-19 containment measures.
In 2020, U.S. rice exports increased around 20,000 tons, though U.S. market share decreased as Peru also ramped up shipments to Colombia.
Policy issues continue to constrain U.S. dairy exports to Colombia. Dairy exports to Colombia grew dramatically in 2019 and show potential for future growth if these policy issues are addressed.
Colombia's Agricultural Suppliers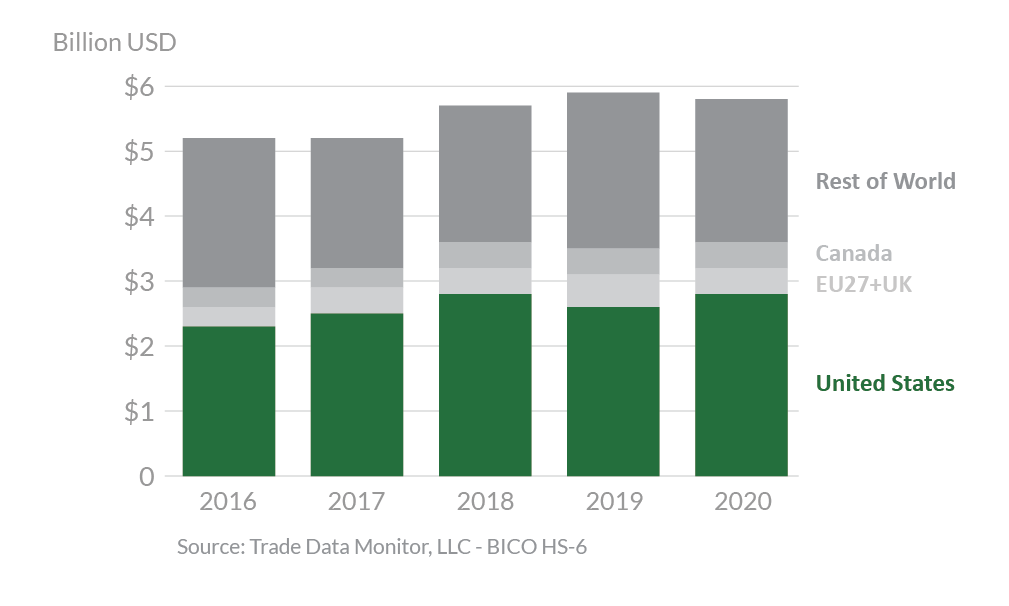 Looking Ahead
Colombia is the leading destination for U.S. agricultural exports to South America, and the United States continues to be the main supplier for most Colombian agricultural imports due to CTPA trade preferences.
In 2020, the United States faced increased competition from South American exporters likely due to the Colombia-Mercosur Economic Complementation Agreement, which removes or lowers duties on many agricultural products imported from Brazil, Argentina, Paraguay, and Uruguay. As of October 2020, tariffs on white corn and wheat from MERCOSUR countries were zero, while the tariff on yellow corn from MERCOSUR countries was 5 percent. Canadian exports, especially in wheat and legumes, remain competitive. The ColombiaCanada Free Trade Agreement entered into force a year before the 2012 CTPA, resulting in a "head-start" advantage to Canadian exporters that strengthened their trade relations with Colombian millers.
Income and population growth in Colombia are projected to continue driving increases in demand for most imported agricultural products. Most importantly, corn, soybean meal, and soybean oil imports are expected to grow over the next 10 years, and the United States is in a favorable position to meet Colombia's needs. Although the COVID-19 pandemic has slowed economic growth and demand for imports, Colombia is expected to make a recovery. U.S. consumer-oriented food exports, such as pork, poultry, and dairy, are expected to continue rapid growth in Colombia as economic growth and middle-class expansion return after the economic impacts of the pandemic pass.