Canada 2020 Export Highlights
Top 10 U.S. Agricultural Exports to Canada

(values in million USD)
Commodity 
2016
2017
2018
2019
2020
2019-2020 % Change
2016-2020 Average
Prepared Food
1,889
1,908
1,931
2,048
2,178
6%
1,991
Fresh Vegetables
1,807
1,878
1,884
1,986
1,891
-5%
1,889
Fresh Fruit
1,633
1,608
1,533
1,485
1,580
6%
1,568
Snack Foods 
1,315
1,355
1,407
1,393
1,335
-4%
1,361
Non-Alcoholic Beverages*
1,156
1,087
1,069
1,041
1,013
-3%
1,073
Pork & Pork Products
798
793
765
802
853
6%
802
Dog & Cat Food
597
640
645
751
842
12%
695
Chocolate & Cocoa Products
749
748
713
713
753
6%
735
Tree Nuts
598
643
696
697
737
6%
674
Beef & Beef Products
758
791
745
654
728
11%
735
All Other
9,007
9,157
9,480
9,317
9,082
-3%
9,208
Total Exported
20,307
20,608
20,867
20,886
20,992
1%
20,732
Source: U.S. Census Bureau Trade Data - BICO HS-10
*Excludes juices
Highlights
In 2020, Canada was the second largest market for U.S. agricultural exports, totaling $21 billion. This represents a 1-percent increase from 2019. On July 1, 2020, the United States–Mexico–Canada Agreement (USMCA) entered into force, expanding U.S. access to Canada for certain dairy, poultry, and egg products. The United States maintained the No. 1 position in Canada's agricultural market with a 57-percent market share. The largest percentage export growth to Canada was in dog & cat food, increasing 12 percent, followed closely by beef & beef products at 11 percent. Exports of fresh fruit, pork & pork products, and prepared foods all increased 6 percent last year. The top 3 largest decreases in exports to Canada in 2020 were in fresh vegetables ($95 million), snack foods ($57 million), and non-alcoholic beverages ($28 million), losing 5 percent, 4 percent, and 3 percent, respectively. Despite these decreases, Canada remained the top market in 2020 for U.S. prepared food, fresh fruit, feeds & fodders, fresh vegetables, snack foods, and processed vegetables.
Drivers
Processed foods such as prepared foods, snack foods, and beverages, as well as fresh fruits and vegetables, continue to be the top exports to Canada. Climatic conditions and geographic proximity provide the United States with a strong competitive advantage in supplying fresh goods to Canada while highly integrated supply chains and logistical advantages ensure the timely delivery of processed foods and retail-ready goods.
U.S. exports of dog & cat food were up by $91 million, a 12-percent increase by value from 2019 and representative of a 91-percent market share. In 2020, Canadian dog & cat food imports from the world also increased 12 percent by value.
U.S. exports of beef & beef products increased $73 million from 2019 but remained below 2015-2018 levels. Overall Canadian beef imports from the world increased 22 percent by value, with the United States capturing 63 percent market share by value and 56 percent by volume.
U.S. dairy product exports reached a record high, climbing 1 percent to more than $675 million, with increases in milk-based drinks (up 7 percent to $88 million) and various cheeses (up 24 percent to $69 million) offsetting declines in exports of butter (down 16 percent), whey protein (down 12 percent), and other products.
Canada's Agricultural Suppliers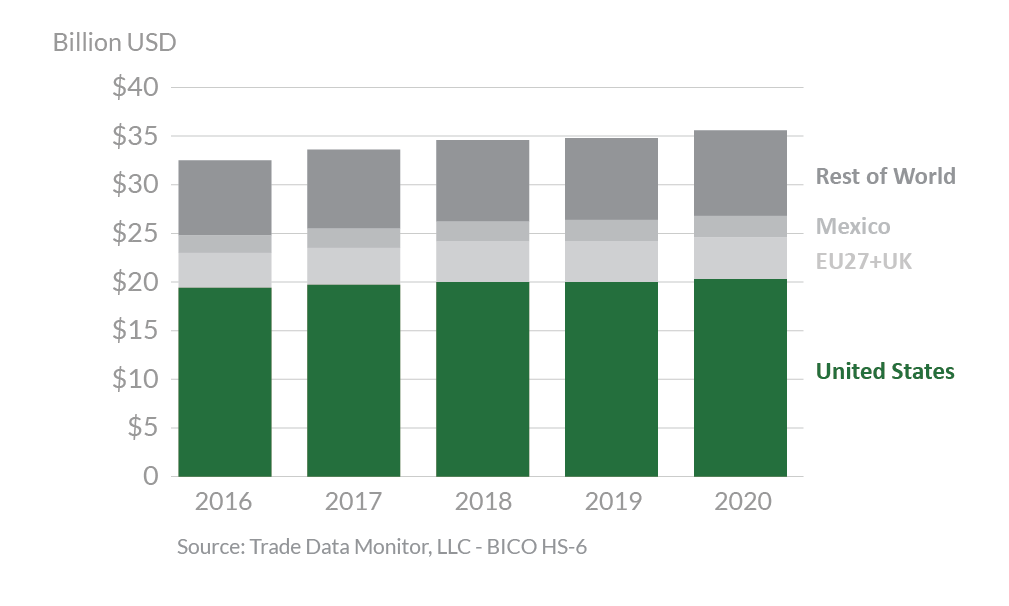 Looking Ahead
On July 1, 2020, USMCA entered into force, strengthening the long-standing North American free trade relationship. USMCA maintains the zero tariffs between the three countries that were in place under NAFTA, as well as provides new market access for a wide range of U.S. dairy products through tariff-rate quotas (TRQs). The Agreement also requires Canada to eliminate its milk classes 6 and 7, which allowed unfairly low-priced Canadian dairy products to undersell U.S. products in Canada and in third country markets.
Canada's global chicken and chicken product imports before USMCA entered into force were constrained by (i) Canada's WTO TRQ or by (ii) a regulation that calculated as a percentage of Canadian chicken production in the preceding calendar year, whichever was larger. USMCA provides a country-specific TRQ for poultry for the United States, preserving a portion of the market for U.S. exporters, even as the Canadian market evolves and becomes more competitive and open to other partners. The United States still has access to Canada's WTO TRQ.
The USMCA contains new and enforceable rules to ensure that sanitary and phytosanitary measures (SPS) are science-based and developed and implemented in a transparent and non-discriminatory manner. The USMCA obligates Canada to eliminate discrimination in grading of U.S. wheat and the requirement for a country-of-origin statement on quality grade certificates for U.S. wheat.
The Distilled Spirits, Wine, Beer, and Other Alcohol Beverages Annex of the USMCA Agriculture Chapter contains non-discrimination and transparency commitments regarding sale and distribution of alcoholic beverages. Also, the Parties agreed to labeling and certification provisions to help prevent technical barriers to trade in wine and distilled spirits.
In a USMCA side letter with the United States, Canada committed to ensure that British Columbia eliminate measures governing grocery store wine sales that discriminate against U.S. wine, no later than November 1, 2019.
Canada has implemented free trade agreements with other agricultural exporting blocs: the 11-nation Comprehensive and Progressive Agreement for Trans-Pacific Partnership (CPTPP) and the Comprehensive Economic and Trade Agreement (CETA) with the European Union. Canada is in the process of implementing a Canada-United Kingdom Trade Continuity Agreement following the United Kingdom's exit from the European Union. Though Canada is a mature market with modest economic growth and low population growth, there remains significant export growth potential in Quebec, a regional economy the size of the Philippines, where U.S. products are underrepresented.