Vietnam 2020 Export Highlights
Top 10 U.S. Agricultural Exports to Vietnam

(values in million USD)
Commodity 
2016
2017
2018
2019
2020
2019-2020 % Change
2016-2020 Average
Cotton
788
1,056
1,312
1,430
1,163
-19%
1,150
Soybeans
341
288
469
262
420
60%
356
Dairy Products
120
112
145
170
185
9%
146
Tree Nuts
331
308
287
121
139
15%
237
Wheat
50
28
68
72
136
89%
71
Fresh Fruit
67
72
102
139
135
-3%
103
Poultry Meat & Products*
79
76
110
140
128
-9%
107
Prepared Food
46
44
50
117
86
-26%
69
Soybean Meal
74
75
305
195
76
-61%
145
Feeds & Fodders
71
57
77
61
62
2%
66
All Other
689
416
1,066
773
818
6%
752
Total Exported
2,656
2,532
3,991
3,480
3,348
-4%
3,201
Source: U.S. Census Bureau Trade Data - BICO HS-10
*Excludes eggs
Highlights
In 2020, Vietnam was the seventh-largest destination for U.S. agricultural exports, totaling $3.3 billion. This represents a 4-percent decline from 2019, and a 16-percent decline from a record-setting 2018. The United States is Vietnam's second-largest supplier of agricultural goods, following China. Continued economic integration and FTA negotiations have allowed more openings for foreign products. The largest export growth from the United States to Vietnam in 2020 was in soybeans and wheat, up $158 million and $64 million, respectively. Exports of distillers' grains, tree nuts, and dairy products also increased, by $28 million, $18 million, and $15 million, respectively. Exports of cotton were down by more than $260 million. For the first time since 2014, Vietnam was not the top destination for U.S. cotton, surpassed handily by China. Exports of soybean meal plummeted by $119 million in 2020, while prepared food shipments fell $31 million after swelling to a record high of $117 million in 2019.
Drivers
Vietnam has one of Southeast Asia's fastest-growing economies, as well as a fast-growing middle class that has more than doubled in size since 2014.
Vietnamese consumers continue to view U.S. food and agricultural products as safe and high quality.
Despite recording positive gross domestic product growth in 2020, the crisis caused by the COVID-19 pandemic continues to negatively affect Vietnam's economy. The tourism and food service sectors are among the hardest hit.
The slow recovery from an African swine fever outbreak continues to affect the agricultural sector, flattening demand for animal feed while stimulating additional demand for pork and poultry imports.
Vietnam's Agricultural Suppliers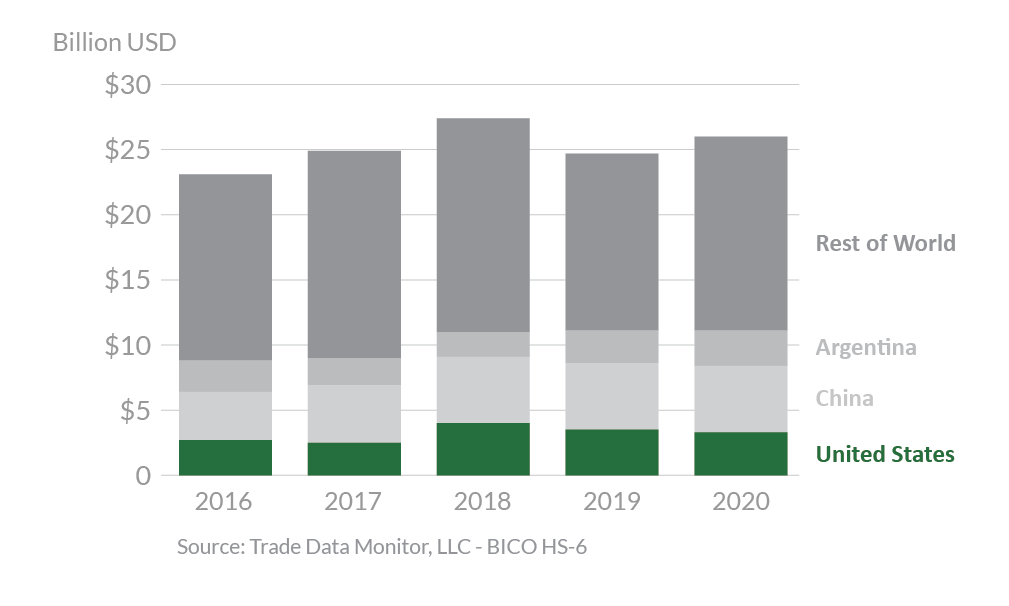 Looking Ahead
Despite COVID-19, Vietnam had economic growth of 2.9 percent in 2020. With a young, highly educated population and significant foreign direct investment, Vietnam is expected to recover quickly from the current global economic downturn. Relatively high tariffs and strong competition from countries benefitting from preferential trade agreements with Vietnam will constitute the most significant challenges to a diverse range of U.S. food and agricultural exports. Vietnam entered into numerous free trade agreements (FTAs) with third countries, including the Comprehensive and Progressive Agreement for Trans-Pacific Partnership, the European Union-Vietnam FTA, and the Regional Comprehensive Economic Partnership. Currently, the United States is subject to high most-favored-nation tariffs, while competitors from other markets, including China, Australia, Canada, New Zealand, and the European Union, gain greater market share as tariffs decline under their FTAs.
As a result of significant engagement, many agricultural trade irritants with the United States have been eliminated. Vietnam improved its meat and poultry facility registration process and restarted its approval process for biotechnology products. Vietnam also granted market access for U.S. sorghum, oranges, and blueberries. The United States continues to work on market access for U.S. grapefruit, lemons, mandarin, and stone fruit.