Poultry Meat 2020 Export Highlights
Top 10 Export Markets for U.S. Poultry Meat*

(values in million USD)
Commodity 
2016
2017
2018
2019
2020
2019-2020 % Change
2016-2020 Average
Mexico
932
933
956
1,077
983
-9%
976
China
34
36
47
10
762
7277%
178
Canada
510
459
405
354
349
-1%
416
Taiwan
127
152
189
187
224
20%
176
Cuba
105
165
155
190
144
-25%
152
Vietnam
79
76
110
140
128
-9%
107
Guatemala
104
118
123
132
111
-15%
118
Hong Kong
426
469
431
353
107
-70%
357
Colombia
66
70
82
114
93
-18%
85
Angola
86
156
184
150
82
-45%
131
All Others
1,411
1,632
1,590
1,536
1,261
-10%
1,486
Total Exported
3,879
4,267
4,274
4,243
4,244
0%
4,181
Source: U.S. Census Bureau Trade Data - BICO HS-10
*Excluding eggs
Highlights
In 2020, the value of U.S. poultry & poultry product exports to the world reached $4.2 billion, unchanged from 2019 and thus failing to return to the pre-2015 highly pathogenic avian influenza (HPAI) outbreak levels. The top three markets, accounting for 49 percent of sales, were Mexico at $983 million, China at $762 million, and Canada at $349 million. The reopening of the Chinese market, the continuation of generally positive trade conditions, and modest growth in global demand as consumers viewed poultry meat as a low-cost animal protein supported sales in 2020. With shipments to many major markets lower in 2020, the key positive development was the reopening of the Chinese market, which buoyed total exports. U.S. exports of poultry & poultry products are primarily comprised of broiler meat (about 74 percent) to mostly developing country markets. Consequently, economic growth and rising incomes in low-and middle-income countries will bode well for growing exports.
Drivers
Exports fell to all major markets except for Taiwan and China, the reopening of which was critical to supporting total U.S. shipments. Sixty-one percent ($461 million) of shipments to China were chicken paws, a product for which there is virtually no other significant market. As a result, total exports of U.S. chicken paws reached a historic $958 million in 2020.
The United States continued to face market access issues in South Korea, South Africa, Indonesia, Saudi Arabia, and India due to non-tariff barriers and purported sanitary issues.
Strong competition from Brazilian exports has elevated the competitive environment along with shipments from rising poultry suppliers including Turkey, Ukraine, Argentina, and Russia.
The United States continues to emphasize to the global trading community that the use of risk-based analysis and sound science are the best ways to approach long-standing challenges such as Highly Pathogenic Avian Influenza regionalization and establishment of veterinary drug standards.
Global Poultry Meat Exports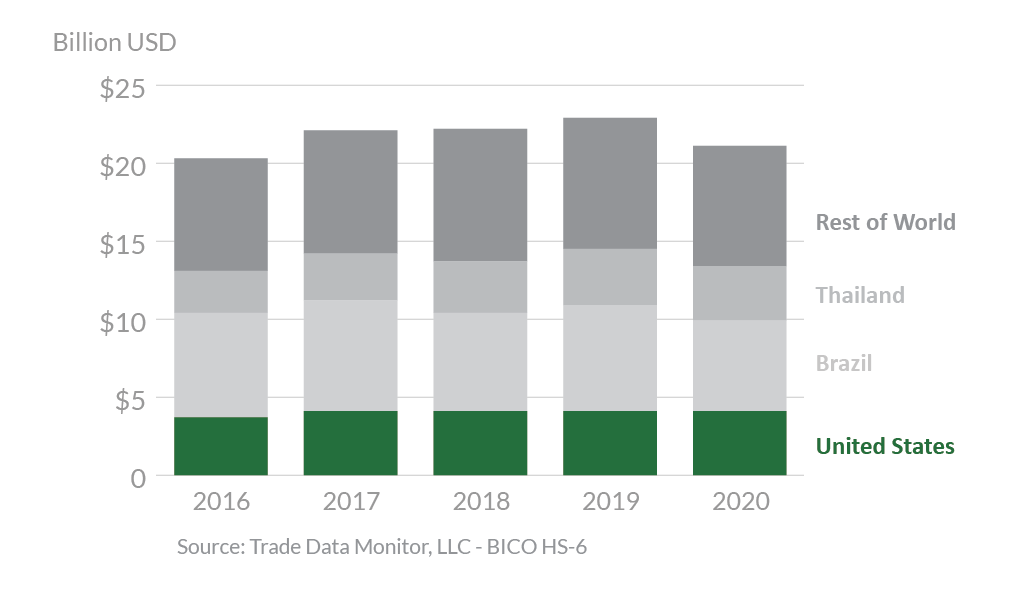 Looking Ahead
The volume of U.S. poultry meat (excluding paws) exports is forecast flat in 2021 and prices are expected to decline which will negatively impact the total value of shipments. Exportable supplies of U.S. poultry meat will be constrained as forecasted higher feed prices will stymie U.S. production, forecast to rise less than 1 percent.
While global poultry meat consumption has been relatively resilient as a low-cost versatile animal protein amid the COVID-19 economic downturn, global economic recovery will yield limited gains in short-term demand. However, the USDA Long-Term Projections reflect a positive outlook and forecast U.S. poultry meat exports to grow nearly 25 percent during the next 10 years.
The United States is expected to maintain its position as the second-largest exporter of poultry meat behind Brazil, but U.S. market share of global trade will decline slightly. During the coming decade, growing population and rising incomes, particularly in low- and middle-income countries, will spur increased meat consumption, fostering demand for competitively priced chicken meat.