USDA Delegation Visits Vietnam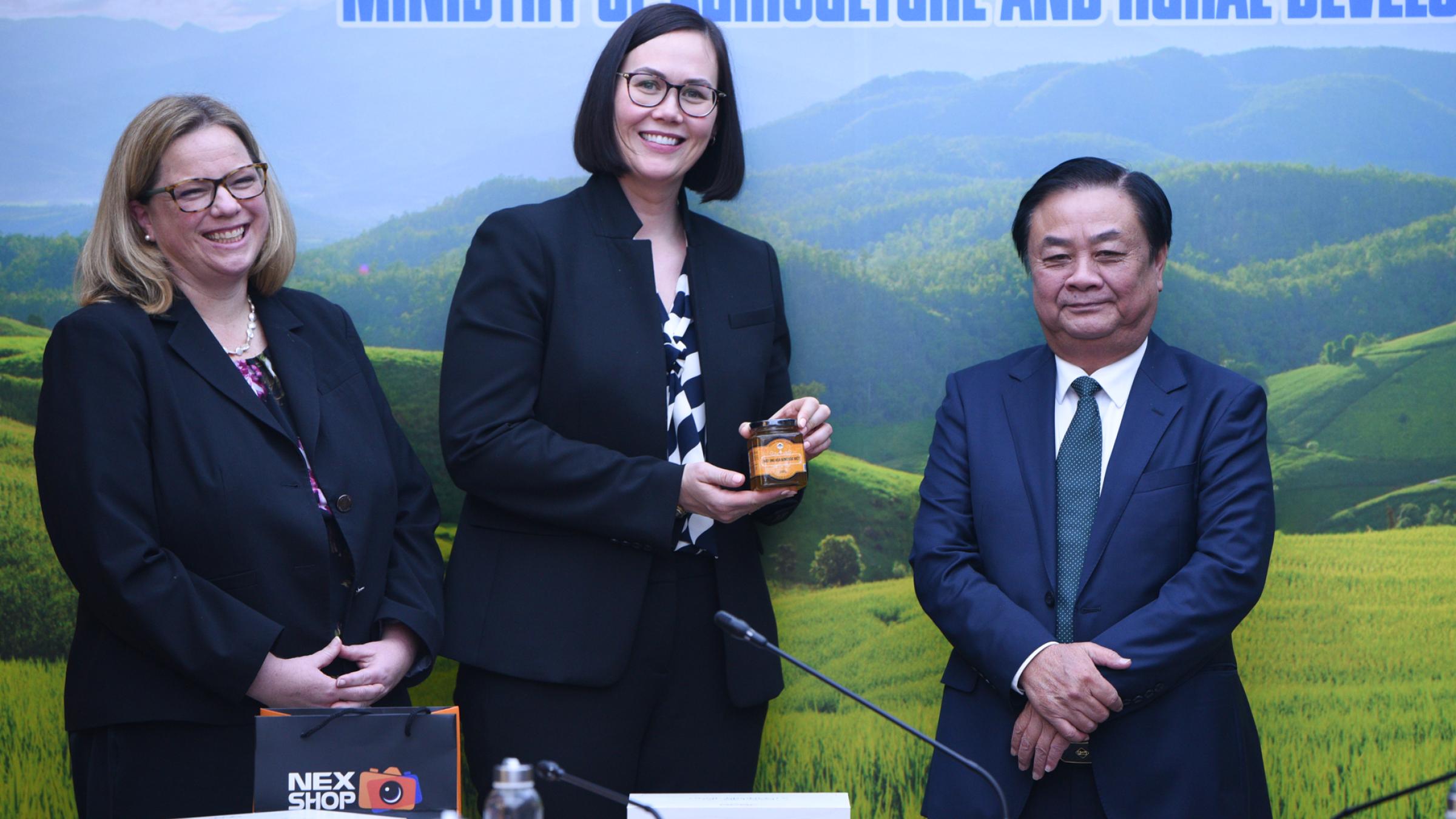 U.S. Department of Agriculture Under Secretary for Trade and Foreign Agricultural Affairs Alexis Taylor and Under Secretary for Marketing and Regulatory Programs Jenny Moffitt visited Vietnam, February 27-March 1, to celebrate the country opening its markets to U.S. grapefruit imports. This trade policy success underscores the strong and growing partnership between the two countries. Vietnam is now the ninth-largest market for U.S. agricultural products, while the United States is the largest market for Vietnamese agricultural products.
While in Vietnam, Taylor and Moffit met with Vietnam Minister of Agriculture and Rural Development Le Minh Hoan to discuss further collaboration and exchange of technical information to demonstrate the benefits of agricultural biotechnologies and innovative technologies. As partners in international climate change coalitions, including Agriculture Innovation Mission for Climate (AIM for Climate) and the Sustainable Productivity Growth (SPG) Coalition, United States and Vietnam have a great opportunity to promote food systems that foster innovation to sustainably deliver more production on a smaller environmental footprint.
The USDA delegation also met with Đỗ Thắng Hải, Vietnam Vice Minister of Industry and Trade (MOIT), to thank him for MOIT support for the most-favored-nation tariff reductions for key U.S. agricultural products. These lower tariffs benefit U.S. exporters, while also helping control costs for Vietnamese importers and consumers. USDA is also supportive of the Vietnam policy goal of 10-percent ethanol blends in gasoline. Vietnam's gasoline usage is increasing and using ethanol blends will increase its energy security, by combining domestic production with reliable trade flows with the United States.
During this trip, Under Secretary Taylor also had an opportunity to attend a reception hosted by the Alaska Seafood Marketing Institute as part of their trade mission to Vietnam. Vietnam's expanding middle class, the availability of fine dining opportunities, and its five-star tourism industry make this a prime destination for Alaska seafood. Vietnam is also home to state-of-the-art processing facilities that can create new and innovative valued added seafood products, using Alaskan seafood.
The USDA delegation visit underscored the importance of the U.S.-Vietnam agricultural relationship, including the two countries collaboration on climate smart agricultural practices and initiatives, and their work strengthening bilateral agricultural trade and promoting U.S. farm and food products to Vietnamese importers.