USDA and HACU Partner to Create Immersive Agricultural Trade Learning Experience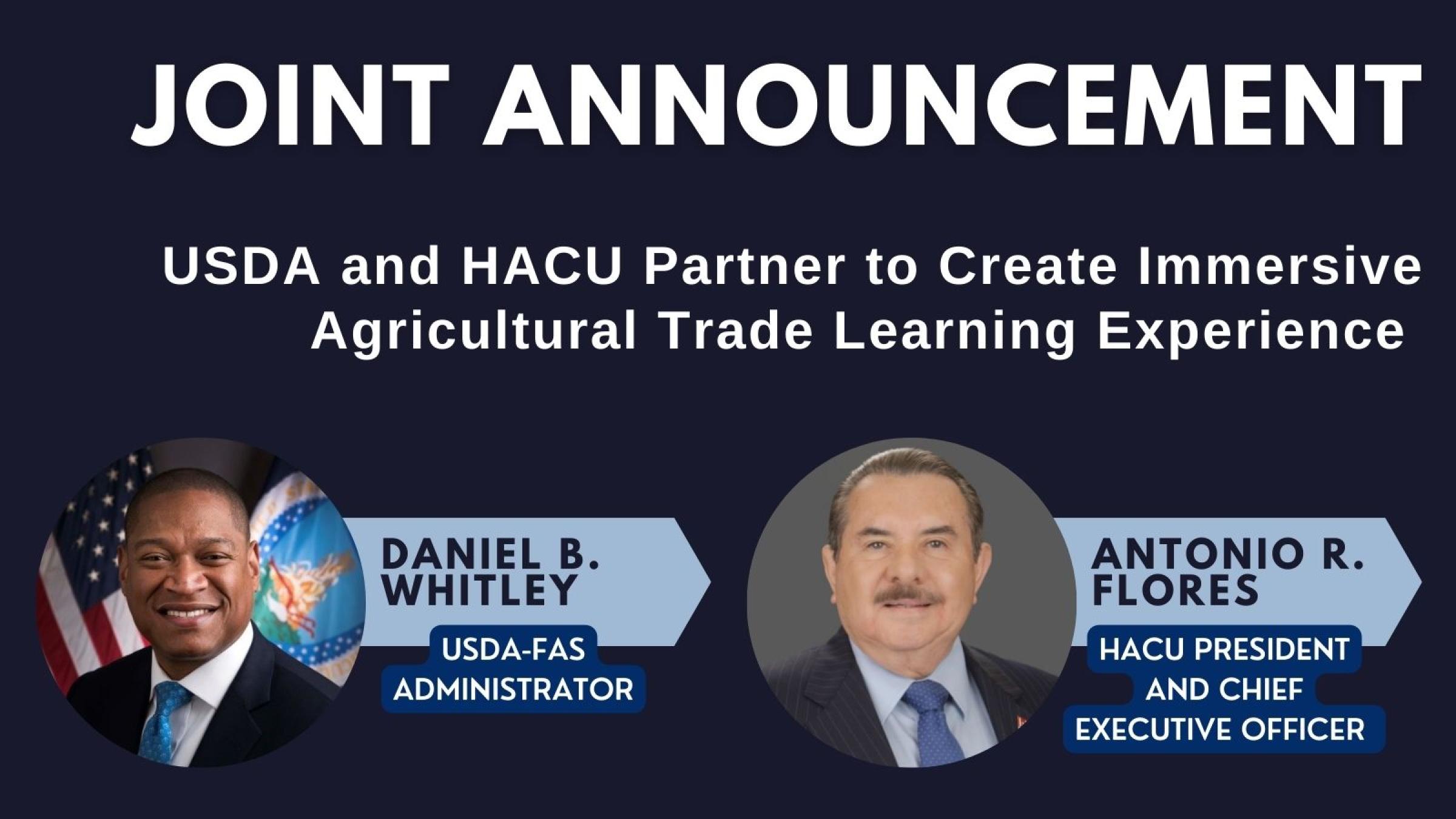 WASHINGTON, Oct. 7, 2022 – USDA Foreign Agricultural Service Administrator Daniel B. Whitley and Hispanic Association of Colleges and Universities President and Chief Executive Officer Antonio R. Flores announce a cooperative partnership to provide students from minority-serving institutions an opportunity to solve simulated world trade problems in the new Agricultural Export Market Challenge.
The announcement comes on the eve of the 36thAnnual HACU Conference in San Diego, Calif., where Whitley and Flores will meet to officially kickoff the partnership. The program is funded through a cooperative agreement between FAS and HACU. The agricultural agency is awarding HACU $195,000 to serve as the implementing partner for the Challenge in the 2022-2023 and 2023-2024 academic years.
"We are thrilled to partner with HACU to give students from minority-serving institutions the opportunity to experience firsthand the fascinating work of global food and agricultural trade, and learn about exciting and meaningful careers at USDA," said Whitley.
The FAS Administrator called HACU's leadership "invaluable" and said by participating in the Agricultural Export Market Challenge, students will gain a "rich and beneficial learning experience" and develop deep mentoring relationships.
Whitley said, "The Challenge presents a unique and exciting opportunity for some of our country's brightest and best students, and I look forward to sharing information about it at the annual HACU conference."
"HACU is pleased to partner with USDA's Foreign Agricultural Service in its efforts to promote awareness of opportunities in international agriculture amongst college students at minority-serving institutions," said Flores. "The Agricultural Export Market Challenge provides college students a practical learning experience and the opportunity to explore potential career paths at FAS."
FAS piloted the Challenge during the 2021-2022 academic year with 13 teams comprised of 52 students successfully completing the program. The teams completed a case study in which they gained real world knowledge and skills across the disciplines of economics, diplomacy, scientific analysis, marketing and trade policy. During the Challenge the students developed and presented their thoughtful market entry strategy for a fictitious American company seeking sales opportunities for a U.S. food or agricultural product in an overseas market.
Recruitment for the 2022-2023 Challenge will begin in October. Whitley and Flores encourage leaders and faculty from all minority-serving institutions to explore the program and learn how they can enter a team for the Challenge. The program will be open to teams of junior- and senior-year undergraduate students, who will be mentored by FAS professionals. The team that completes and wins the Challenge will receive an opportunity to meet with USDA leaders in Washington, D.C. To learn more about the Challenge visit https://fas.usda.gov/market-challenge.
#
USDA is an equal opportunity provider, employer, and lender.