U.S. Beef Jerky is Back in Japan!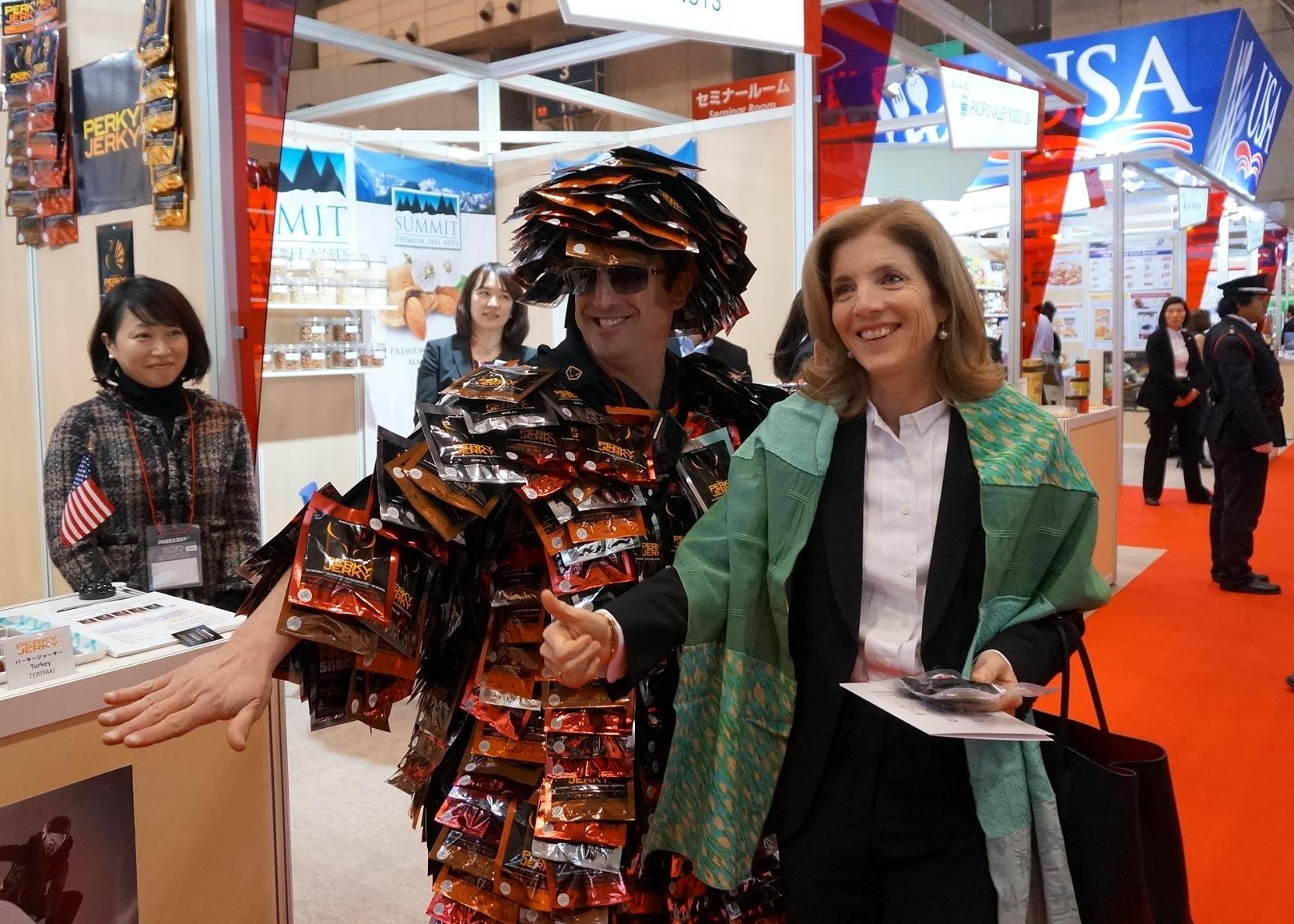 U.S. Ambassador to Japan Caroline Kennedy and Perky Jerky Chairman of the Herd Brian Levin celebrate the return of U.S. processed beef products to Japan after an 11-year absence. Colorado-based Perky Jerky took advantage of expanded market access to bring its premium beef jerky to Japan just in time for the Asia's largest food trade show.  
By Evan Mangino, Agricultural Attaché, Foreign Agricultural Service, U.S. Embassy - Tokyo
In January, the United States and Japan concluded nearly two years of negotiations to re-open the Japanese market to U.S. processed beef products. These efforts ensured that, for the first time since 2003, all products from U.S. cattle less than 30 months of age would be eligible for export to Japan. Japan is the United States' largest beef export market, valued at nearly $1.6 billion in 2014. 
The FAS Office of Agricultural Affairs in Tokyo was understandably excited to learn that Perky Jerky, a Colorado-based company, was interested in bringing its beef jerky to FOODEX 2015. FOODEX is a USDA-endorsed trade show that features nearly 3,000 exhibitors, including more than 70 U.S. companies. The value of exhibiting at FOODEX is considerable, as more than 75,000 trade professionals from Japan, North Asia, Southeast Asia, and around the world attended the show. 
There was only one problem. FOODEX was scheduled to begin in less than two weeks, and the beef jerky hadn't even been produced yet. Bringing a new-to-market product to Japan in less than two weeks would be a daunting task even under normal conditions, but late February was anything but normal as Japanese customs and quarantine officials were busy clearing an enormous volume of products for the nearly 2,300 other international exhibitors from 79 countries participating at FOODEX.
Over the following two weeks, FAS/Japan worked closely with Perky Jerky, the import agents, the freight forwarders, and the government of Japan to ensure the first processed beef products exported to Japan in more than a decade were able to enter the country without any issues. FAS/Japan's involvement helped to quickly move the products through the registration and importation process, including the decision to ultimately split the exporter's shipment into two separate consignments: one for display purposes only and one for distribution. This last decision ensured that Perky Jerky had product to display on the first day of the show, while receiving the product packaged for distribution in time for the third and fourth days of the show. 
Perky Jerky Chairman of the Herd Brian Levin noted, "For the past several years, we have been targeting our premium jerky products for the Japanese market, which has a very high rate of jerky consumption. When the ban on U.S. processed beef was finally lifted, we were ready to be first in the market with our premium Perky Jerky. The FAS staff in Japan was instrumental in assisting us at all levels during the process, and with their help, we were able to accomplish the near impossible in just two weeks. The response to our products has been amazing, and we expect Japan to be a multi-million dollar market for us in 2015 and beyond."
FAS/Japan played a critical role in ensuring that a U.S. small business not only successfully cleared quarantine, but did so in time to provide free samples of U.S. beef jerky to more than 40,000 people who attended the final two days of FOODEX 2015.