Talking Trade in the Sunshine State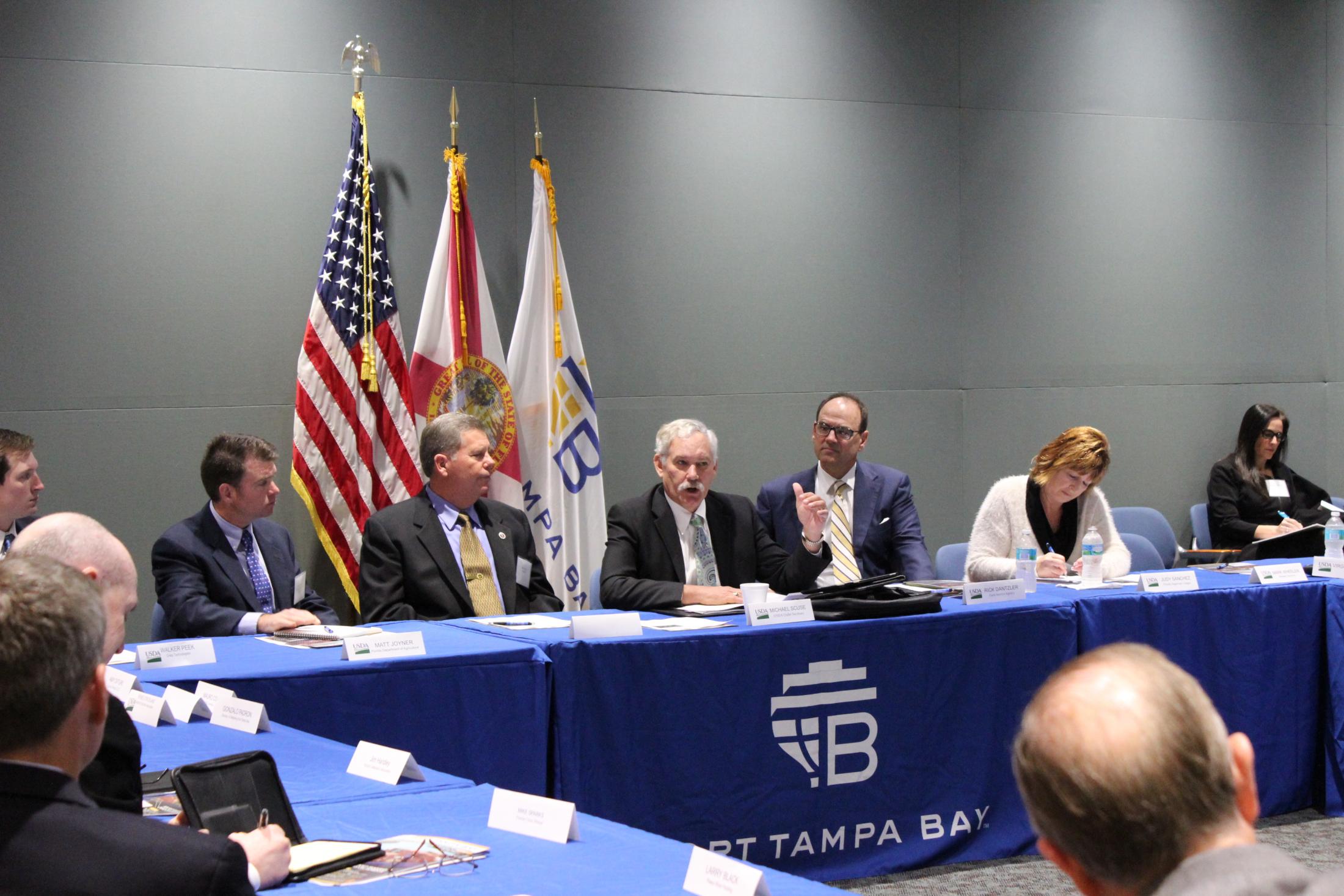 USDA Under Secretary Michael Scuse talks with Florida agriculture leaders at the Port of Tampa about the importance of Trade Promotion Authority.
By Rick Dantzler, Florida State Executive Director, Farm Service Agency
Recently, I had the pleasure of hosting USDA Farm and Foreign Agricultural Services Under Secretary, Michael Scuse, here in Florida for an agricultural trade roundtable. Mr. Scuse met with more than 25 Florida agriculture leaders at the Port of Tampa to discuss trade issues and talk about Trade Promotion Authority (TPA).
Trade Promotion Authority, which needs Congressional approval, is a critical tool in our efforts to seek approval of trade agreements that support and create U.S. jobs while helping American agriculture compete more successfully in an ever-expanding global marketplace. Right now, the United States is negotiating two critical trade agreements – the Trans-Pacific Partnership (TPP) and the Transatlantic Trade and Investment Partnership (T-TIP). Trade Promotion Authority would help ensure that America's farmers, ranchers, and food processors receive the greatest benefit from these negotiations.
Mr. Scuse emphasized that what happens in 2015 will shape the future of U.S. agriculture and we need to take the initiative on trade, particularly TPA.
Florida's agricultural exports reached an estimated $4.4 billion in 2013, up from $3.1 billion in 2009. Florida's exports help boost farm prices and income, while supporting about 33,000 jobs both on the farm and in related industries such as food processing, transportation, and manufacturing. While these numbers are good, there is still more work to be done.
Free trade agreements have grown American exports significantly in the last 10 years. For example, thanks to the Dominican Republic-Central America Free Trade Agreement (CAFTA-DR), fresh and processed vegetable exports to our CAFTA-DR partners grew from $29 million in 2005 to $112 million in 2014. Fresh and processed fruit exports grew from $47 million in 2005 to $129 million in the same time period.
Under Secretary Scuse discussed trade authority and the Pacific trade agreement with the leaders representing over a dozen Florida agriculture organizations, including Florida Citrus Mutual in Lakeland, the Maitland-based Florida Fruit and Vegetable Association, the Florida Cattlemen's Association in Kissimmee and the Southeast Milk Cooperative in Belleview, which represents most of the state's dairy farms.
The trade roundtable was a very productive meeting, with great questions and comments from leaders in Florida agriculture. We are listening to our farmers and ranchers and working to give them the new opportunities they need. USDA is doing everything it can to open markets for the best products found anywhere in the world, those produced by American farmers and ranchers.