It's the Great American Burger – in Thailand!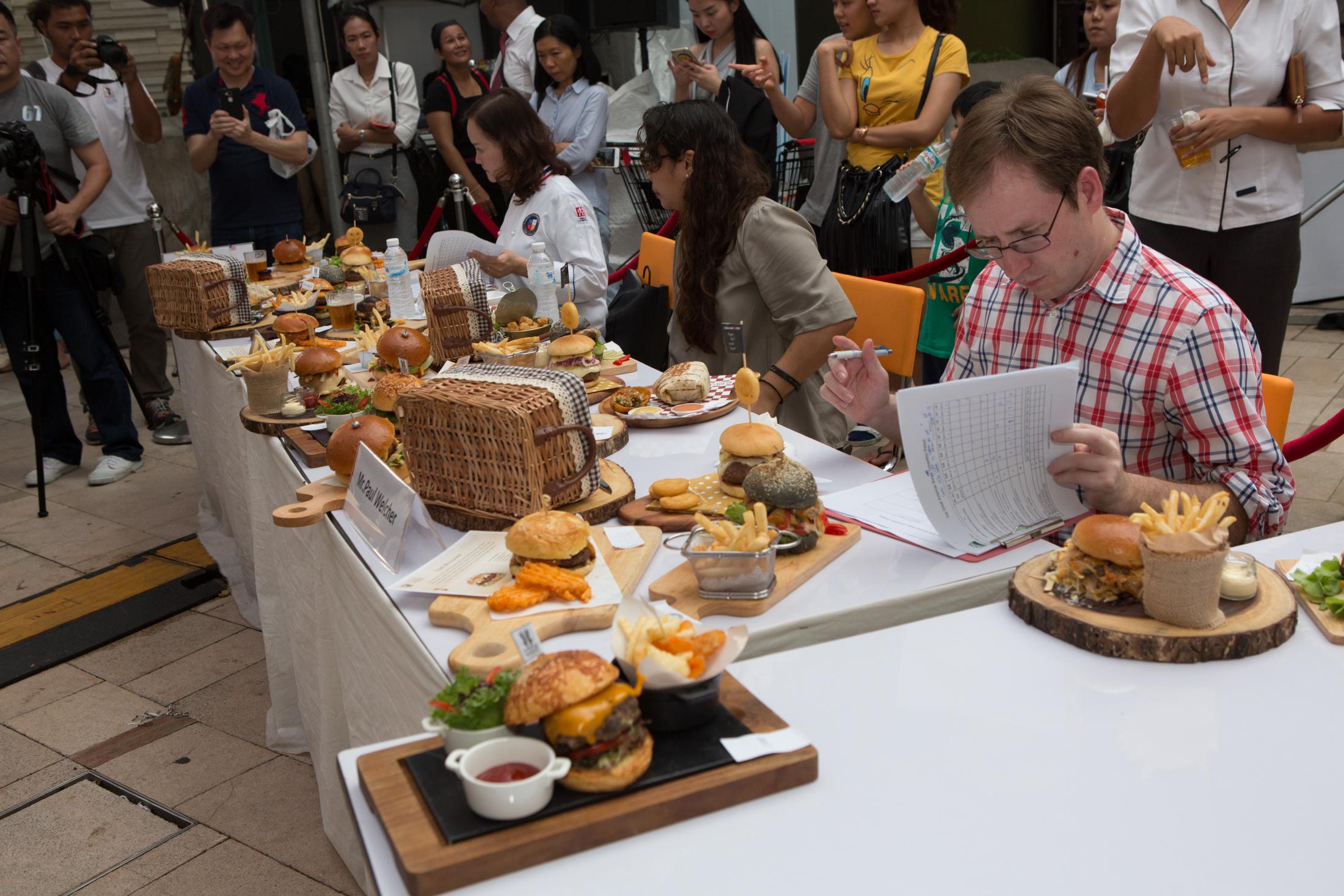 It's grilling season here in the United States, but consumers in Thailand are also getting a taste of American-style burgers with all the fixings, thanks to the efforts of the FAS Office of Agricultural Affairs in Bangkok.
FAS Bangkok teamed up with the U.S. Meat Export Federation, U.S. Potato Board, California Milk Advisory Board and Washington Apple Commission this spring to host the Great American Burger Competition in Pattaya, a resort city on Thailand's eastern gulf coast. The event attracted chefs from 10 of Pattaya's top restaurants, who had an hour to create their own unique burgers featuring U.S. beef, U.S. potatoes, California cheeses and Washington apples.
In addition to showing local chefs and food service operators creative ways to incorporate U.S. ingredients into their cooking, the event increased public awareness of U.S. food products through media coverage that reached more than four million people, according to estimates by FAS Bangkok.
FAS Agricultural Counselor Christine Sloop presided over the competition, while Agricultural Attaché Paul Welcher was one of the three judges faced with the difficult task of determining which of the 10 culinary creations would be crowned Best American Burger in Pattaya.
"While this may sound like a dream come true, in the process of tasting my seventh burger, I began to learn more about the spatial capacity of my stomach as well as a condition my fellow judges called 'palate fatigue,'" laughed Welcher.  "But it was definitely worth it when we heard the cheers of the crowd when the emcee announced that Hilton Pattaya's Executive Chef Matthew Dowdell and his team won the competition."
Chef Dowdell walked away with the title by preparing his American burger with a U.S. beef patty, crispy bun, Asian slaw, pickled Washington apples, spiced barbeque sauce and California cheese – all served with French fries made from U.S. potatoes.
In December, FAS Bangkok will host the Ultimate Burger Battle in Bangkok. There, Chef Dowdell will face off against other top chefs from Bangkok and Pattaya, hoping to emerge as the creator of Thailand's top American Burger.
"By then my stomach should have enough room in it to judge once again," said Welcher.
With burgers becoming increasingly popular in Thailand, exports of U.S. beef to the country have grown 142 percent over the past five years, reaching a record value of nearly $3 million in 2016. Meanwhile, exports of U.S. cheese have grown 183 percent since 2011, totaling $6 million in 2016, while exports of processed potato products are up 25 percent, to $15 million.