Discovering U.S. Agriculture Products Abroad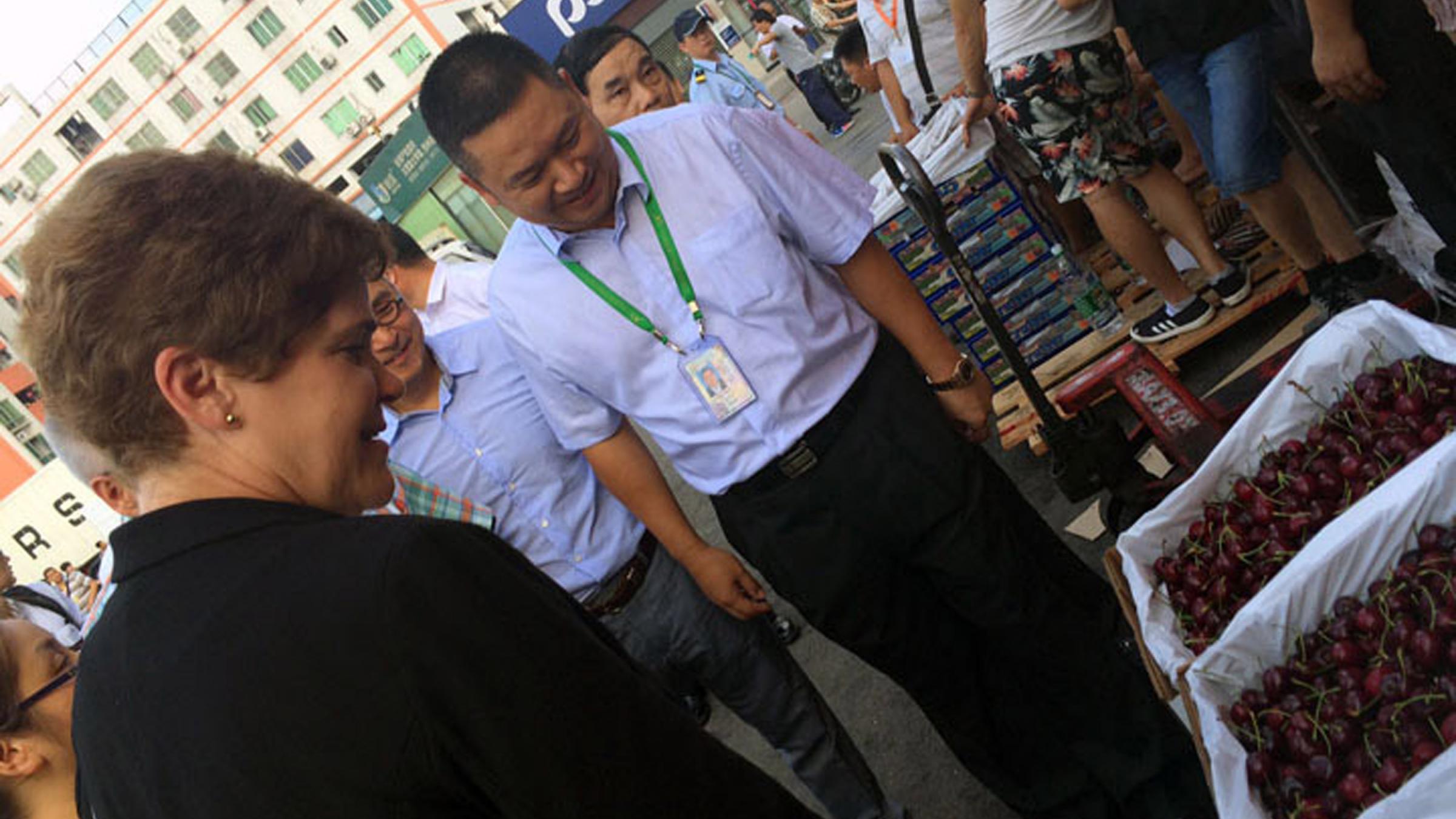 U.S. agricultural exports are a bright spot in our economy – the past five years represent the strongest in history for agricultural trade.  We export everything from soybeans and dairy to specialty products and fresh produce, all adding up to revenue and jobs back home in the United States. On a recent trip to China, I was able to see the wide range of products we are exporting, met with Chinese importers of American agricultural products and visited USDA staff working to get U.S. products into the Chinese market.
China is the largest market for American agricultural products, accounting for nearly 20 percent of all foreign sales of U.S. exports. These exports include bulk commodities like soybeans, cotton and wheat, but a wide variety of specialty items are also bought, like ginseng and Washington cherries. The diversity of American agricultural products represented in China was very impressive, as well as the innovative ways U.S. products are being used overseas.
For example, I visited the Vigoss Garment Company, a vertically integrated company that uses high quality American cotton to produce premium denim under the "Cotton USA" mark. They buy bales of American cotton and then see it through the entire process – milling, spinning, weaving and eventually producing premium denim sold under brands owned by the company. Noticing a need in the company to readily identify the quality of the cotton in a particular bale, they are developing a phone app that uses Agricultural Marketing Service (AMS) data. Anyone with the app will be able to scan the barcode on a U.S. cotton bale and immediately access AMS information on the quality and grade data of that particular bale. This will cut down on production costs in the long run, and make it even easier to use U.S. cotton in their products.
Not all U.S. agricultural exports are bulk commodities like soybeans and cotton. I was able to see the other end of the spectrum – value-added and specialty products – at Jenny Wang's grocery store.
Jenny Wang is the owner of six western-style supermarkets in Beijing that sell high-value products – many American imports. Jenny started out selling produce from a roadside stall and has been able to grow her business on the principle of quality. The stores now carry many American imports known for their high quality, such as Washington cherries and dairy products.
While I was able to see some American agriculture products in China, I realize that many opportunities still exist to increase U.S. exports.  I experienced firsthand the work USDA's Foreign Agricultural Service staff is doing to create these innovative opportunities and I saw how much potential exists for American products in China. I can say with certainty that we are working hard to make that potential a reality to benefit American farmers and ranchers.